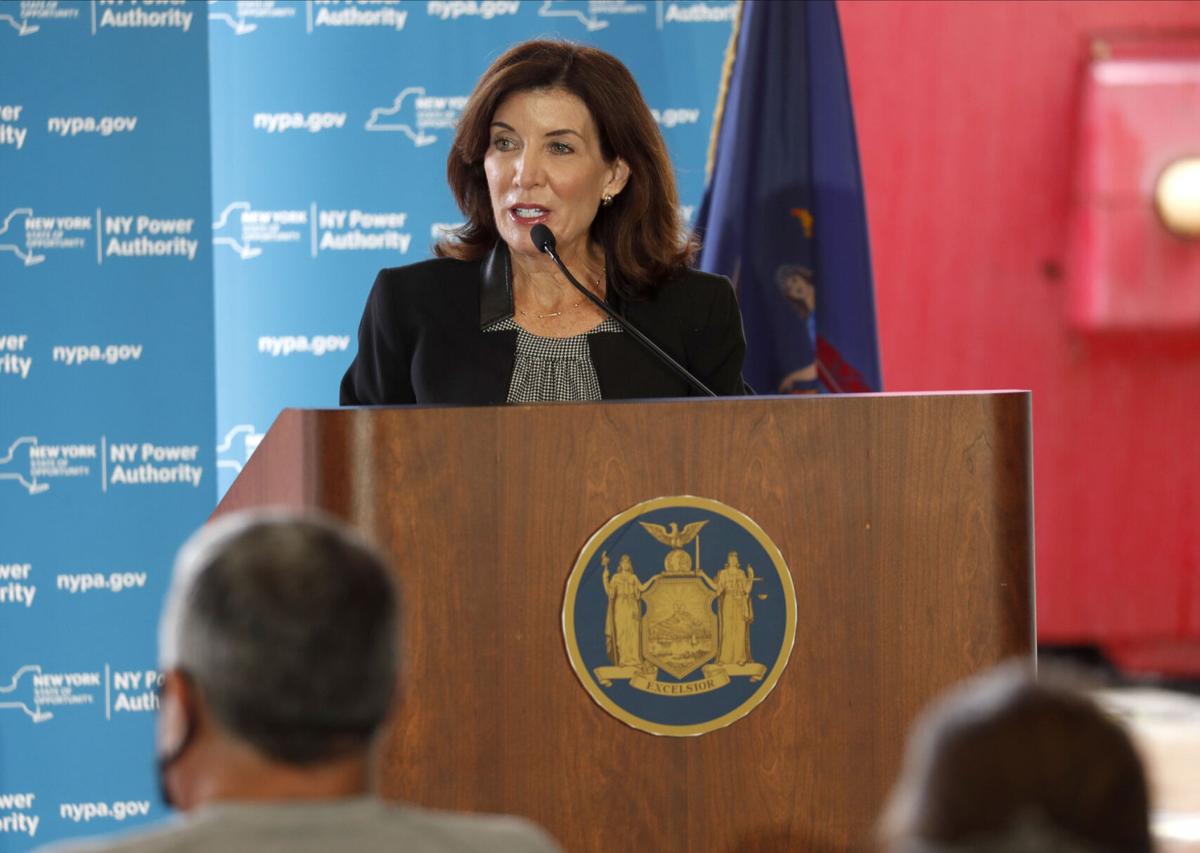 ALBANY – One month into her administration, Gov. Kathy Hochul finds herself in the same spot as her predecessor: trying to navigate the state through the Covid-19 pandemic.
On Thursday, facing the potential of a statewide health care staffing crisis, Hochul announced the resignation of the controversial state health commissioner, continued pushing for everyone eligible to get vaccinated and doubled down on her demand that all health care workers be vaccinated or end up out of jobs.
"There's not going to be a change in my position," she said of the vaccine mandate, which has been partly amended by a federal judge who said the state cannot act against workers who refuse the vaccine based on religious grounds. That temporary restraining order is set to be in place until at least Oct. 12.
Thousands of health care workers – about 16% of all such workers at hospitals, nursing homes and other facilities – have not been vaccinated and their jobs are at risk if they don't get a first vaccine shot by Monday, under a recent edict by the new governor.
On Thursday, one of the chief architects of the state's Covid response efforts since the pandemic began – Health Commissioner Dr. Howard Zucker – informed Hochul that he is resigning his post.
Zucker, put into the job in 2015 by former Gov. Andrew M. Cuomo, told the new governor he would stay on until a replacement is found.
"I agree with his decision," Hochul told reporters during a news conference in Manhattan after she announced his resignation.
Critics have been calling for Zucker's ouster since last year, starting not long after the Cuomo administration issued its March 25, 2020, order requiring nursing homes to admit Covid positive patients discharged from hospitals. The Cuomo administration then undercounted how many nursing home residents died from Covid, a number Attorney General Letitia James would eventually reveal was off by as much as 50%.
One watchdog group, the Empire Center for Public Policy, estimated that potentially more than 1,000 people died as a result of the March 2020 nursing home admissions' edict that came from Zucker.
Cuomo steadfastly stood by Zucker.
Hochul, who took over for Cuomo after he resigned last month over sexual harassment allegations, has kept some Cuomo people on and dismissed others.
Zucker, 62, is both a physician and lawyer.
Critics cheered his departure, though some said Hochul should have removed him on her first day in office. Assembly Minority Leader Will Barclay, an Oswego County Republican, said his resignation "was an obvious and overdue step"; he said Zucker's reign will be remembered for being "more interested in protecting Andrew Cuomo's image than protecting public health."
In a statement, Zucker sought to portray his departure as coming at a time when "the most difficult aspects" of the Covid pandemic in New York "may be behind us."
Zucker said that with nearly 75% of people over the age of 18 now fully vaccinated, New York State is now in a position "of trying to 'normalize' living with" the pandemic.
State Sen. Gustavo Rivera, a Bronx Democrat who chairs the Senate health committee, said Zucker's ability to lead the state Health Department was "hindered beyond repair" by decisions he made and for allowing the agency to become "a political tool for Cuomo and his allies."
More than 2,300 people are in hospitals with Covid across New York, hundreds in intensive care units and some upstate areas still have high Covid positive rates. At least 39 people died of Covid Wednesday in New York just at hospitals and nursing homes.
Hochul did not join in on the Zucker criticism.
"He has been a dedicated public servant for over seven and a half years," she said. "He worked hard during the pandemic, and I want to thank him for his service on behalf of the people of the state."
Vaccine mandate for health care workers
Zucker's announced resignation comes as the Hochul administration is facing a potential crisis next week if staffing shortages are made worse by health care workers taken off their jobs because they refuse to get vaccinated. Her administration has been negotiating with public employee unions that represent health workers at state facilities.
But Hochul made clear she has no intention of backing down from the vaccination mandate, which she released without the religious exemption or regular Covid testing alternatives that some have touted as a vaccine alternative.
"It does not have to happen," Hochul said of the looming disruption that could hit some facilities. Erie County Medical Center on Wednesday said as many as 400 workers so far refused to get the vaccine.
Hochul said many of the unvaccinated workers got into health care because they are "caring" people. But she said patients, as well as fellow workers, "have a right to know" that their safety is not jeopardized by workers who refuse the vaccine.
On Thursday, the legal actions against Hochul's vaccine mandated continued to mount. Security workers at hospitals, who are members of the New York State Correctional Officers and Police Benevolent Association, filed a lawsuit in federal court in the Northern District of New York seeking to halt the mandate.
The plaintiffs, all from downstate who are represented by Buffalo attorney Dennis Vacco, a former state attorney general, said the mandate order coerces them "into accepted unwanted medical care in violation of their constitutional right to equal protection, privacy, bodily autonomy, personal liberty and due process."
The lawsuit seeks declaratory judgments that the vaccine mandate violates the plaintiffs' constitutional rights and to ban the state from any actions that might lead to disciplinary procedures for refusing to get vaccinated.
Hochul said the state is working on contingency plans, including relaxing state licensing rules, if there is a staff disruption. For instance, officials are looking into whether out-of-state workers need to be brought into New York.
Travel nursing employment websites on Thursday were offering numerous jobs, some paying more than $5,000 per week, in New York State to nurses in various positions – provided they are vaccinated, according to a number of the companies.
"If you're a health care worker, Monday is a big day," Hochul said of the looming vaccination edict's deadline.
Football and vaccinations
In the vaccination carrot approach, Hochul unveiled yet another attempt by the state to incentivize people to get a shot: giveaways, including tickets, to Buffalo Bills, New York Giants and New York Jets games as part of a weekly raffle for the next five weeks.
The Bills are offering tickets to their home games against Miami Oct. 31 and Indianapolis Nov. 21, as well as Josh Allen-autographed footballs, helmets and jerseys, Highmark Stadium tours and VIP tickets to next year's training camp. Hochul, a Bills fan, presented Hall of Fame defensive end Bruce Smith and co-owner Kim Pegula via video link to urge Bills fans to obtain vaccinations.
"It is our collective goal to protect and keep each other safe so we can beat this virus and have some fun while doing this," Pegula said.
"I am fully vaccinated, and it's important that all of New York gets vaccinated in this fight against Covid-19," Smith said.
Not mentioned at the event was Erie County Executive Mark C. Poloncarz's recent announcement barring unvaccinated fans from the stadium.
If the mandates and the incentives don't do the trick, Hochul showed she was also prepared to reach into her parenting bag of tricks and pulled out an old favorite: "Mom guilt."
"Mom guilt was very effective when I was raising my kids," she said. "I still can use it once in a while, and I'm using mom guilt on moms now, letting you know that this is really an important step you can take to protect your children."
She displayed statistics that showed 65.1% of 12- to 17-year-olds in New York have had at least one vaccine dose.