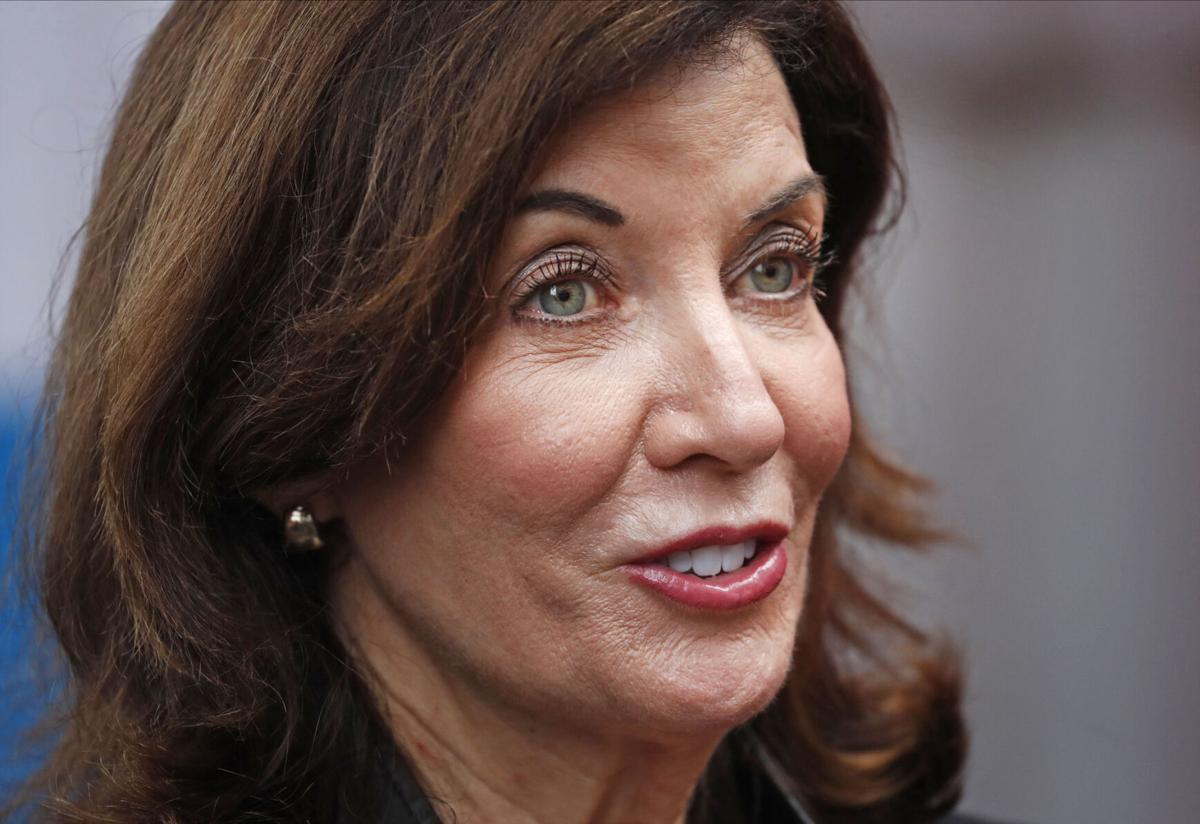 Gov. Kathy Hochul urged Western New Yorkers to get a booster shot of the Covid-19 vaccine to protect themselves amid a high transmission rate. But as infections get closer to an "untenable" number, she also warned that tougher measures could follow.
"At some point, if the numbers don't start trending downward, we're going to have to start talking about larger protocols, which we all know are available to us," Hochul said. "The warning is going out loud and clear today, and I truly hope the community at large will listen to this because it doesn't have to be this way."
Hochul, in her visit Tuesday to Buffalo, said Western New York's transmission rate of 8% is well above the 5% rate she considers "unacceptably high."
"Anyone who lives in a high-transmission area and personally feels at risk of catching this virus – and it's hard to imagine anybody who doesn't – should go and get a booster now," said Hochul, who spoke at Delavan Grider Community Center.
Erie County reported 714 new cases Friday, the highest one-day total that the county has recorded since January.
Hochul said she believes the pandemic can be licked if more people would get vaccinated and wear a mask. She held out the possibility of tougher mandates being imposed by local leaders if deemed necessary to reduce Covid-19's spread, though she hopes it won't come to that.
Tougher measures could include vaccine and mask mandates and size restrictions for indoor gatherings and at public locations.
Stringent vaccination requirements in New York City imposed by Mayor Bill DeBlasio have lowered that city's transmission rate to 1%.
"How do we get rid of this pandemic? It is so simple, it is so simple. Get more people vaccinated and get the booster if you haven't had it, wear a mask indoors and maintain the social distance," Hochul said.
She said around 10% of the population in Western New York who refuse to get vaccinated have put the region in its current predicament.
"I want to come here and declare this is over," Hochul said. "The last thing I want to do is come here and talk about new protocols that are needed in place.
"So I'm giving everybody a chance: I'm getting the word out, saying this is reaching a situation that is untenable, the numbers are far too high and we have the answers and we have to get people vaccinated and we have the boosters," she said.
Hochul advised people to be careful about gathering for Thanksgiving.
"Before I had Thanksgiving dinner, I would want to know before I invited anybody outside of my immediate family if they are vaccinated," she said. "That is a fair and legitimate question to ask. If grandma and and grandpa are there, I would take the time right now to make sure they got their booster shot.
"I understand the fatigue – we are all sick and tired of this," Hochul said. "That is why I am pleading with people to help us get through this. This is so avoidable."
Hochul's announcement followed a statement by Erie County Executive Mark Poloncarz on Monday that there would be "no questions asked" if adults 18 and older wanted a booster, regardless of federal guidelines that call for booster use only among seniors or people considered at risk.
The call for more people to get a booster shot comes amid concerns that the vaccine's effectiveness may be waning among people who received their doses the earliest.
Poloncarz also wouldn't rule out steeper measures in the future.
"We're going to take a look at the statistics, and if this continues to a point where we have no choice, we will take action," Polancarz said. "What that is, I haven't decided yet, because it would depend on the situation."
Tougher measures, if called for, would likely be introduced from one level to another, rather than all at once, he said.
"I don't think you'd go straight from nothing to a complete vaccine mandate," Poloncarz said. "That's why we're calling the public to a call to arms."
Poloncarz said the number of people who died of Covid-19 last month was more than double the number in October 2020, in the pandemic's first year.