ALBANY – Taxpayer funding for any future new Buffalo Bills stadium deal is expected, as Gov. Kathy Hochul has been saying for months, to be a part of the 2022 state budget.
The first baby step to a new state budget, or at least the fiscal plan envisioned by Hochul, will be unveiled Tuesday, and it is still uncertain – though it appears doubtful – whether the Democratic governor from Buffalo will show her hand and include any portions of a stadium plan in the financial and policy document.
"There have been significant discussions over the last two weeks," Poloncarz said at his weekly news briefing. "That I will not deny. But we are not imminent to a deal."
For a plan to be unveiled, it would all but require Hochul to appear sometime before then with representatives of the Buffalo Bills and Erie County to announce at least a handshake deal.
Will that happen? Never say never in Albany, but the Hochul administration hasn't sent any signals that a deal is imminent.
"Negotiations remain ongoing," said Hochul's spokeswoman, Hazel Crampton-Hays, when asked if stadium matters might be part of the governor's budget.
The negotiations are down to money – or, more specifically, finances plus politics and perceptions and timing.
She pointed to Jan. 7 remarks made by Hochul in which she said that there is not a date certain for when talks need to be concluded "other than the next few months," though she added it would be preferable to get the stadium issue wrapped up sooner.
While the Bills wanted a deal by Dec. 31, Hochul doesn't have to do anything at this point, considering a new state budget is not due to be in place until the start of the fiscal year on April 1.
Equally important: Pegula Sports & Entertainment can get its public financial support from Albany in many ways that would never see the light of day in the budget.
That's because agencies and authorities and quasi-government entities have multiple avenues to a deal that don't require any yes or no votes from the 213 members of the State Senate and Assembly.
All parties involved – the state, Erie County and the NFL team's representatives – have indicated they're approaching a deal, despite passing the Dec. 31 deadline long established by the Buffalo Bills.
If there is any agreement on things, it is that state lawmakers have been kept in the dark about the stadium talks among the Hochul administration, Erie County and the Buffalo Bills.
If there is no deal announced before Tuesday, it would be unwise for Hochul to mention anything dollar-related about a potential stadium project. That, says Sen. Sean Ryan, a Buffalo Democrat, would only weaken the state's negotiating stance.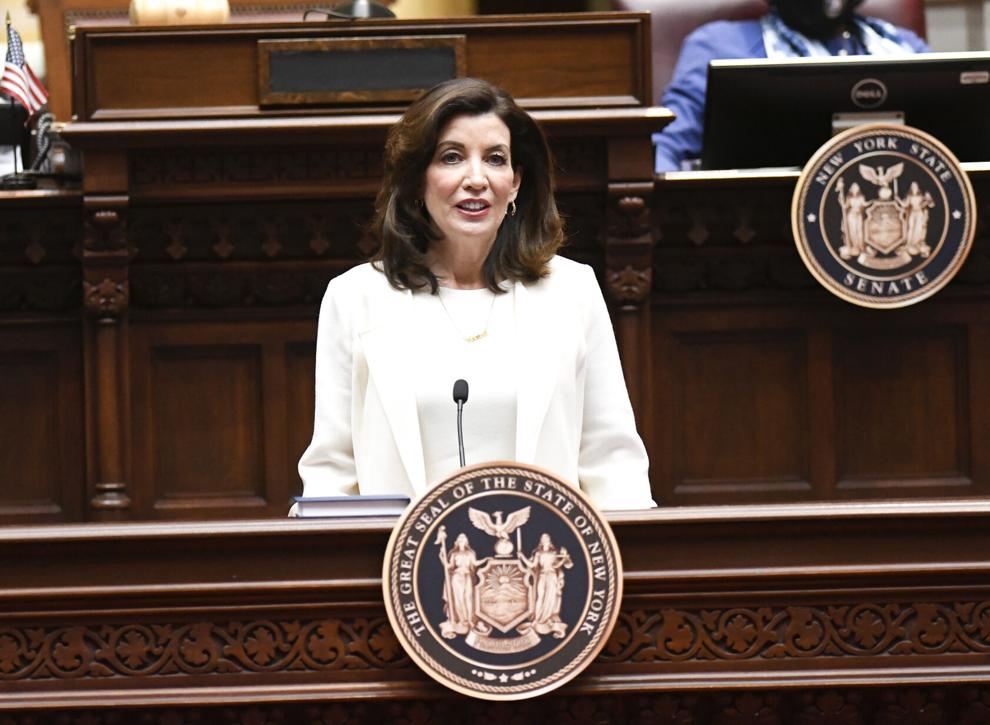 Moreover, some believe that Hochul – given the pushback she is going to receive for potentially hundreds of millions of dollars for a lucrative NFL team owned by a billionaire – might want to slow down and not have a big package publicly hanging about for weeks and months for it to be picked apart and changed by critics of public subsidy stadium deals.
"I'd imagine the deal won't come together until later in our budget season. There's no strategic sense in putting a number out there early for non-Bills fans to criticize," Ryan said.
Many lawmakers don't want Hochul to repeat the ways of the recent past. They point to how controversial items are, for instance, suddenly thrust into an omnibus bill – which Albany dubs "The Big Ugly" – in the final hours before the budget is adopted with little or no time for anyone to actually read before adoption.
The governor also said she believes, as she has stated in the past, that the state, the Bills and Erie County can reach an agreement on where to build a stadium and how to pay for it by the end of the year.
Assemblyman Ed Ra, a Nassau County Republican who is the ranking minority party member on the Assembly Ways and Means Committee, the chief fiscal committee of the 150-member house, believes it would be a misstep for Hochul, for instance, to put a major subsidy package for a Bills stadium into the post-budget amendment process. That is an avenue where governors can legally amend their budget plans 30 days after first releasing their annual fiscal proposal.
In a month from Tuesday, Ra said, legislative hearings on the budget will have concluded, and then lawmakers will have lost their opportunity to publicly press Hochul advisers on aspects of any potential stadium plan.
"It causes a great frustration among both houses, but also makes it harder for us to do our job to ask questions about a proposal from the governor," Ra said.
The lawmaker said Democrats and Republicans have talked since last year about the need for an especially transparent process for any Bills stadium deal – given the public dollars that may be committed and controversy over public subsidies for pro sports teams.
Lawmakers need "adequate time to evaluate it, but maybe to also suggest alternatives and talk about whether it needs to be done one way or another … Obviously, there's going to be great interest in Western New York, but constituents downstate may feel differently," Ra added.
"To keep it open air is part of the Buffalo bravado," the governor said, "which people love to showcase."
The state budget is composed of hundreds of thousands of fiscal line items and policy language that can cover everything from major changes in criminal justice or environmental laws to how much money will go to local museums or youth baseball leagues. This year's will call for at least $200 billion in spending.
The 2013 lease deal to keep the Bills in Buffalo in return for stadium renovation money from the state and county, for instance, has turned up as a simple line item each of the first nine years of the lease. That line item – for "payments related to the retention of professional football in Western New York" – totaled $4.6 million from Albany to the team in the 2021 budget.
But this new stadium project has a price tag more than 10 times higher than the $130 million stadium renovation agreement signed in 2013 by the team, state and county. And it will be far more complex.
That could mean that many dollars will end up going to support the Bills that never get considered or voted on by the State Legislature.
The Legislature might approve as part of the budget, for instance, a statewide funding pot for road and bridge projects. The Hochul administration, then, could decide on its own that some level of that pot can get used for road improvements or other infrastructure work around a new stadium.
The Empire State Development agency, the lead economic development office for the state, has "assorted authority" to approve things such as tax exemptions or issue dollar grants without the Legislature in advance approving specific authority for such things, noted Sen. Liz Krueger, a Manhattan Democrat who chairs the Senate Finance Committee. Krueger directed her staff months ago to commence studying the issue of public subsidies to pro sports teams in advance of what might be coming for a Bills stadium.
Krueger noted that local industrial development corporations, which are quasi-government, independent public benefit corporations, can also be a part of deals for bonds and tax exemption schemes that don't get state legislative approval. Further, she noted, some tax exemptions are granted by the state "of right" if a project fits the right criteria, again meaning no legislative approval.
The New York Power Authority, ostensibly controlled by the governor's office, often gets involved in helping the state fund economic development projects, such as through low-cost energy. Its work doesn't require legislative OK.
Transparency: Not in stadium talks
A fiscal watchdog group said every component of a Buffalo Bills stadium deal, if one comes together, should be a part of the budget, and lawmakers – and the public – need time to vet the financial terms.
"All elements of the deal should be transparent and should be aggressively and thoroughly evaluated for the fiscal and economic costs and benefits," said Andrew Rein, president of the Citizens Budget Commission, a Manhattan-based group that has been monitoring and reporting on state finances for decades.
Rein said a lack of transparency already defines economic development spending in New York, and noted that Hochul has pledged to be a different kind of governor when it comes to providing sunshine on both the process and end product of government. If a deal imagines using an off-budget source of funding, like the Power Authority or local economic development agencies, then that all should still be outlined in the state budget, he said.
"There should not be a deal agreed to and put into the budget at the last moment," Rein added. Lawmakers, he said, need to use "a critical eye" for any Buffalo stadium deal, especially after so many other states and cities over the years have seen that the public does not get the dollar return on their investments for such facilities.
Assemblyman Pat Burke, a Buffalo Democrat who represents the area that is home to the existing and planned NFL stadium in Orchard Park, notes how he wears his Buffalo Bills hat as he enters and leaves the legislative office building in Albany. His colleagues see that, and stop and talk with him in the halls. In talks regarding a stadium deal, he said, "They presume we're going to get a new stadium."
Partly, it's because Hochul is politically strong in the Legislature right now and that the Buffalo area's majority party delegation – Democrats in an all Democratic-led Albany – has grown and appears geographically influential with Hochul in place as governor.
Still, Burke is not happy with the secrecy involving the negotiations that has left state lawmakers guessing.
"Obviously, there's going to be pushback. There could be pushback from me depending on what the deal is," he said.
Like other lawmakers, he has not been briefed along the way by any of the sides.
"I hate admitting I don't know things, especially to reporters, but on this one, whatever their strategy is, it's between the county and state. I certainly have not been kept updated in ways I'd like and have asked to be," the lawmaker said.