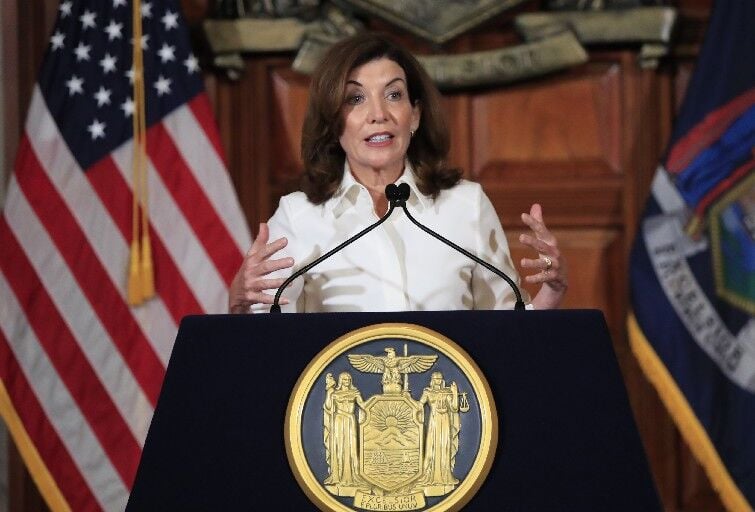 Gov. Kathy Hochul took to the nation's airwaves on her second day in office Wednesday, lashing into Republicans who have raised doubts about coronavirus vaccines and vowing to be "the best damn governor the state has ever seen."
Speaking on MSNBC's "Morning Joe" – the first of three national broadcast appearances in one morning – New York's first female governor reiterated that fighting the Covid-19 pandemic remains her top priority. And she left the impression that tough talk will be part of her arsenal against the virus.
Noting that children have long had to receive a series of vaccinations before heading off to kindergarten, Hochul said: "We have to get back to that normalization of vaccinations and forget all the Republican rhetoric, which is killing people – and I'm going to be that blunt about it, because I'm sick and tired of what I'm seeing going on in other states."
Hochul's comments put her at odds with governors such as Ron DeSantis of Florida and Greg Abbott of Texas, who have stressed personal freedom over mass vaccinations, even though the Covid-19 Delta variant has led to a sharp spike in infections in those states.
"I'm glad most of New York is not like that," Hochul said of the anti-vaccine fervor that has kept the vaccination rate under 50% in some southern states. "But I'm ready to address those issues, because it's smart for people. It protects lives, and that's what the job of a governor is to do."
New York's death count issue has been a subject of concern by epidemiologists and others for more than a year. 
Hochul made those comments a day after she announced a mask mandate for the state's public and private schools – a move that she elaborated on in an appearance on "CBS This Morning" that was cut short by audio difficulties.
"Parents are very stressed out about school right around the corner," Hochul said. "I'm a mom; I can understand the stress levels are off the charts. So we have to first of all have mandatory masks, which is something that is not universally popular, but I think it's an important step toward getting safety in schools."
On MSNBC, she said she lacked the executive power to impose vaccine mandates, but added that she thinks it's important that they be imposed on school employees at the local level.
"I can't mandate that right now, but I also plan on working and am working already with everyone who's involved and seeing if we can get to the same outcome," she said, lauding New York Mayor Bill de Blasio's recent order that educators in that city have at least one vaccine dose by Sept. 27.
Later, on NPR's "Morning Edition," Hochul said she would be "laser focused" on both making sure New Yorkers who have been vaccinated get the booster shots they need and increasing the state's overall vaccination rate. As of Tuesday, 66.3% of the state's population had at least one dose of vaccine, while 59.2% had completed their regimen of shots, the Centers for Disease Control reported.
A universal mask mandate will be imposed by the state on all public and private schools as students get to return to classes in the coming weeks, and officials are looking at ways to mandate vaccines for school employees, Gov. Kathy Hochul announced Tuesday on her first day in office.
"I'll be having a very aggressive program to get the boosters out, but there's still a lot of people who never got the first dose, and that's going to be a barrier to getting people feeling secure about going to schools and to work," Hochul said.
While elaborating on her support for vaccinations, the governor otherwise broke little new ground in her Wednesday media appearances.
However, she seemed determined to project an aura of confidence as she took over from former Gov. Andrew M. Cuomo, who resigned amid multiple scandals and allegations of sexual harassment.
The first governor from Buffalo in more than a century, Hochul noted on MSNBC that she never planned to become governor. Nevertheless, she sounded like someone who plans on holding the job for a while.
"I want to make sure that people know that when I'm done with my administration – and however many terms this goes – that they'll say yes, women can lead, they can achieve greatness, they can do good for the people their state, leave a strong legacy of accomplishment."
"I don't have a plan B," she added. "I don't know what I'm doing career-wise next, other than: I'm going to be the best damn governor this state has ever seen."