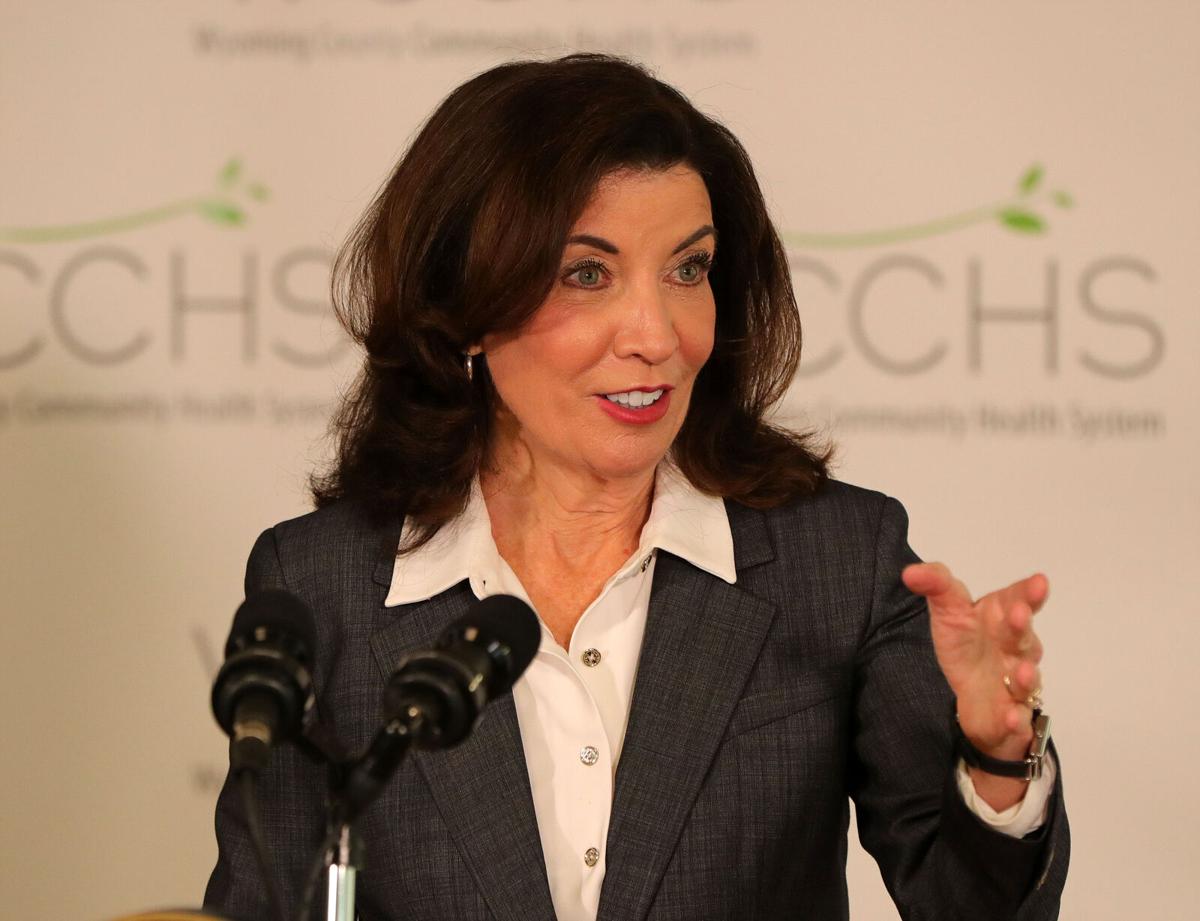 ALBANY – Health care workers will be required to get Covid-19 boosters in order to keep their jobs and new testing requirements will be put in place for visitors to nursing homes, Gov. Kathy Hochul ordered Friday.
While Hochul talked of the beginning stages of a "possible plateau" in cases, they are still rising, as are hospitalizations and deaths. Erie County announced Friday that nearly 4,000 people tested positive Wednesday, a new record and a number that does not take into account at-home tests.
Hochul, who previously ordered health care workers to get vaccinated or face dismissal, which resulted in hundreds of workers either quitting or being fired, said now they must get booster shots. The only exemption: a valid medical reason. And, like the original vaccine order in the fall, there will be no opt out for getting tested instead of boosted.
"You would want to make sure that anyone taking care of you is fully protected," Hochul said during a Covid-19 briefing in her Manhattan office.
She said the requirement will be taken up Tuesday by a state public health health department council and that it will then go immediately into effect. She noted that there has been "enormous" stress put on the health system by many workers calling out sick in recent weeks.
New York is considering a booster shot mandate for health care workers, Gov. Kathy Hochul said Wednesday, as the state fights a surge of Covid-19 cases driven by the highly contagious Omicron variant.
New York joins a handful of other states in requiring health care workers to get a booster shot, a mandate Hochul confirmed she was considering during a Dec. 22 visit to Erie County Medical Center.
"You've already seen what's happening in our health care environments. Staff is getting sick, they're leaving. We need them to get well, we need them to have the best fortification they possibly can and that means getting a booster shot as well," she said Friday.
Hospitals across the state, from Catholic Health System and Kaleida Health in Western New York to Long Island-based Northwell Health, said in statements they would comply with the mandate and have already been encouraging employees to get the booster shot.
Northwell Health, the state's largest health care provider, with more than 77,000 employees, said more than 50% of eligible employees have received a booster dose and it is "actively scheduling appointments each week for the rest."
Michael Hughes, Kaleida's chief administrative officer, said 48% of the health system's roughly 10,000 employees have received a booster shot. He noted that some workers are not yet due for a booster dose, based on when they received their primary series of vaccination.
"Having the booster requirement now as the next step is certainly not a surprise to us. In fact, it was expected," Hughes said. "We understand the importance of the issue – this is all about protecting our workforce, as well as the patients that they care for."
Hochul on Friday also voiced worries about rising Covid-19 cases in nursing homes, saying the facilities are a "point of vulnerability" in the state's Covid-19 response efforts.
In response, the Democratic governor said visitors will now have to wear at least surgical-grade masks and also have a negative Covid-19 test 24 or fewer hours before visiting a friend or family member in a nursing home.
Dr. Mary Bassett, the state health commissioner, said New Yorkers should prepare for a "difficult" January, then predicted: "Things should be much better by February."
Bassett said pediatric cases of Covid-19 continue to rise at worrisome levels, noting that cases among patients ages 12 to 18 in recent weeks have risen 10-fold, compared with about a 2.5-fold increase among adults. On Christmas, there were 150 pediatric Covid-19 cases in hospitals across the state. Yesterday, the number stood at 570, and she said the vast majority have been unvaccinated children.
Across New York yesterday, 11,548 people with Covid-19 were in hospitals, a number that has been rising for weeks; the hospitalization number is higher than at any point since the end of April 2020 during the first couple of months of the pandemic.
The state reported 155 Covid-19 patients died Thursday in New York hospitals and nursing homes.
Hochul urged New Yorkers to avoid adding further workloads to already stressed hospitals, unless they are very sick. She said, for instance, that 19 percent of people statewide who recently went to a hospital emergency room did so solely to get a Covid-19 test. In the Finger Lakes, 32 percent of emergency room visits were for tests, compared with 20 percent in Western New York.
The state on Friday released something Hochul personally asked for: data on the percentages of Covid-19 positive patients in hospitals who were admitted for Covid-19 versus admitted for some other reason – from heart attacks to car accidents – and then were found to be Covid-19 positive.
As seen in other parts of the nation, there is wide geographic differences in that data. For instance, she said 50% of New York City hospital patients with Covid-19 were initially admitted for non-Covid-19 reasons. In Western New York, though, that number dropped to 26%.
Unclear in the data is how many of the patients admitted for other reasons then have gone on to have serious Covid-19 symptoms while in the hospital.
Another indicator of the seriousness of the situation: the rising number of patients in intensive care units needing to be on ventilators. A month ago, it was 335 people; earlier this week, 695 were intubated in ICUs.
In all, there were 82,094 new cases yesterday in the state out of the some 377,000 tested.
Hochul was asked if mixed messages on county enforcement of indoor mask rules and the open defiance Thursday by the new Nassau County executive, Republican Bruce Blakeman, to state mask requirements in schools might indicate she is a "pushover."
"I don't think anyone could ever accuse me of being a pushover," she said. And those that underestimate her "do so at their own peril, including the Nassau County executive."
Regarding the state mandate for mask wearing indoors in public places, Hochul said she believes counties should enforce the order. Many have said they won't, either because their county executives oppose the idea or because county health department staffs are already stretched thin.
"I'm appealing not to elected leaders who are not taking their responsibility serious to protect public health. I'm appealing to the businesses," Hochul said of stores, offices and other places that should help enforce the mask order.
With a rising number of schools temporarily shutting down in-person learning and going back to remote lessons for students, Hochul again deferred on mandating testing of students. She said she worried that a mandate would force many parents to keep their children home. That, she said, could then force some schools to go back to remote learning, thereby "undermining" her goal to keep schools open "for critical in-person learning."