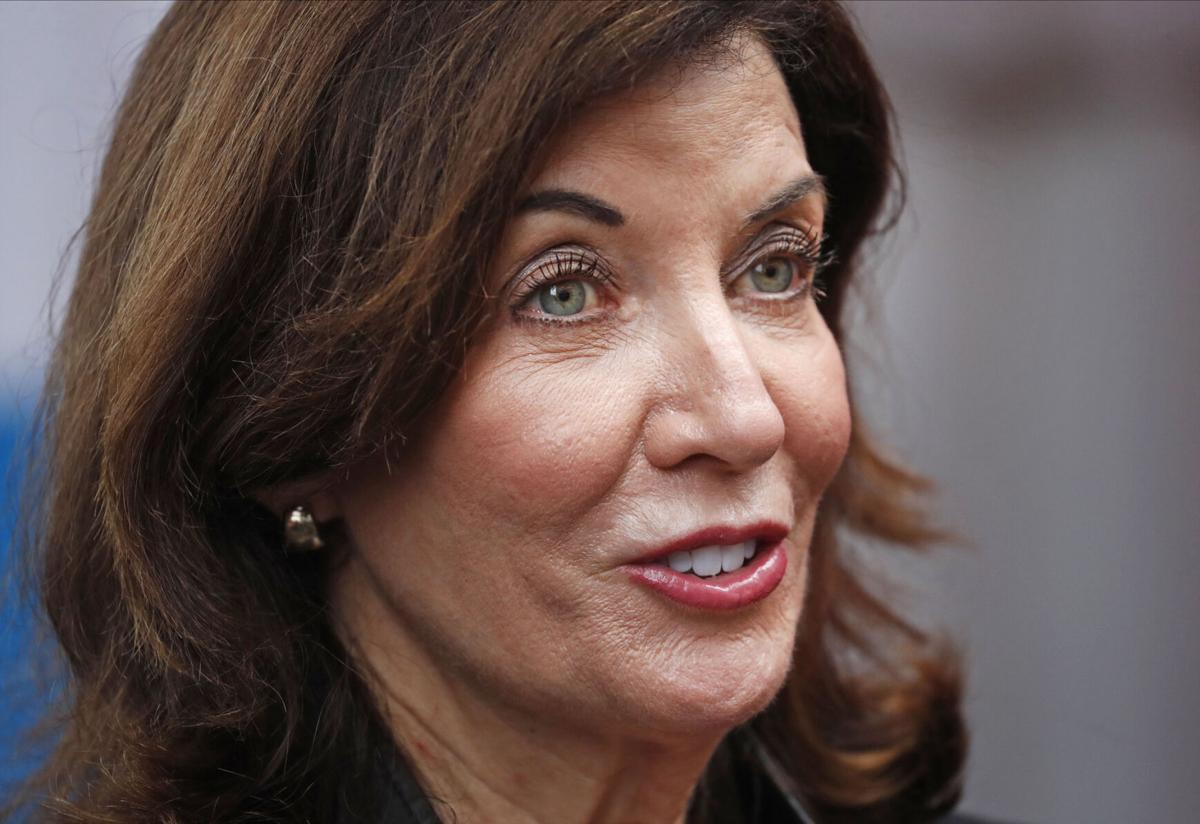 WASHINGTON – Capping the inner-city section of the Kensington Expressway with parkland tops Gov. Kathy Hochul's list of priorities for Buffalo-based infrastructure spending under the $1.2 trillion bill President Biden signed last month, she said Wednesday after meetings with federal officials and lawmakers regarding the issue.
In addition, Hochul said some money from the infrastructure bill may be able to be used to pay for access roads to a new Buffalo Bills stadium – but she stressed that she isn't pushing for any particular location for that facility.
Hochul's trip, her second to Washington as governor, was a busy one. She met with Transportation Secretary Pete Buttigieg and White House infrastructure coordinator Mitch Landrieu. She stopped at the Supreme Court to show her support to those protesting the possibility that the justices could overturn Roe v. Wade via an abortion case from Mississippi. She had lunch at the Senate dining room with Sen. Kirsten E. Gillibrand and Rep. Brian Higgins, and then met with her fellow Democrats from the state's congressional delegation.
Afterwards, she spoke about how she sees her hometown of Buffalo benefiting from a bill that will likely bring an estimated $4.2 billion to Erie and Niagara counties for improved roads, bridges, waterways and internet service.
Asked about her priorities, Hochul said: "I believe that we can create more justice for the communities of color that have been separated" by highways such as the Kensington. "I drive that road frequently, and certainly at least the first third of it should be restored to what it was before. Put parkland on top."
Hochul's proposal echoes a community effort to restore at least part of Humboldt Parkway, which was destroyed starting in 1958 to make way for the Kensington. The governor said she envisions the project starting an East Side revival not unlike what happened in Rochester when that city converted part of its Inner Loop to an at-grade roadway in 2017.
"We actually completed beautiful affordable housing, park-like settings, even retail," she said. As for the Kensington, she added: "That highway can exist on the further end where it's heading toward the Thruway, toward the airport. But the part where it's residential, we can transform that, and that's one of my priorities."
The infrastructure bill sets aside $1 billion for reconnecting communities that have been divided by highways, but that money is not likely to go far. In New York alone, the Kensington project will compete for funding with an Interstate 81 project in Syracuse and a reconstruction of the Cross-Bronx Expressway. Each could cost hundreds of millions, if not more.
But it's also possible that other federal infrastructure funds could be set aside for the Kensington, or that money for the effort to reconnect communities will be added to Biden's "Build Back Better" bill. State highway funds could also be used on such major efforts.
Hochul discussed the Kensington proposal and others over lunch with Gillibrand and Higgins, both strong proponents of the Kensington project.
Gillibrand, a New York Democrat, termed the meeting "very productive" and said afterwards: "My top priorities in the infrastructure package included securing dollars to invest in local Buffalo and Western New York jobs, rebuild the Kensington Expressway, and bring clean drinking water to Buffalo by fixing the city's 100 miles of lead pipes."
Higgins, a Buffalo Democrat, has his own plan to combine $124.5 million in infrastructure funds with $65 million that the region is owed from the New York State Power Authority to bring major improvements to Buffalo's Inner Harbor and Outer Harbor. His plan includes a renovation of Erie Basin Marina, 100 acres of new or improved parkland and parkways at Louisiana and Tifft streets.
"I think it's fantastic," Hochul said of Higgins' plan. "I have some add-ons I want to talk to him about or have talked about."
Higgins said Hochul is interested in improving Buffalo Harbor State Park. He said he's happy to amend his proposal to include that change and others.
While praising Higgins' waterfront plan, Hochul politely disagreed with his recent comment that she appeared to be interested in a downtown site for a new Bills stadium.
"I have ensured that everyone understands that I know my role as governor is to not put the thumb on any particular location," she said.
Noting that her administration commissioned a study of sites both in downtown Buffalo and near Highmark Stadium, the Bills' current home in Orchard Park, Hochul said: "I'm not pushing one or the other. I want it all to work out for the organization, the Bills organization. They know that. I've been very clear in speaking to them."
Federal infrastructure funds can't be used for the stadium project "unless it's for infrastructure in the surrounding area," she added.
Hochul's meeting with lawmakers largely dwelled on projects – many of them downstate – that they would like to see in their districts.
"Every one of them had a chance to speak and share with me their concerns," she said.
Republican lawmakers were not invited to the meeting. Asked about that, Hochul noted that she recently had a Zoom meeting with the entire delegation, including Republicans. And the dean of the state's House delegation, Rep. Jerrold Nadler of Manhattan, said: "Some of our delegation meetings are for the entire delegation, some of them are just with Democrats. The governor has met and will meet, I'm sure in the future, with entire delegation, Republicans and Democrats."
Republicans were typically excluded from congressional meetings with Hochul's now-disgraced predecessor, Gov. Andrew M. Cuomo, who tended to hold far shorter meetings with lawmakers than Hochul's hourlong session.
Hochul left the meeting upbeat about what the infrastructure bill could do for New York.
"This is a generational opportunity to make these investments now and put thousands and thousands and thousands of New Yorkers to work," she said.