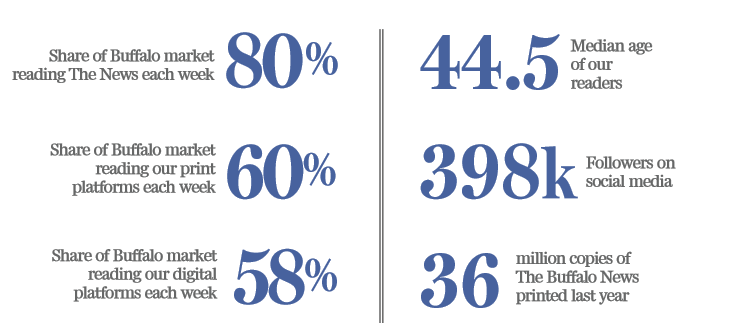 Last spring, I came across an old Buffalo News ruler in a box of long-forgotten memorabilia. My guess is that it's from circa 1980.
Written on it is a jaw-dropping proclamation: "8 out of 10 Buffalonians read The News daily." In July, we commissioned an independent scientific survey of adults in the Buffalo area, to learn more about our current audience. I wondered how the new survey's results would compare to the number on that old ruler, which was a reflection of a bygone era. How would our audience size be affected by the emergence of new technologies – the disruptors that many have used to declare newspapers' impending irrelevance?
The results are in, and the findings are eerily familiar. Each week, The News now reaches 8 out of 10 Buffalo adults.
The findings were amusing, but not surprising. They confirm what I've consistently seen in more than 25 years of working in newspapers: We reach an audience that is unmatched by any other medium. Our journalism is essential, and it always has been. The digital revolution has only enhanced our ability to tell stories and reach readers.
The News' central role in this community is a testament to the foundation built by the Butler family, who founded this newspaper 140 years ago this month. This news organization's continued dominance is a testament to all our employees who've committed themselves to excellence through the decades – from the newsroom to the production plant, from sales executives to our circulation team, and countless others throughout the company.
As we look to the future, we do so with tremendous momentum. Our print product is among the best in the country, and 60% of adults read it each week. We've expanded our digital audience, not only through the region's No. 1 news website but also with huge audiences on social media and via email newsletters. What's more, we've seen a surge in subscriptions to BuffaloNews.com, proving that people will pay for news they trust and value.
Just as our predecessors were innovators in journalism and business, today's News is moving boldly to meet this community's needs. We have just built a new sales organization, Amplified Buffalo, that gives our advertising partners powerful new tools. Amplified Buffalo combines The News' unmatched reach with the most sophisticated digital marketing capabilities available. Now more than ever, we know how important it is that we're equipped to help local businesses. We're excited about the challenge.
None of this is possible without your support. We are essential, because you count on us to tell the stories that matter. You have my commitment that we'll always live up to that responsibility.