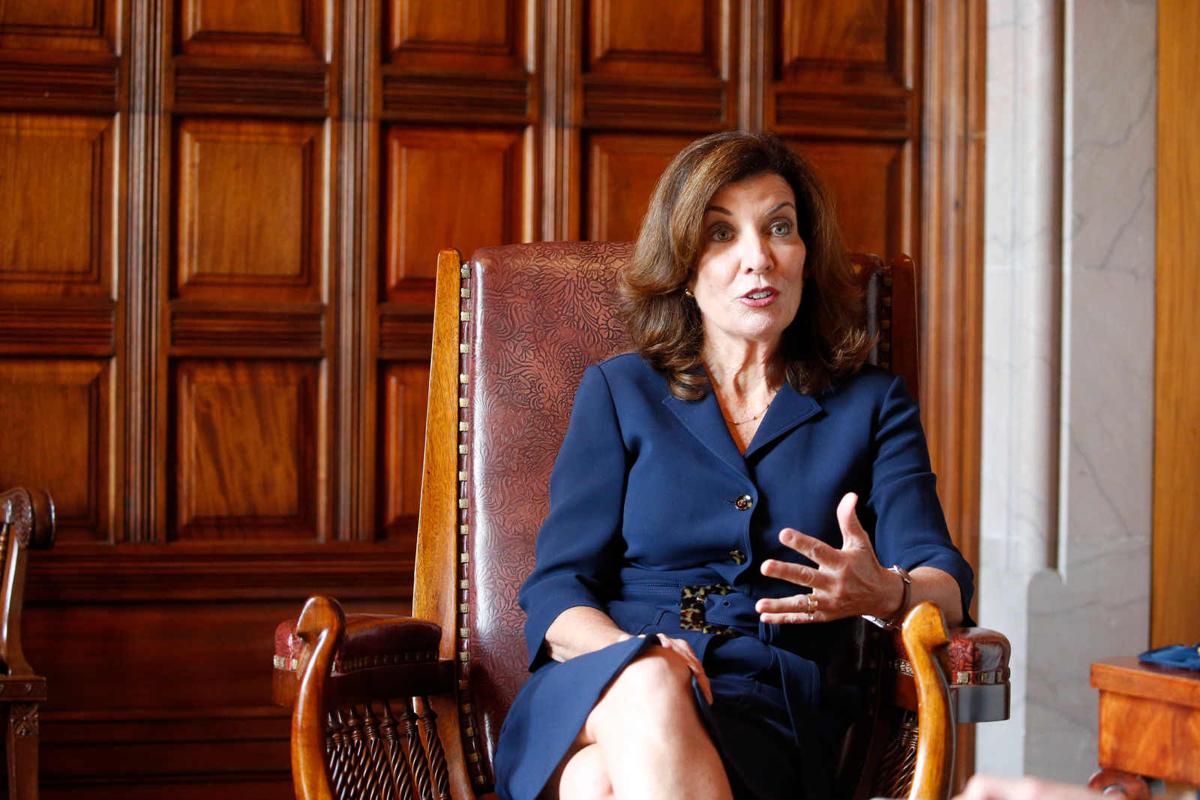 Saul Steinberg's cover for the New Yorker one week in 1976 is by some measures the most famous in the magazine's storied history. Its title: "View of the World From 9th Avenue."
The pencil-and-watercolor drawing shows the telescoped perspective that New Yorkers have of the rest of the globe. In the foreground is a Manhattan streetscape, and beyond is the Hudson River. Everything else recedes into obscurity, foreshortened by its cultural distance from the city that never sleeps.
It is a parody of New Yorkers' inflated sense of self-regard. And it's funny because it's true.
We are reminded of this just now because Kathy Hochul is soon to be the first female governor in New York State – and the first from Buffalo since Grover Cleveland, who would go on to advance from the statehouse to the White House. (We're not counting Horace White, the Buffalo-born lieutenant governor who lived and died in Syracuse; he served as governor for all of 86 days in 1910 when Gov. Charles Evans Hughes left for a seat on the Supreme Court.)
How is it that the state's second-largest city has not produced a governor to call its own since the 19th century? Let's start with the fact that the state's largest city is also the nation's largest; New York City naturally carries outsize influence in state politics. (If you can make it there, you can make it anywhere, and all that.)
Even so, it is 100 years since a governor of New York has come from west or north of the Hudson River Valley. And Steinberg's cover art does offer a westward gaze: over the Hudson, out to the Pacific Ocean and beyond. But think of it on a strictly statewide scale, and then imagine the Steinbergian view from Upper East Side to Western New York.
We are, in this version, no more than horizon.
As it happens, "Gossip Girl" is set on the Upper East Side. The show, currently airing on HBO Max, is a reboot of a version that aired a decade ago. This new version centers on the new kid at Constance Billard, a prep school for the super rich that puts the prep into preposterous. The new kid is Zoya, who moves from Buffalo to Brooklyn, on a scholarship, to join her half-sister, Julien, who rules school by way of her online presence as a social influencer.
These Upper East Siders look down on the Upper West Side, so you can only imagine what they think of Western New York. No, wait – you need not imagine. Here is some sample dialogue:
• "My boyfriend dumped me for my sister. Well, half-sister, who I basically imported from, like, Siberia."
• "Shuffle off that Buffa-ho."
• "Things move slower where she's from."
• "You waste your power and time with that Buffa-loco."
• "An import from a shtetl called Buffalo."
There's more, but you get the idea.
Granted, these are the fevered thoughts of fictional teens. And Zoya is what passes for the good kid among a vast cast of reprehensible characters. (Only their teachers and parents are worse people than the Constance students.) It is a social satire of the social-media age, but with a mean streak meaner than midday Twitter.
Which brings us back to Saul Steinberg. His gentle parody is as fresh today as 45 years ago. When the American Society of Magazine Editors rated the top 40 magazine covers of the previous 40 years, in 2005, "View of the World From 9th Avenue" ranked fourth.
No. 1: Rolling Stone's 1981 cover of John Lennon and Yoko Ono, a photograph that was taken by Annie Leibovitz only hours before Lennon's assassination.
No. 2: Vanity Fair's 1991 cover of Demi Moore, naked and pregnant, in profile, in another Leibovitz photo.
No. 3: Esquire's 1968 cover of Muhammad Ali impaled by arrows, a la St. Sebastian, a martyr for his religious beliefs.
And then there was Steinberg. The judges said: "The cartoon showed the supposed limited mental geography of Manhattanites."
That cover art was made into posters, postcards and shower curtains. It allows New Yorkers to feel as if they are in on the joke. But their mental geography hasn't really changed much since 1976. They still think of anything outside the five boroughs as "upstate" – a New York City-centric term that, to them, means "everywhere else."