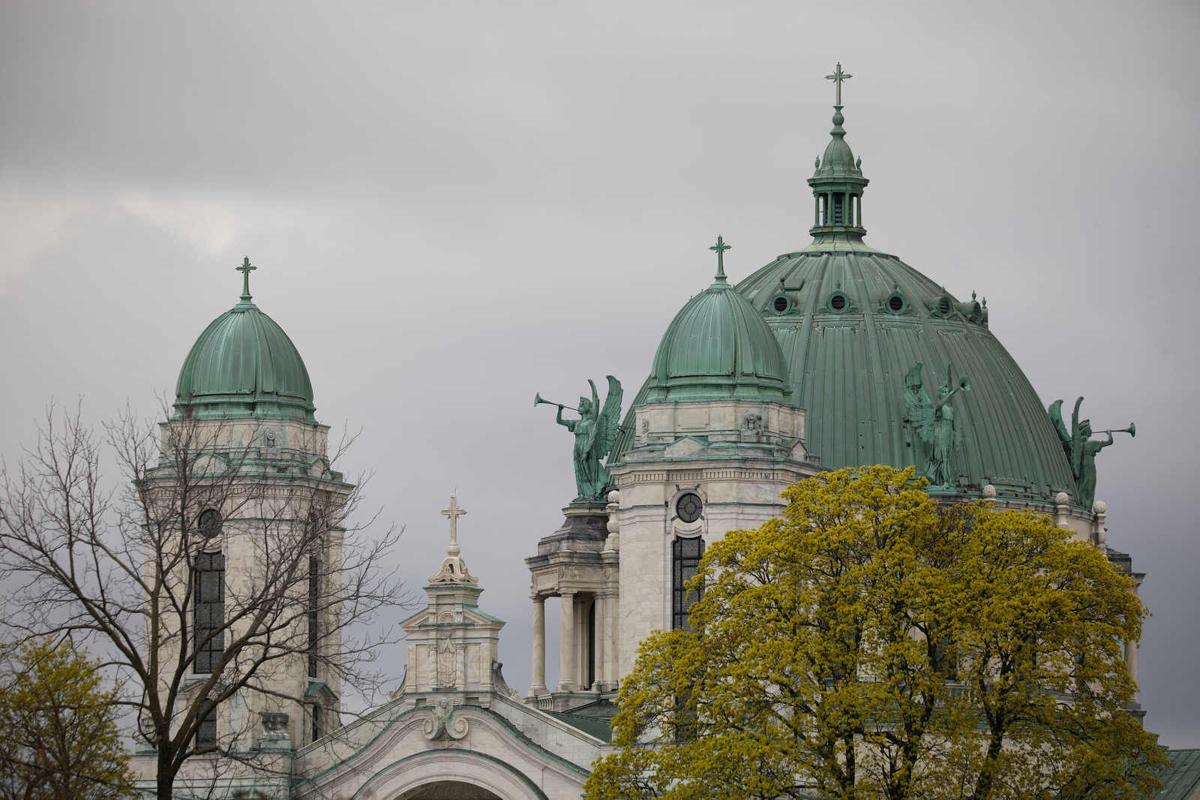 This week marks 100 years since the dedication of the cornerstone for Our Lady of Victory, the basilica that boasts more angels than heaven itself.
Forgive me; that's an exaggeration. The firmament offers an infinity of angels, while OLV is home to only 2,500 – give or take a cherub or two.
This is the way Father Nelson Baker wanted it. The church is his vision. And Saturday Our Lady of Victory – a neighborhood parish and national shrine all in one – will celebrate its 100th birthday.
Buffalo Bishop Michael Fisher will be at the Lackawanna basilica for a Mass of Thanksgiving at 4:30 p.m. Saturday. Then the congregation will process outside, and the bishop will bless the cornerstone. Buffalo Bishop William Turner did the same on Aug. 14, 1921.
Thousands came that day, disrupting traffic on Ridge Road, according to an account in the Buffalo Morning Express. That story ran under the headline "Great Poem in Stone."
The man who dreamed up this soaring church of angels was by then known as Monsignor Nelson Baker. Even now, though, he is remembered in Buffalo by his simpler title: Father Baker.
Today he holds the papal-bestowed title of Venerable, an early step on the road to sainthood. And yet even when sainthood comes, Buffalonians will probably always keep calling him Father Baker. He is 85 years gone and yet somehow still a familiar presence.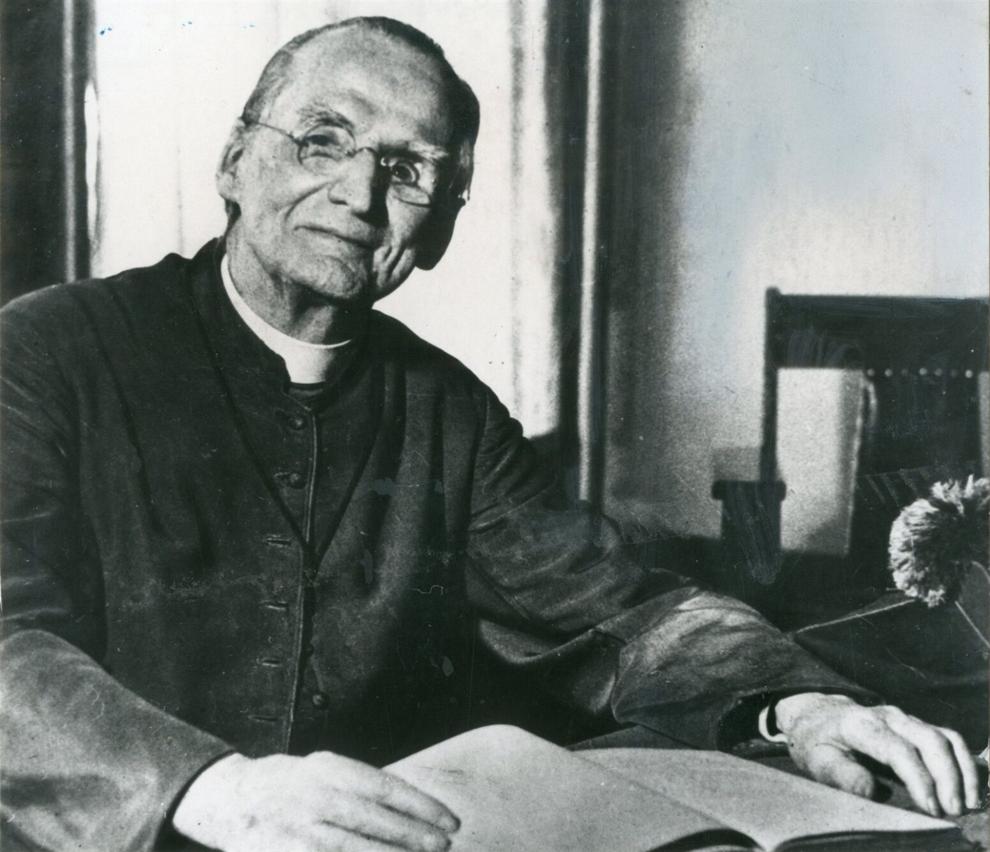 BornInBuffalo.net sells T-shirts with his image: "Scared Straight by Father Baker." The reference is to a time when parents told their mildly misbehaving boys to shape up or be sent to Father Baker's orphanage.
"We're trying to get rid of that image, so we don't promote that so much," Monsignor David LiPuma says. "But, honestly, I grew up here. And when I was a kid, my father used to say to me and my brothers, 'If you don't behave, you're going to go to Father Baker's.' "
Here LiPuma pauses. And then: "Now I say his wish came true."
That's because today LiPuma is pastor of Our Lady of Victory National Shrine and Basilica and president of Our Lady of Victory Institutions, including legacy human-service organizations that Father Baker founded as early as the late 1800s.
The irony, as LiPuma sees it, is that Father Baker "was the last person in the world to be afraid of. He was the most kind and compassionate man, especially to children and youth. Anyone, really, who was in trouble or in need."
You might say Father Baker himself is the human cornerstone of Our Lady of Victory, in the sense that St. Peter is the rock of the Church.
"Oh, for sure," LiPuma says. "He truly is the cornerstone that we stand on today."
Nelson Baker was born in Buffalo in 1842. He fought for the North at Gettysburg in the Civil War, then went into the grain-and-feed business in Buffalo. He studied Latin with the Jesuits at St. Michael's parish in the prehistory of Canisius College, and then entered the seminary at what is now Niagara University. At the time it was called Our Lady of Angels Seminary; some 50 years later, the angels would follow him to the great church aborning in Lackawanna.
Father Baker used the skills he gained as a businessman to raise funds for his many charities – and for the basilica he willed into being. The newspaper accounts of the laying of the cornerstone breathlessly placed the cost of construction at $1 million. (That's roughly $14.3 million today.)
It would wind up costing almost four times as much. The story goes that as the church went up, and its costs with it, Father Baker inquired of the bishop about consecrating it.
"Bishop Turner laughed," LiPuma says. "He said, 'Nelson, you know that you have to have it paid for to have it consecrated.' And he said, 'Oh, I will have the money.' "
Father Baker wrote to postmasters across the country looking for the addresses of Catholic women's organizations, and then wrote to them asking members for small donations for this national shrine to the Blessed Mother.
"Father Baker is not canonized yet," LiPuma says, "but we know he's a saint. And we call him the 'patron saint of direct mail.' "
Saturday marks only the first centennial in a rolling festival of them over the next five years. Our Lady of Victory opened on Christmas Day 1925, and was consecrated on May 25, 1926. The parish will host lectures and concerts and Masses and more to celebrate all of it.
As for those 2,500 angels, LiPuma confesses he has not counted them all personally. He is in his third year as pastor and keeps discovering new ones.
"They're in marble, they're in woodwork, they're on the holy water fonts," he says. "Everywhere you look, you'll see an angel gazing down on you."
Four gaze down on all of us. These 18-foot, solid-copper angels stand sentry beside OLV's great dome, which is 165 feet high and 80 feet in diameter. When it was competed, in 1925, the only larger dome in the United States was atop the Capitol in Washington.
LiPuma welcomes all Western New Yorkers, of any faith or no faith, to come see this great place as it celebrates its centennials over the coming years.
"Everyone is welcome," he says.
Depending on your taste, Our Lady of Victory's ornate architecture is a bit of heaven on earth, or a bit much. Either way, now is a fine time to visit.