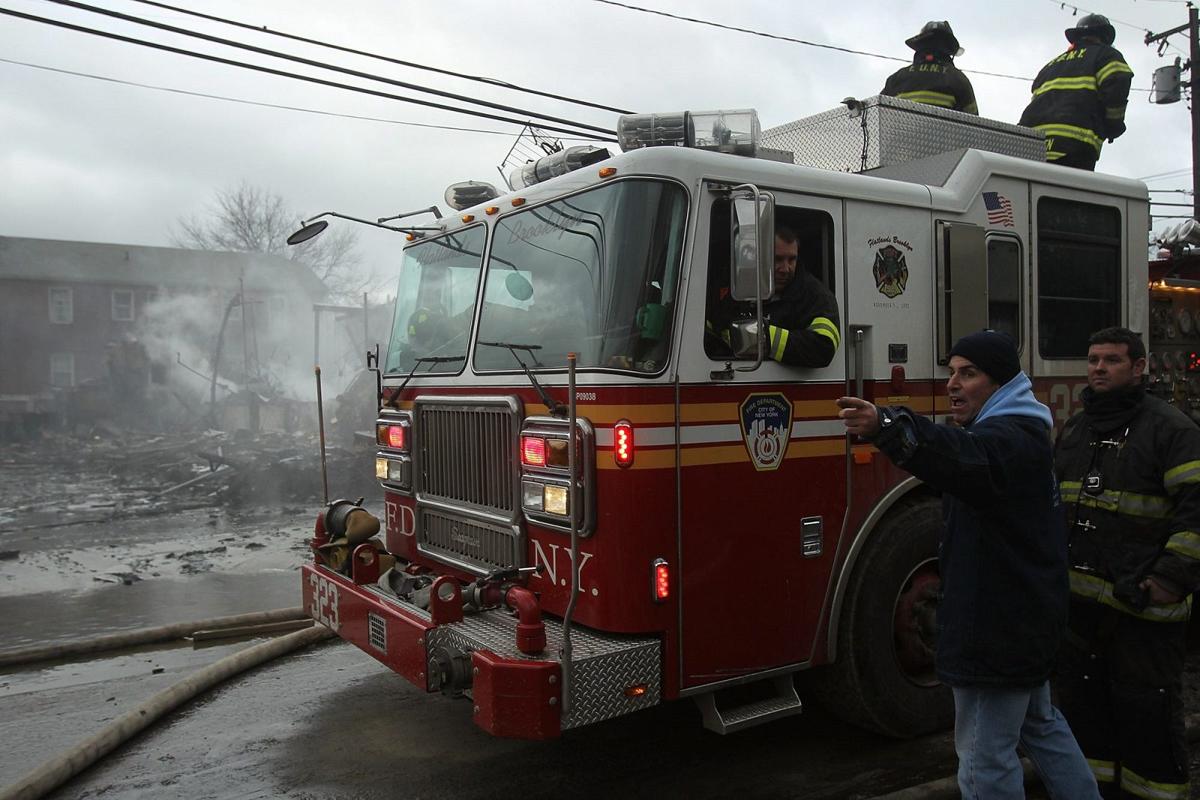 The nation's largest city is not sitting pat on rising sea levels.
The ravages of Sandy were the wakeup call to get going on planning to mitigate the impacts of inevitably continuing rises in sea level. The worst effects of rising sea level will be felt during the passage of Atlantic storms, including occasional hurricanes, especially at high lunar tides. Sandy caused around $19 billion in damages to NYC, flooding the subway system and inundating structures, and leading to fires which destroyed more than 100 homes in Breezy Point, Queens. Of course, that doesn't include the totals from Sandy's entire regional impact ($32 billion) and the 72 fatalities.
Mayors Bloomberg and Di Blasio have been leading efforts with the City Council and the state to build in more protection to mitigate against ongoing erosion, tidal flooding, and disastrous storm surges. However, an article in "Scientific American" points to a new report which indicates those expensive efforts will fall short of what would really be needed to protect NYC even from low-end let alone far worse high-end sea level rises.
It's not that mitigation spending isn't worth the effort. It's a question of how much mitigation can be afforded and accepted.
In a recent study a team of researchers from the Institute for Environmental Studies in Amsterdam, including researchers from MIT, the University of Pennsylvania and Princeton performed computer simulations of 549 different storms in 2014. The simulations included small storms up to storms larger than Superstorm Sandy. The Sandy-sized simulation produced damages which closely matched the actual Sandy, so it appears fair to assume the simulations are reasonably accurate. With them, it's estimated the annual cost of flood damage between now and 2040 with more conservative sea level rise projections would average $174 million. The fiscally near-impossible-to-imagine mitigation for upper range sea level rises would be more than $25 billion annually.
Again, this is just for the New York metro area. In the near term, the Institute study recommends a combination of small levee barriers, raising new structures and home foundations as the most cost-effective path to follow. For this path to have some success, sea level rises would have to be near the more conservative range. Nature may not cooperate, since some aspects of a warming climate have already exceeded that conservative range up to this point. More effective mitigation may eventually entail huge floodgate barriers to protect locations such as New York Bay. Thus far, the costs for most such barriers have not made the cut, let alone psychological acceptance of such massive structures in and near New York harbor.
One such plan would include a barrier from Sandy Hook, N.J. to the tip of the Rockaways in Queens, and another barrier for the East River. While such ideas may seem wildly extravagant, it has to be remembered the NY metro area (including the adjacent NJ coast) is the center for much of the U.S. economy, as well as our largest population center. Keeping the New York metro area as well protected as fiscally possible is not really optional. The alternative is economic and social disaster not just for the region, but for the nation.
For now, a less expensive hybrid approach is viewed as the most cost-effective plan through about 2030. This approach got its start under outgoing Mayor Bloomberg, who announced a $20 billion climate resiliency plan in 2013. This involves beach restoration, structure improvements, and smaller flood barriers. The hybrid approach is tied to a more conservative range of sea level rise. Should sea level rise amplify upward, the huge expenses of the massive flood barriers would still be almost surely become preferable to the far greater expenses from the damages posed by higher sea levels and storms. But after 2030-2040, the larger sea walls are likely to become a necessity even with more conservative sea level rise estimates.
Some other mitigation plans include "breakwater" barriers near Staten Island and building a series of barrier islands called the "blue dunes." There is also a clear need, according to the researchers, for more cooperation between New York and New Jersey.
The Institute for Environmental Studies suggests a $10 fee for the 50 million visiting New York City tourists (equivalent to the fee all air passengers now pay for aviation security) would help spread the costs. In the meantime, despite a hopeful start to mitigation, most researchers agree the New York metro area and its institutions are moving too slowly to stem the tide.
Be the first to know
Get local news delivered to your inbox!