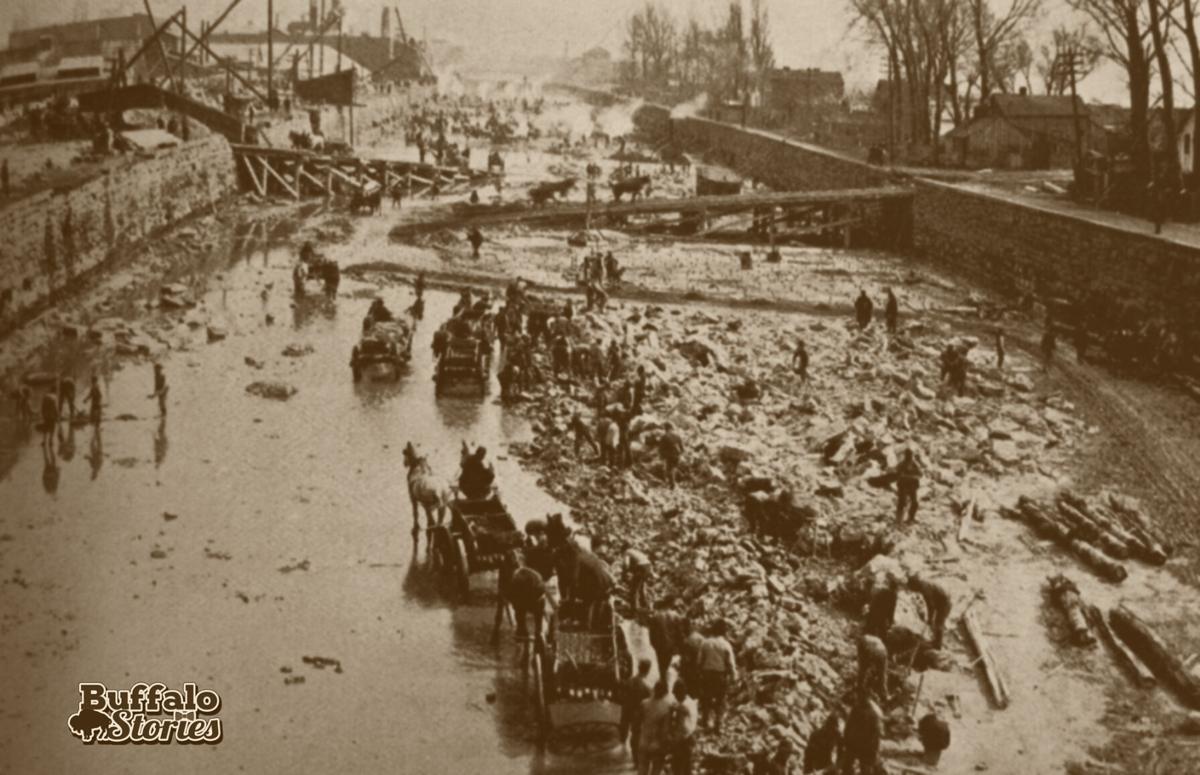 The Erie Canal played an integral role in the growth of Buffalo from a tiny frontier village to the eighth-largest city in the country, but for the people who lived around the canal – life was not like the upbeat song with low bridges and mules named Sal.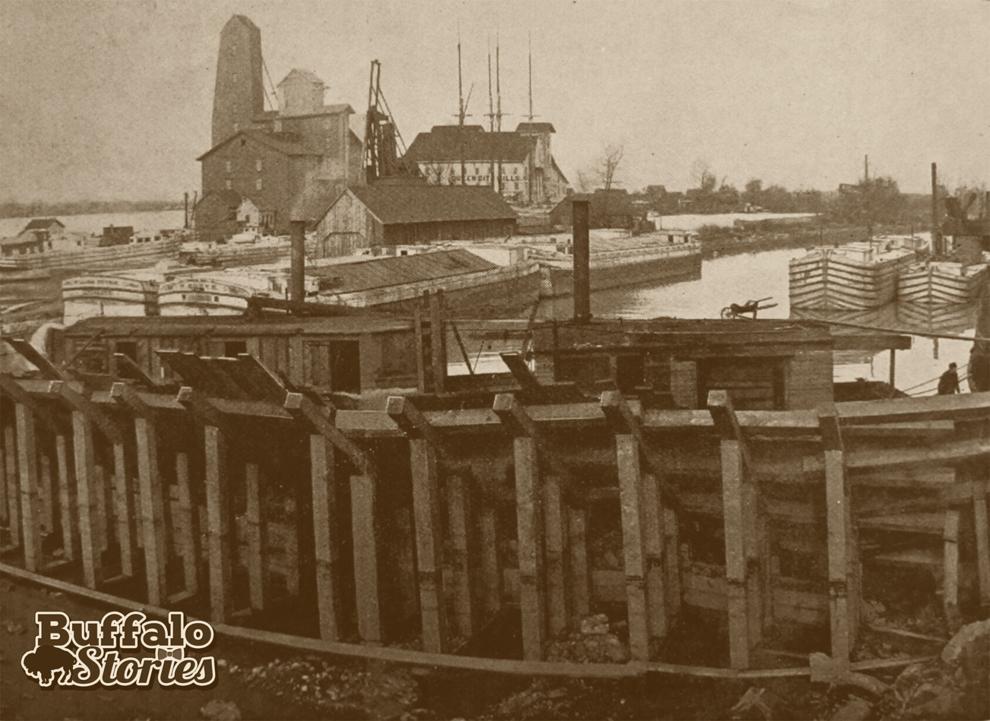 The stench was bad enough from day to day, especially in the summer – but it became far worse during the somewhat regular dredging of the canal, as depicted in these two 1897 photos.
"Disease Breeding!" cried the front page of the Buffalo Enquirer as the work depicted went on, with five subheadings blurting: "Remedy must be applied immediately to stop the terrible stench arising from the Erie Canal" and "Impossible to disinfect this mass of slime, the odors from which are causing residents of the district to fear sickness and disease."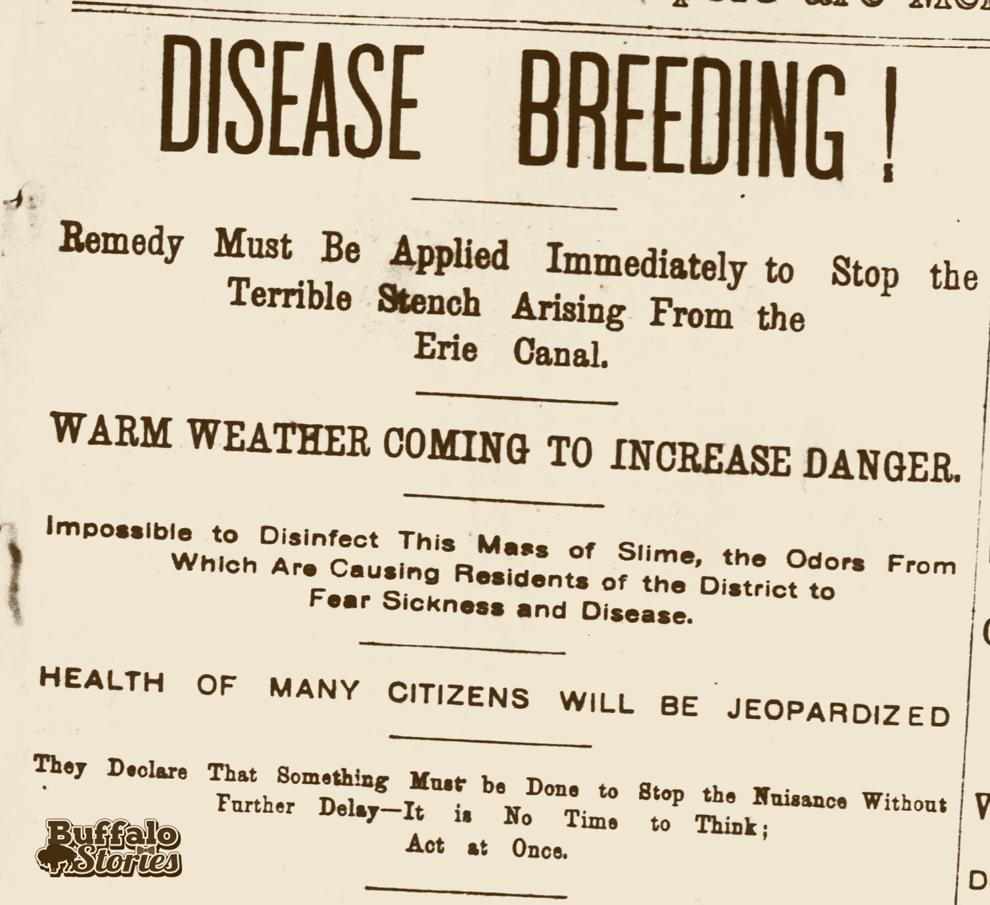 Pointing to as among the biggest problems in creating "the horrid smells that comes from the piles of mud" – filth, sewage, and run-off from factories which use organic matter in manufacturing.
The part of the canal where the smell was the worst during this time is now covered by the I-190 roughly between the Skyway and the Peace Bridge.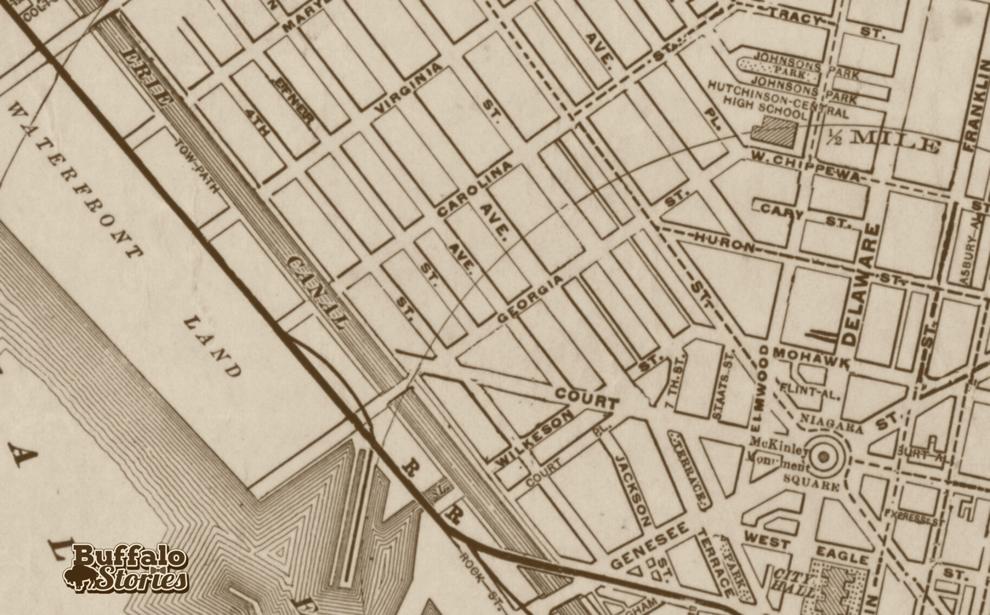 Georgia Street starts at Chippewa Street behind Hutch-Tech High School and runs to Niagara Street, but before the city began acquiring lands for Lasalle Park, the I-190 and 1960s urban renewal teardown of the neighborhood behind City Hall – Georgia Street ran right to the Buffalo River.
The family of Edward O'Grady, of 68 Georgia St. – right next to the canal, complained of "headaches and other malarial affections" because of "the smell that's something awful."
Residents of 4th Street, which ran parallel to the canal for the full length of this area "denounced the odor in violent terms."
Mrs. Patrick Sullivan of 209 4th Street told the Enquirer, "We are poor and of course have to stand it. The odor makes you feel dizzy in the head when you get up in the morning and it seems as though your stomach is all twisted up. It's awful."
Another 4th Street resident who was a canal worker, was put out of work with malaria.
The work of dredging and reinforcing the walls of the canal continued through most of 1897 and before the water was allowed to flow once more, more than 110,000 cubic yards of "filth" was removed.
Four months after the initial completion date, work was completed and "hundreds of men, women, and boys" watched and let out a shout as water began to rush back in to the canal, once again covering the exposed filth and abating the most violent of the terrible smells coming from the Erie Canal.
Steve Cichon writes about Buffalo's pop culture history for BN Chronicles, has written six books, and teaches English at Bishop Timon - St. Jude High School.