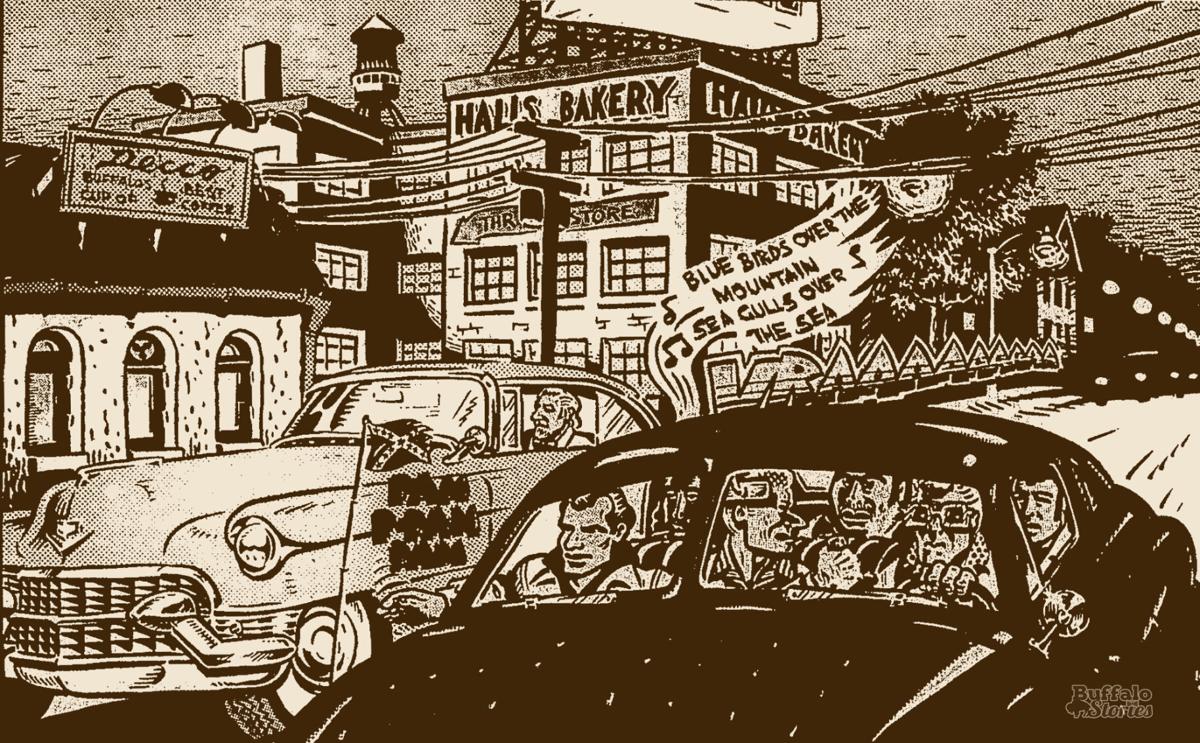 More than 50 years before "Spain" Rodriguez would return to his hometown for a comprehensive career survey show at the Burchfield Penney Art Center, the pen and ink sketches of young Manuel Rodriguez were said to have "style and impudence" when reviewed in The News while exhibited at an International Institute Show in 1955.
This was decades before, as the New York Times described in his obituary, he was part of a wave of artists that "established the irreverent, profane, highly sexed, antiwar, anticapitalist spirit of underground comics."
A mid-1950s News profile said the 15-year-old "budding cartoonist" with "witty and well-executed" sketches was a Bennett High School student and an Evening News delivery boy while growing up on Humboldt Parkway. His mother was a lifelong local artist known in art circles as "Steve Nomi."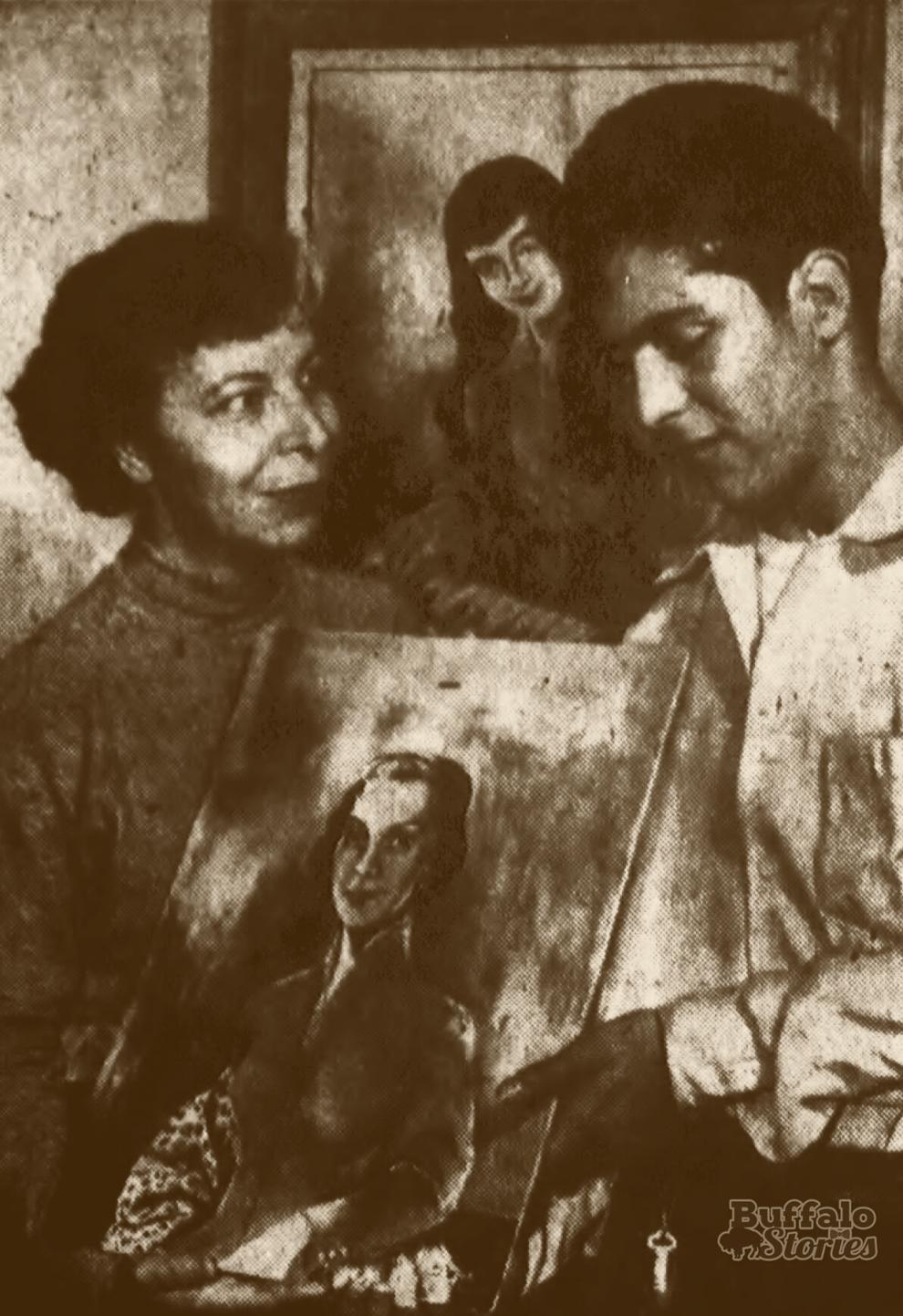 "Manuel has sketched since he was 3 years old," Mrs. Rodriguez told News reporter Jean Reeves. "His teachers used to call me all the time to complain that all his papers – homework, tests, everything – were covered with drawings."
A few years later, Rodriguez's work was displayed in the JN Adam's Art Gallery downtown. The show was reviewed in The News by Larry Griffis, later of Griffis Sculpture Park fame.
"His works are inconsistent in quality but have rare and promising aspects," wrote Griffis in 1959. He said one watercolor was "executed with freedom and strength," but that there was also "slight tendency toward the morbid or grotesque" in his work.
"In contrast," Griffis wrote, "are some wonderfully lively and bizarre studies of dancers and musicians. Rodriguez has a real gift and will be interesting to watch in future exhibits."
In 1962, he had a one-man show at Buffalo's original Bohemian, beatnik hangout, Coffee Encores Galleries at 341 Franklin St.
While his art was well-publicized, the young Rodriguez was just as likely to get in the paper for being in the middle of trouble – first as a member of the "Black T's" gang as a young teen, and then later as a member of the far more infamous Road Vultures Motorcycle Gang.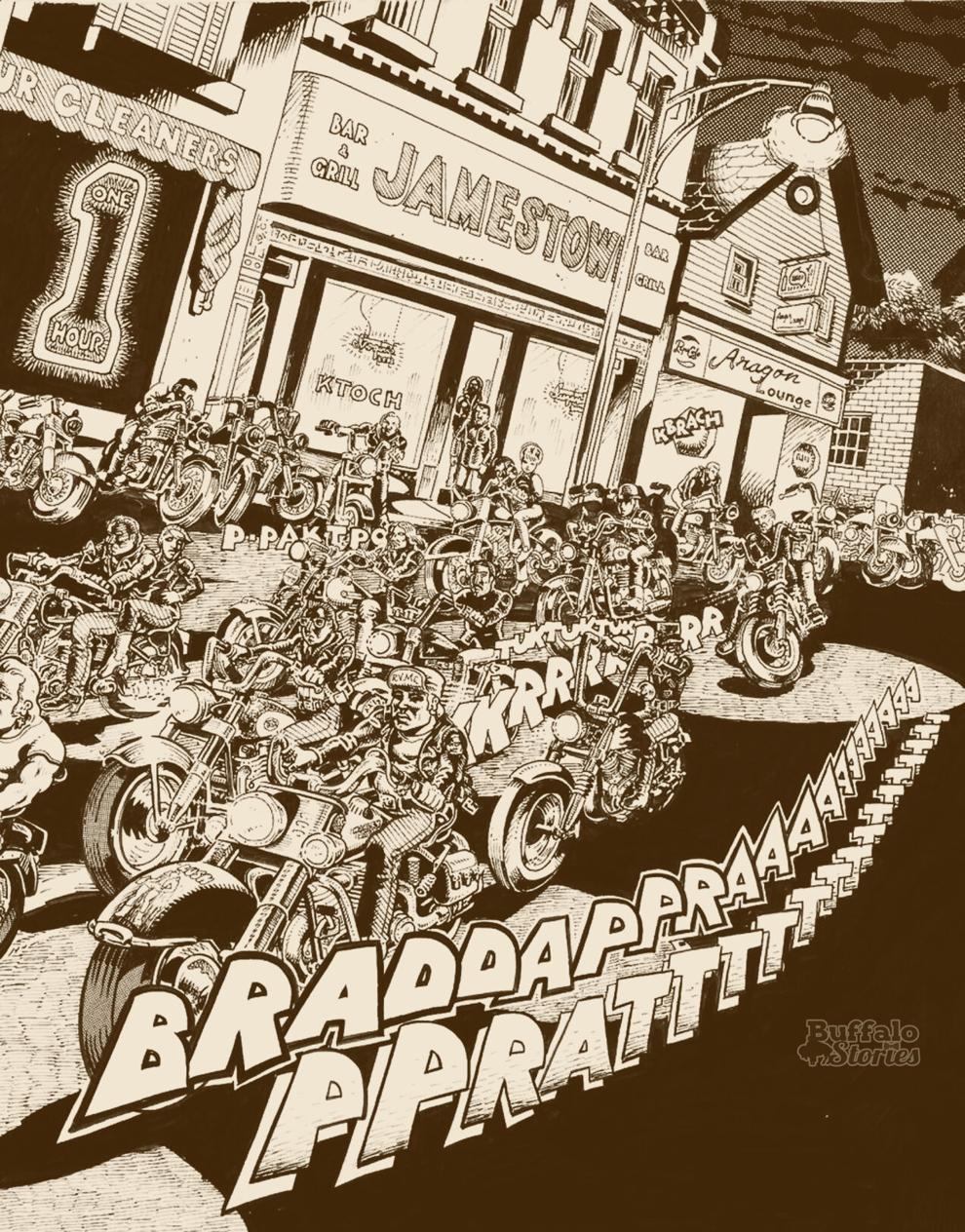 The things he learned as a kid in Buffalo in the '50s and '60s – both as an artist and as a juvenile delinquent – served him well. That was the same mix that helped manifest the anger he felt as a Bennett High student hearing about the 1954 Senate hearings denouncing comic books.  
Enjoying comics was something he did with his dad, from the time he was a little boy in the 1940s. On Sundays, his father would send him to the store around the corner at Humboldt and Delavan, where he'd pick up a newspaper and a bottle of Vernors, Rodriguez told News Reporter Colin Dabkowski in 2012.
"When he got home, young Manny would sit on his dad's lap and look at the funny pages while his father read Li'l Abner, Blondie and the detective serials of the day aloud."
Seeing dour Washington politicians destroy the medium he grew up finding so much joy in left him distrustful of the establishment. That distrust grew and he became radicalized by what he saw as unfair treatment of himself and fellow factory workers during the five years he worked at Buffalo's Western Electric plant.  
It was as a member of the Road Vultures that Rodriguez first got the nickname Spain – which stuck with him as he  moved on to become an East Village artist working at New York's edgiest papers and magazines of the '60s. He created characters like Trashman, where storylines would see his Buffalo experiences spilled onto the pen-and-ink pages of his work.
He gained more renown as he moved to San Francisco, where he was part of the birth of a more socially conscious and adult-themed world of comics. The San Francisco Examiner featured him in a 1973 story about that newly emerging world:
"He can't leap tall buildings in a single bound, but Trashman is terrific with fists or a machinegun. Not surprisingly, Trashman's creator, Manuel 'Spain' Rodriguez, 32, shares many of Trashman's 'libertarian socialist' ideas. As a matter of fact, Trashman and Rodriguez even look something alike. Meaty, chiseled features, solid build, black trimmed bears and black hair."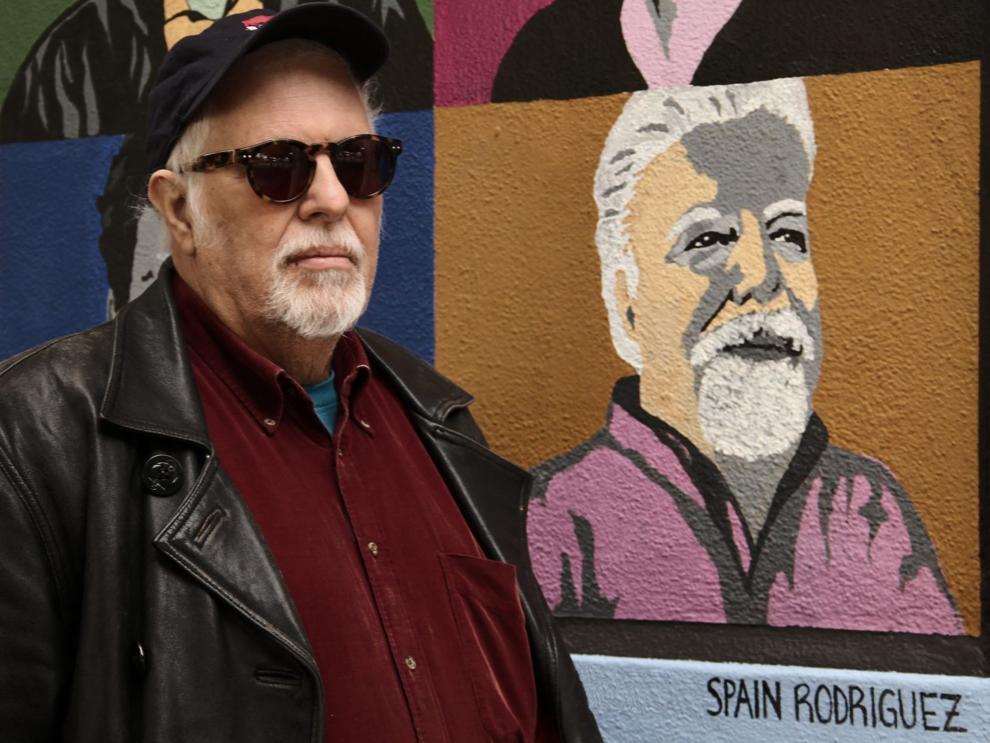 Buffalonians might recognize glimpses of Buffalo in Trashman, but Rodriguez's 2012 anthology "Cruisin' with the Hound" collects many of his best stories specifically about his friends and experiences growing up on the East Side with a counterculture delinquent chip on his shoulder.
Many of those cartoon panels – of life in Buffalo in the '40s, '50s, and '60s – were part of the "Spain: Rock, Roll, Rumbles, Rebels and Revolution" show at the Burchfield Penney.
News Critic Colin Dabkowski takes us there in his 2012 review: 
"In the main gallery, we get to the good stuff. There are original pen-and-ink drawings of Rodriguez's highly involved stories of his time in a Buffalo biker gang, with wonderful onomatopoeia to mimic the sound of revving motorcycles (my favorite: "frukkafrukkafrukka") …
"As others have remarked, Rodriguez's greatest accomplishments are his detailed, gritty cityscapes. Some of them are based on Buffalo neighborhoods like Allentown; others were inspired by the much larger (but just as gritty) East Village in New York City, where Rodriguez lived for a time while drawing comics and covers for the underground newspaper the East Village Other."
Even after returning to Buffalo and having his life's work displayed at a prominent local gallery, Rodriguez knew that most people in Western New York – or anywhere – didn't know who he was. But he seemed satisfied with that.
"I've always been kind of content to labor in obscurity," he told The Buffalo News in 2012.
He knew his politics played a role in that, and Rodriguez agreed with the notion that politics doesn't sell comics. "But that never stopped us from doing them," he told the Examiner in 1986. He had bigger plans with his underground art.
"I always had a political point I was trying to get across. If it doesn't sound too grandiose, I think the undergrounds were really a continuation of the American Revolution. Hell, it does sound grandiose, but so what?"
Rodriguez is the subject of a film being premiered at the Slamdance Film Festival this week. Produced and directed by his widow, "Bad Attitude: The Art of Spain Rodriguez," is part of the virtual event that runs Feb. 12-25.
Steve Cichon writes about Buffalo's pop culture history for BN Chronicles, has written six books, and teaches English at Bishop Timon - St. Jude High School.