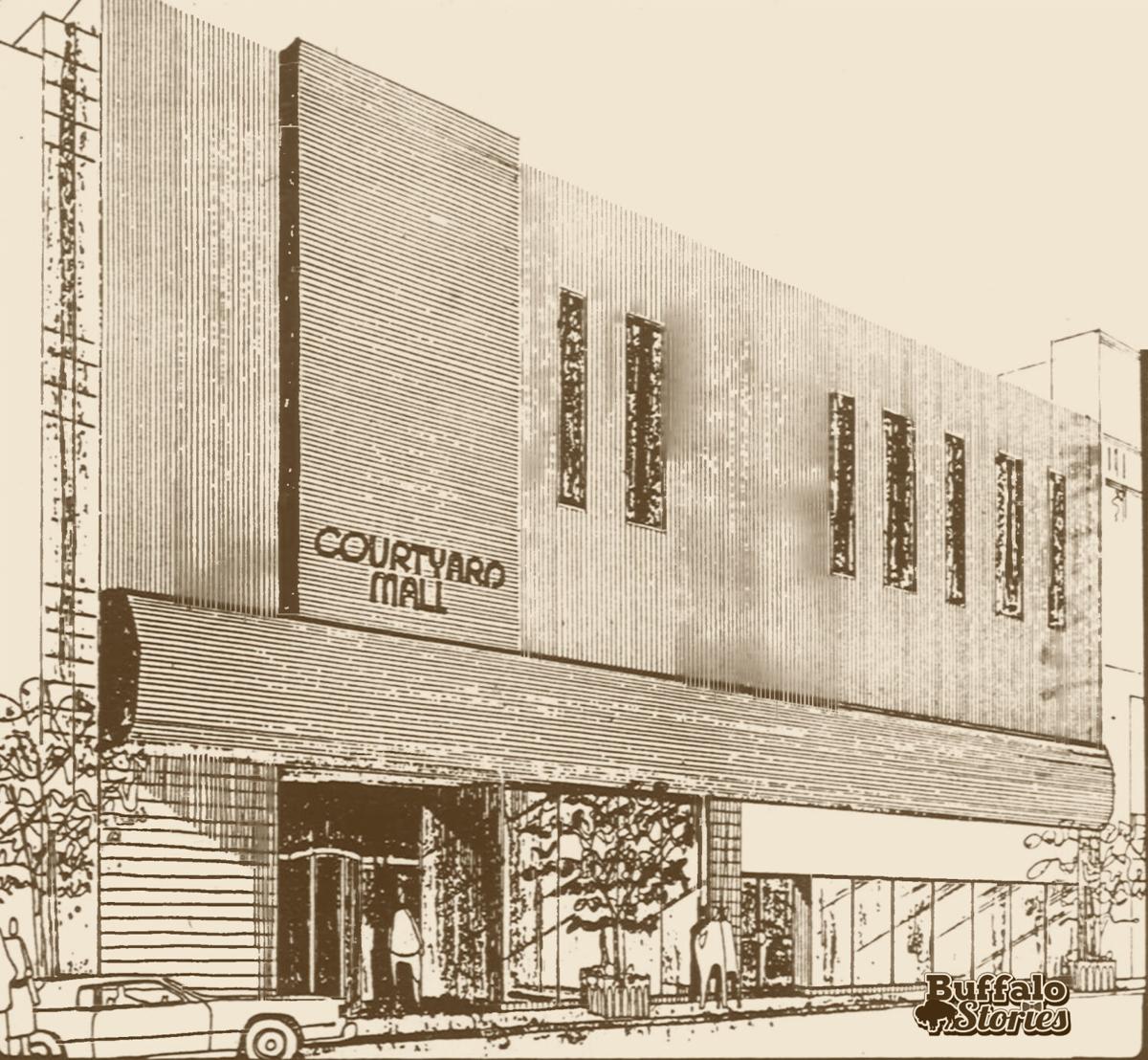 Despite the "warped floors, stripped fixtures, and crumbling walls" of the old Neisner 5 & 10 store at 460 Main St., across from Hengerer's, Kenmore attorney Julian Sugarman dreamed the vacant old building could become a catalyst for downtown Buffalo development.
There hadn't been new commercial development downtown in 15 years when Sugarman started the Courtyard Mall project in 1979 – he thought he could see what big-time developers couldn't.
"I know I'm a dreamer," Sugarman told Courier-Express reporter Charles Haddad in 1982, "but sometimes it takes an outsider to see things more clearly."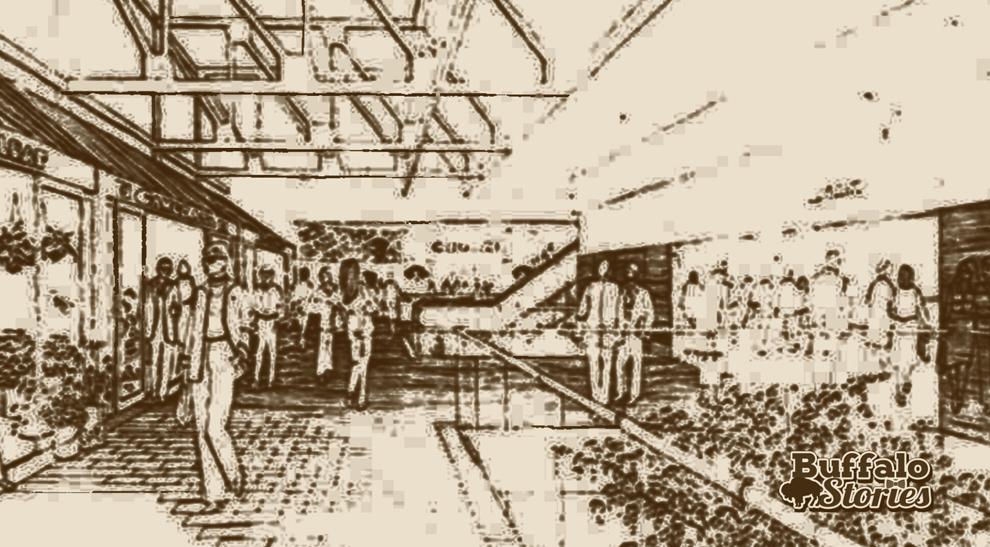 Developers scoffed, but hopeful Buffalonians thought the idea could be among the first to take advantage of the coming rapid transit and pedestrian mall. Early shop owner Paul Kustich saw the project as bringing hope to downtown Buffalo.
"I think it represents what most Buffalonians think as a Toronto, San Francisco. Boston development," he told the Courier-Express. "They've taken an old building and recycled it."
Courier Columnist Richard Roth agreed.
"The mall is a splendid example of what is known as an urban shopping center, having far more charm than your standard suburban mall.
It was slow to start, but the old five-and-dime – which began at E.W. Edwards & Son Department Store before spending four decades as Neisner's – was carved into 23 small specialty shops and fast-food ethnic restaurants in a "bright and plant-filled" environment.
The video arcade was popular, even with white-collar downtown office workers looking for something different to do on their lunch breaks.
Permanent Savings Bank opened a branch in the mall and also held the paper.
Shops like Gourmet Granny's and Lotions & Potions, as well as small restaurants like Bagel & Crepes Café, Taters, JC's Ice Cream & Yogurt, and a branch shop of Fort Erie's King Wah Garden all breathed some new life into a city-center core that hadn't seen anything new besides "Going Out of Business Sale" signs for years.
The mall even helped reverse the fortunes of at least one closed business. Quality Texas Lunch – originally a landmark hot dog joint for more than 50 years at 18 E. Mohawk St. – was forced to close when the building was torn down for surface parking in 1978. Eva Pappas, the daughter of the original Quality Texas Lunch, reopened the family business in the Courtyard Mall in 1980 because she believed "Buffalo was on the way back."
But despite a lunchtime crowd of 3,000 people an hour inside the Courtyard Mall, the recession in the early '80s hit an already-hurting downtown Buffalo hard, and bankruptcy was still on the horizon for the mall's ownership.
By the mid-'80s, the mall was closed and the space became embroiled in a battle over whether or not it could be renovated and used as office space for Erie County. In 2003, there was talk of tearing down the building to make way for a parking ramp as it continued to sit vacant.
In 2020, part of the building was included in plans to renovate the Baker Shoes building next door – meaning the space might yet become part of a resurgence on Main Street downtown.
Steve Cichon writes about Buffalo's pop culture history for BN Chronicles, has written six books, and teaches English at Bishop Timon - St. Jude High School.