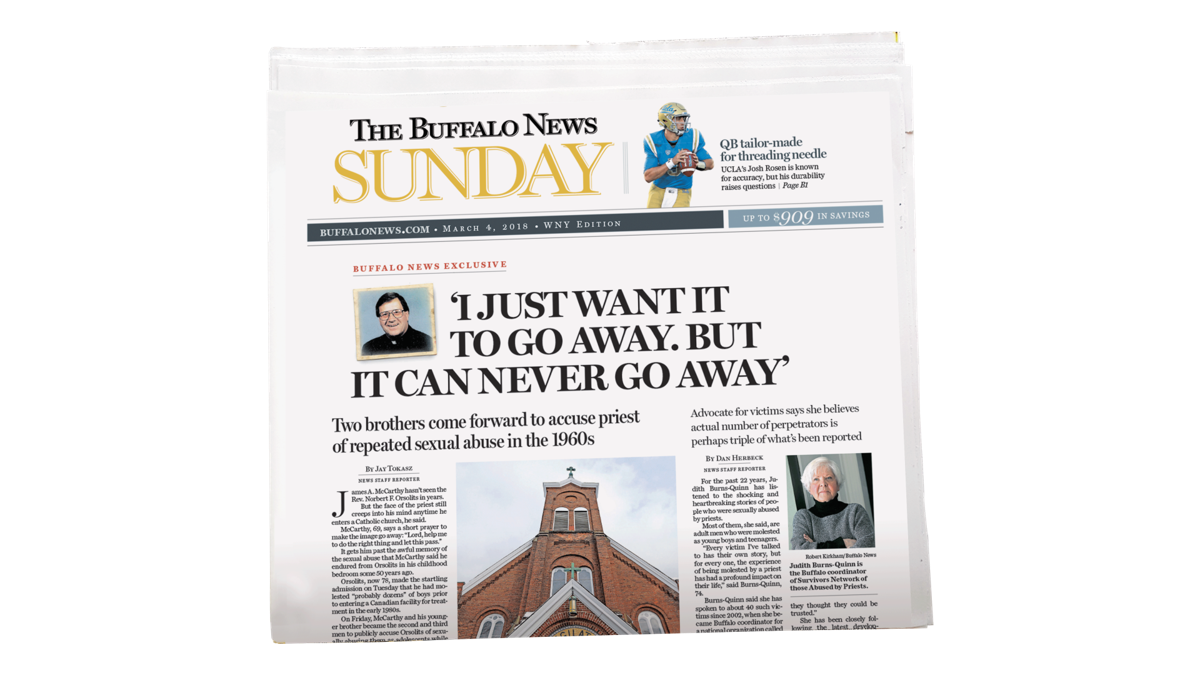 Our newsroom is focused on enterprise stories – original reporting that you won't fi nd anywhere else. An important type of enterprise is investigative journalism, which probes powerful institutions or figures in search of wrongdoing. Investigative journalism has always been core to The News' mission.
The work of Frank Bloomer, a reporter at The News from the 1890s to 1947, was legendary. His fearless reporting led him into the middle of a recovery mission after a tragic dock collapse in 1912, across blocked borders to learn the identities of flood victims in 1913 and straight into an armed stronghold to capture a highly sought photo in 1914 of William Beardsley – a man who wounded a county official and held off law enforcement for over two weeks.
The News' Edgar May was awarded a Pulitzer Prize for his investigative series on welfare, "Our Costly Dilemma." The story brought him undercover in 1959 as a case worker for the Erie County Department of Social Welfare. With a disguise that included a mustache and a pair of glasses that reportedly gave him headaches, May spent six months researching from the viewpoint of professional social service workers and welfare recipients. Throughout the entire investigation, not even his fellow staffers knew where he had disappeared to.
When May was recognized for the series in 1960, the Pulitzer Prize citation said, "The series brought about reforms that attracted nationwide attention."
These stories, from both the past and present, are vital to the work we do. They uncover issues that take place behind the scenes of everyday life and trigger change when it's needed. In recent years, The News has invested even more resources into investigative journalism, and we're regularly publishing the impactful products of that work. Revisiting some of the most remarkable pieces done by our current staff shows our commitment to investigations has never been greater.
After the crash of Flight 3407, Washington Bureau Chief Jerry Zremski and Albany Bureau Chief Tom Precious exposed a gaping hole in our nation's aviation safety record: regional airlines. That 2009 series helped support efforts, led by friends and family of Flight 3407's victims, to change federal regulations governing the industry.
Zremski, as head of Western New York's only Washington bureau, is always bird-dogging the actions of federal agencies and officials with our readers' interests top of mind. Last week, Rep. Chris Collins reported to prison after pleading guilty to insider trading charges. Zremski's early reporting on the former congressman's investments in Innate, an Australian pharmaceutical company at the center of the charges, were so revealing that they later appeared in Collins' indictment.
While investigative reporting is part of the work done throughout the newsroom, the six journalists who make up today's Watchdog Team are entirely focused on tenaciously pursuing these stories. The team is led by editor Mike McAndrew under the direction of Denise Jewell Gee, an assistant managing editor and the leader of our local news coverage. Their veteran group consists of:
Dan Herbeck and Lou Michel, who have been at the center of some of The News' biggest stories for decades. They received international acclaim for their work following the 1995 Oklahoma City Bombing. The pair spent fi ve years reporting on the bombing, including more than 72 hours interviewing Timothy McVeigh following his conviction. They chronicled the life and motives of the Pendleton native in The News and in their 2001 book, "American Terrorist."
Matt Spina, whose investigations into a series of deaths at the Erie County Holding Center uncovered staff negligence, inhumane treatment and attempts to cover up mishandled incidents – many of which resulted in the deaths of inmates – going back 15 years. More recently, Spina compiled and analyzed years of reporting by The News on police misconduct, chronicling incidences of abuse that reveal disturbing patterns.
Mary Pasciak, whose court fight for public records ultimately uncovered misuse of money in the Buffalo Public Schools in 2011. Since the start of the pandemic, she's investigated how local nursing homes have handled the pandemic. In May, she brought readers inside an Orleans nursing home investigation of 23 Covid-19 related deaths.
Jay Tokasz, who in 2018 tracked down a Catholic priest accused of abuse and got his startling confession that helped spark waves of revelations about abuse within the church. The priest told Tokasz that he had sexually abused "probably dozens" of boys. Since then, the team has uncovered decades' worth of abuse cases and the Diocese of Buffalo's attempts to conceal misconduct.