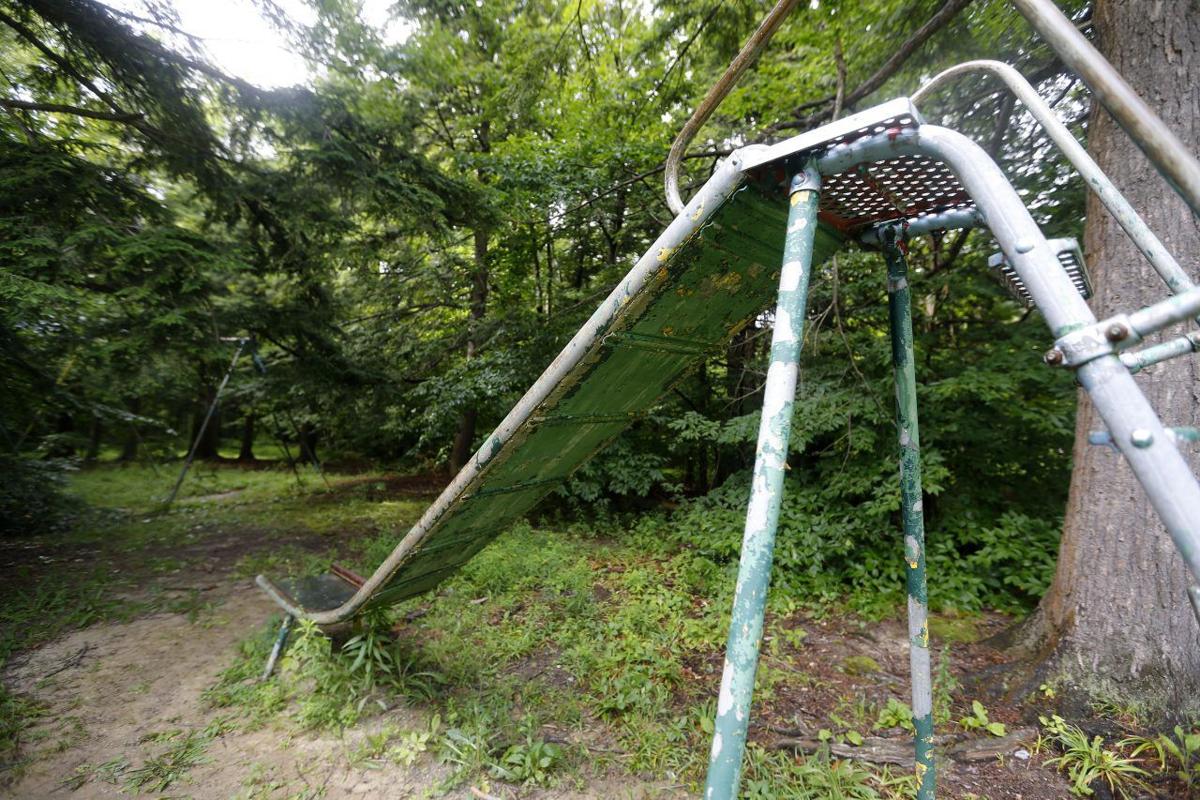 Decades-old metal playground equipment in Erie County parks are a serious health hazard, said Erie County Comptroller Stefan Mychajliw, based on lead testing on a pieces of slides and swing sets at five county parks.
Many of the metal pieces have layers of chipped, worn or peeling old paint, Mychajliw said Wednesday. Paint samples from a dozen old slides and swing sets submitted for lab testing by the Comptroller's Office found 11 had levels that exceeded safety standards. Paint samples from five pieces of equipment had lead concentration levels that exceeded 10 percent.
"This playground equipment is in a deteriorated state, and currently poses a serious threat to the safety of children using it," Mychajliw said in a letter to County Executive Mark Poloncarz.
The comptroller recommended the pieces of playground equipment be roped off and removed, and that all other playground equipment be tested by the Health Department.
Health Commissioner Dr. Gale Burstein said that work is being done but called the risk to children fairly low. The county Health Department has found no cases in which playground equipment led to lead poisoning in children, she said.
The vast majority of lead-poisoning cases involved children living in older homes with repeated exposure to paint chips or dust, she said. So that's where the bulk of $3 million in lead-poisoning prevention money is being spent in Erie County, she said.
"Our major focus is where most of the lead exposure occurs, and that's from peeling, chipping paint in homes," she said.
Even so, the health risk raised by the Comptroller's Office has prompted Burstein to direct a health inspector to work with parks employees to test all equipment and shelters in all county parks with a lead-detecting X-ray gun.
Outdated equipment found to have lead is being removed. That includes 22 pieces of equipment found to have lead paint in Chestnut Ridge Park in Orchard Park, mostly old playground equipment such as swing sets that were missing swings, according to the Health Department.
The Erie County Parks Master Plan released last year called for the removal of the outdated equipment, most of which does not meet modern safety standards. But the plan listed the removal of this equipment as a "low priority."
Mychajliw and his staff conducted over-the-counter lead paint testing on the playground equipment as part of an effort to show the disrepair of parks last week. The playground equipment samples were then shipped to a lab for a more accurate analysis. The results came back Tuesday.
Mychajliw criticized Poloncarz for "years of neglect" to parks that allowed the equipment to become a health hazard. Also on Wednesday, he released his report showing that more than $3 million in money borrowed for park improvements from 2015 through 2018 remained unspent.