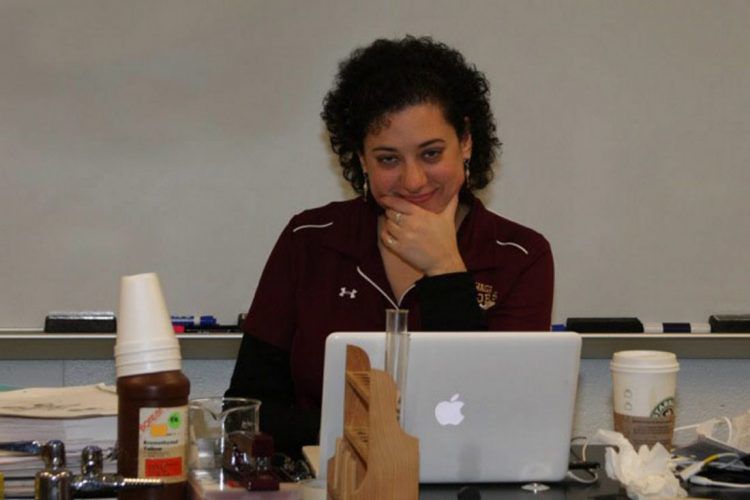 When Joelle Silver moved on from her teaching post in Cheektowaga, she left behind a legacy that lingers even today – a legal battle over religious free speech in the classroom.
Two different federal courts – one here, the other in Manhattan – rejected her case. Yet Silver is pressing her claims that the Cheektowaga Central School District violated her rights by ordering the removal of religious items from her classroom.
She now wants the nation's highest court to hear her case.
"For too long, the law has treated religion as if it were a disease that needed to be eradicated," said Robert Muise, a lawyer for the American Freedom Law Center, the group representing Silver as she tries to get the U.S. Supreme Court to take up the case.
At the heart of Silver's lawsuit is a school district directive in 2012 ordering her to remove a Biblical poster, a drawing of three crosses and other religious items from her classroom.
The district's orders, included in a "counseling letter" to Silver, came after a student contacted the Freedom From Religion Foundation and complained about a guest speaker in Silver's anatomy class who used Bible passages.
The foundation, based in Madison, Wis., also claims Silver referred to Adam and Eve while talking about the human rib cage. Silver taught high school anatomy and biology.
"The founders had it right," said Jeremy A. Colby, a lawyer for the district. "They all came from a background of religious persecution and wanted to make sure we didn't have a universal religion."
Silver, with the help of the Freedom Law Center, filed a federal court lawsuit in 2013 that charged district officials with violating her First Amendment rights and acting hostile toward her Christianity.
Over the next four years, as the civil case wound its way through the system, several local judges agreed with the school district and ordered the suit dismissed.
When Silver appealed, the U.S. Second Circuit Court of Appeals in Manhattan also rejected her claims. 
The court, in a ruling that mirrored the lower court decisions, found that the Cheektowaga school district did not violate her free speech rights or restrict her religious expression.
In each case, the courts pointed to the First Amendment's Establishment Clause, which prohibits government from establishing an official religion or enaging in actions that unduly favor one religion over another.
Colby says at least 10 other federal appeals courts have decided free speech in the classroom cases and, in each one, ruled in favor of the school district.
"They've continually been presented with this issue and decided not to pursue it," he said of the courts, before alluding to Silver. "She has provided no reason to believe the 11th time will be the charm."
The Freedom Law Center,which is based in Ann Arbor, Mich., described one of the lower court rulings as "dripping with hostility to religion."
In its court papers, the group notes that the school district also ordered Silver to remove small sticky notes with hand-written Bible quotes and religious messages that she kept on her desk.
Muise says the directive also came with a threat – termination.
"To have simple postings, some of them just sticky notes, ordered removed and to then threaten to fire her is just absurd and offensive," he said.
Muise says the school district's hostility toward Silver's Christian faith is obvious, even blatant, especially given its policy toward other teachers.
In court papers, he claims other teachers are allowed to decorate their classrooms with personal items that reflect the individual teacher's opinions and values, as well as their political and social concerns.
He points specifically to a school social worker who displayed gay rights posters in her office.
Silver never pushed her faith on students, according to Muise, who noted that one of the posters she was ordered to take down included a quote from Paul's first letter to the Corinthians: "Be on guard. Stand true to what you believe.  Be courageous. Be strong. And everything you do must be done in love."
He says the quote was superimposed over an American flag and a collection of school books.
From Day One, school district officials have publicly admitted they feel caught between two special-interest groups eager to set a legal precedent. They also feel they would have been sued by one group or the other regardless of what they did with Silver.
Colby says Silver, a teacher in the district for about 10 years, resigned her teaching post more than a year ago.