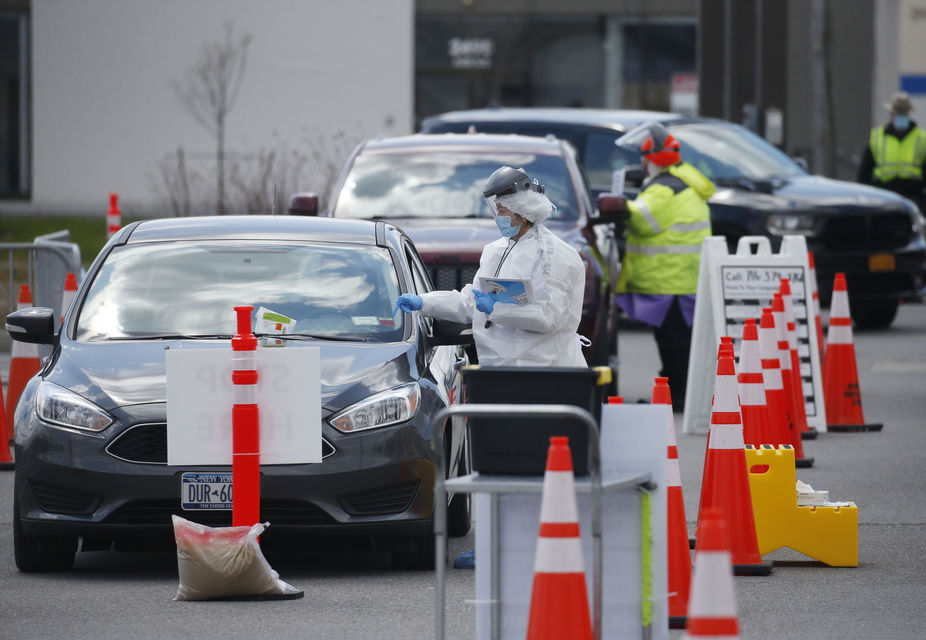 Local doctors, disease researchers and public health officials have for weeks emphasized the importance of strict, community-wide social distancing measures to slow the spread of Covid-19.
But that has only fueled plans for a protest scheduled in Niagara Square Monday.
The "Gridlock Buffalo" event, organized by local conservative activist Rus Thompson, is aimed at ending state and local social-distancing measures that temporarily closed businesses and other public spaces, Thompson said. Protesters will stay in their cars, he added. It's unclear how many people are expected to attend.
In a phone interview Saturday, Thompson accused Gov. Andrew Cuomo – as well as the Erie County Department of Health, local hospital systems, university epidemiologists and other health care experts – of hurting businesses and treating New Yorkers "like children" in their fight against the Covid-19 pandemic.
That pandemic has killed more than 158,000 people worldwide, including more than 100 in Erie County, according to Department of Health figures. Local hospitalization rates have largely evened out in recent days, but experts caution that it is far too early to say the region has "flattened the curve."
And while President Trump has encouraged his supporters to protest social-distancing orders in several states, Erie County does not yet meet the White House's proposed guidelines for reopening its economy.
According to proposed guidelines released by the White House on April 16, regions that wish to reopen businesses and public spaces should have not only that enhanced testing capacity, but two weeks of decreasing case counts and hospital resources sufficient to treat all Covid-19 patients. Western New York is far from that point, experts say, but continued social distancing will get the region closer to safely reopening.
"The virus is not gone. The virus will not be gone any time soon," said Dr. Peter Winkelstein, the executive director of the Institute for Healthcare Informatics at the University at Buffalo. "We are controlling it right now largely through social distancing, and that's working. But we're sitting on a powder keg and if we lift the lid too quickly, it will blow up."
Thompson says he and other protesters have different concerns, however. The owner of MiniMax Concrete, a small manufacturing firm, Thompson has been unable to operate his business since New York State ordered nonessential companies to close over a month ago.
The shutdown has jeopardized the livelihoods of millions of people, he argues, as well as the safety of domestic violence survivors. He said both individuals and small businesses should be allowed to determine for themselves what types of social distancing precautions they want to follow.
His rhetoric echoes that of recent, highly publicized demonstrations in cities including St. Paul, Minn., Columbus, Ohio, and Lansing, Mich., where right-leaning protesters stormed Capitol buildings and governors' mansions holding flags and homemade placards. Recent polling suggests these protesters represent a minority: In a Politico/Morning Consult poll released last week, 81% of respondents said Americans "should continue to social distance for as long as is needed to curb the spread of coronavirus, even if it means continued damage to the economy."
"We're adults – we're not children," he said. "Children can stay in the house. But those of us that are responsible workers, that are parents, we know what we can and cannot do. We know the protocol. But they're shutting us down everywhere. And that's not right."
Public health officials acknowledge that protesters' economic concerns are both legitimate and staggering. More than 22 million Americans have filed for unemployment benefits in the past four weeks, according to the U.S. Department of Labor, and tens of thousands of businesses have closed across the country.
In New York, business activity in early April plunged to "historic lows," beyond even the depths of the Great Recession, according to an April 16 report by the Federal Reserve Bank of New York. At the same time, enhanced state and federal programs designed to support struggling workers and small businesses – such as unemployment insurance and the Paycheck Protection Program – have repeatedly faltered. (Thompson said he is not interested in government assistance and thus did not apply to any business stimulus or safety-net programs.)
But a sudden suspension of social-distancing rules would only worsen conditions in Western New York, said Dr. Mike Mineo, the chief medical officer at Millard Fillmore Suburban Hospital and an emergency room doctor who has treated a number of Covid-19 patients. While hospitalization rates have stabilized in recent days, he and UB's Winkelstein both said, that stabilization reflects the success of social-distancing measures – not a weakening of the pandemic.
The novel coronavirus is still widespread throughout the community, and easily transmittable in any situation where people converse or come in close proximity, Mineo said. It is unclear how much protection fabric masks provide, he added, particularly since people without symptoms can spread the virus.
Importantly, recent research has also shown that business closures and stay-at-home orders, like the ones Thompson opposes, have played a crucial role in controlling the pandemic. A preliminary report published Friday by the Centers for Disease Control and Prevention found that mandatory school closures, business restrictions and shelter-in-place orders cut mobility far more dramatically than voluntary measures did.
A separate report, published April 14 by epidemiologists at the University of California, Berkeley and Imperial College, London, estimated that 90% of American Covid-19 deaths could have been avoided if national social-distancing guidelines had been instituted two weeks earlier, on March 2.
"If we take our foot off the brake now, we're going to lose eight weeks of progress," said Mineo. "Everything everyone has sacrificed would be for naught. We'd be right back to square one again."
There are still some reasons for optimism, public health officials say. Intensive care unit admissions have, like hospital admissions, also flatlined since early April. And the region is steadily increasing its testing capacity, with plans for Kaleida Health to begin testing all symptomatic essential workers.
"The key message here is that we're going to need to continue to do a lot of social distancing for the foreseeable future," Winkelstein said. "I hope we can begin to open up – but we need to do so very slowly, very cautiously and with great vigilance."