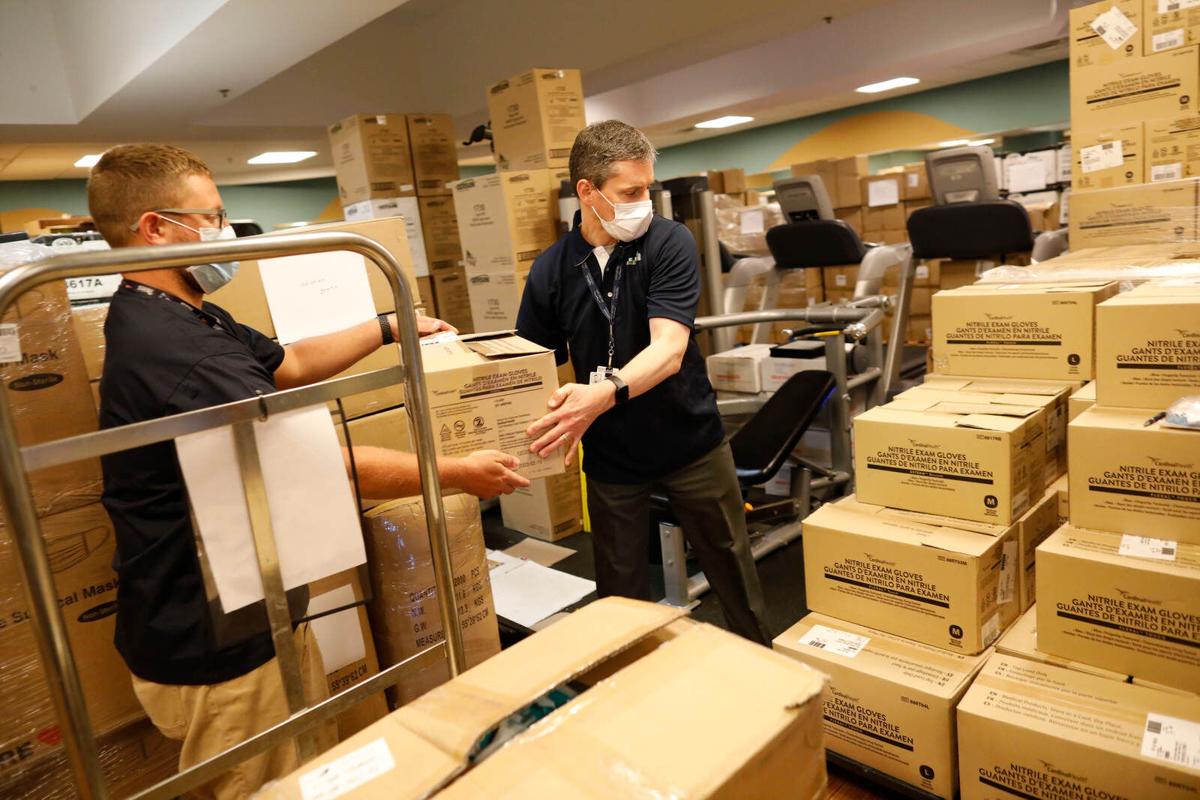 If a second wave of coronavirus arrives, what will be different? This is the first story in a series.
Erie County Medical Center, the largest hospital in Western New York, burns through 31,000 pairs of gloves every day these days, five months into the Covid-19 pandemic.
The hospital needs gloves for its doctors and nurses. It needs them for janitors and food service workers. Increasingly, ECMC also needs gloves – and isolation gowns, surgical masks, ventilators and other supplies – as insurance against an uncertain future.
With concerns that the region will experience an uptick in Covid-19 cases in the fall, ECMC has amassed some 2.8 million pairs of gloves, 585,000 surgical masks and 90,000 isolation gowns in a growing, three-month stockpile.
The hospital is not alone in its preparations. Across the local health care system, from Niagara Falls to Rochester, interviews with more than 20 health care executives, epidemiologists and public health officials show the region is bracing ahead of a feared uptick in cases as early as September or October.
Health insurance companies have planned record campaigns about the importance of the flu vaccine this winter. Hospitals have stockpiled months of personal protective equipment and critical ventilator drugs, such as propofol and fentanyl. Some clinics have expanded their testing operations, while medical and primary care practices will double down on new telehealth systems as more activities return indoors and spike the risk of transmission.
That heightened risk does not guarantee a "second wave" will actually materialize. With stringent public health precautions, including masking and social distancing, Western New York's positivity rate could stay around its present 1% average, experts believe.
But given the uncertainty of this fall's forecasts – and the degree to which Covid-19 blindsided hospitals and other providers in March – local leaders say they're taking no chances now.
"With the reopening, there is always the concern of resurgence and the second wave," said Dr. Rajinder Bajwa, the chief of the infectious diseases division at Niagara Falls Memorial Medical Center. "I strongly believe in that and we are taking all precautions [to] keep preparing our staff and our materials management department for an expected increase in number."
Fears over a "second wave" are based on the history of the 1918 influenza pandemic, which involved three distinct spikes followed by prolonged quiet periods. Western New York is currently enjoying a quiet period of its own, with the percent of patients testing positive for Covid-19 averaging well under 5%, the World Health Organization's official threshold for "controlled" viral spread.
But some schools will reopen in early September, placing groups of students and teachers in enclosed spaces for the first time in months. College students have begun returning to local campuses, some traveling from hot spot regions. Western New Yorkers are traveling outside the home at almost pre-pandemic levels, according to Facebook data released in collaboration with a global consortium of epidemiologists.
Most importantly, said Dr. Peter Winkelstein, the executive director of the University at Buffalo Institute for Healthcare Informatics, a range of activities – from dining to working out to social events to school – are returning indoors as the weather grows colder. While scientists still disagree to what extent Covid-19 follows seasonal patterns, studies demonstrate that people are vastly more likely to contract the virus indoors, where they usually cluster more tightly and where airborne particles can linger.
"Typically pandemics have a second wave," said Daniel J. Stapleton, Niagara County's public health director. "That's what happened in 1918, and the second wave was more destructive and catastrophic than the first wave."
Epidemiologists and other local health care leaders generally agree the numbers will tick up, though it's not at all clear they'll rise to the levels the region saw in March or April. Winkelstein, who has modeled the potential course of the pandemic for the Erie County Department of Health, said the region is likely to see a "series of ripples" in the fall, as small outbreaks occur and contact tracers mobilize to suppress them.
But predictions vary, in large part because local officials are essentially trying to predict human behavior. If Western New Yorkers continue social distancing and wearing masks – which more than 70% of Erie and Niagara County residents say they "always" do – then "even in indoor venues, we know we can drop the risk very low," said Dr. Thomas Russo, a professor of infectious disease at UB's Jacobs School of Medicine and Biomedical Sciences.
In one widely cited June report, which analyzed reopening efforts in 53 countries, epidemiologists at Imperial College London concluded that new infections spiked less than initially predicted, in part because the public embraced "alternative control strategies."
Still, experts say it's difficult to gauge how Western New Yorkers will act in coming months. Dr. Gale Burstein, Erie County's health commissioner, said she "anticipates seeing more transmission of Covid-19" in the fall. At the UBMD Physicians Group, one of the region's largest medical practices, executive director Dr. Kevin Gibbons said he expected "some hot spots," but not a major wave or second lockdown. Meanwhile, Dr. Isaac Weisfuse – a professor of population medicine at Cornell University and a former New York City deputy commissioner of health – said a significant second wave would "not surprise" him.
"We really don't know" what to expect in the fall, said Weisfuse. "It's our first experience with this particular coronavirus. There are reasons to think it might [surge in the fall], but also reasons to think that it might not. ... So the bottom line is, we all have to be vigilant."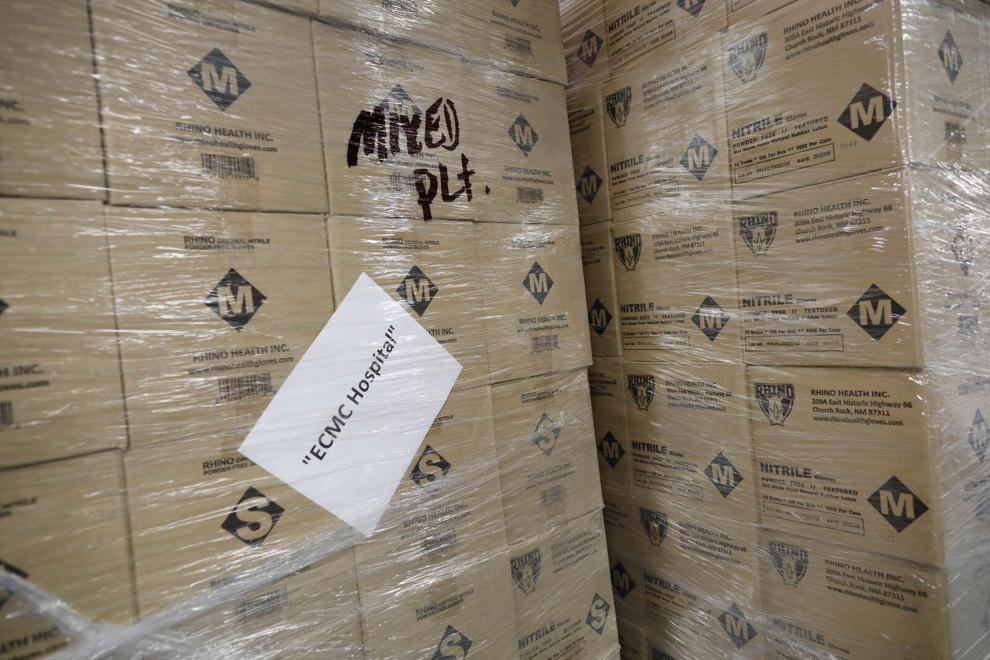 Preparations span the health care system
To that end, the local health care system has remobilized in recent weeks to strengthen systems developed at the height of the pandemic and replenish supplies they may need in the fall.
Hospitals in particular have stepped up efforts to build stockpiles of personal protective equipment – including surgical masks, goggles, face shields, gowns and N95 respirators – following a July 21 state mandate that each hospital have 90 days of personal protective equipment on hand by the end of September. Kaleida Health, which includes the Buffalo General Medical Center, has already spent $6 million on its stockpile, executives said. Catholic Health, which operates the Kenmore Mercy, Mercy and Sisters of Charity hospitals, has built a daily personal protective equipment "tracker" that monitors the system's current inventory levels and the speed at which hospitals use them.
Hospitals are also rebuilding their supplies of certain key drugs used to treat Covid-19, such as Versed and fentanyl. Eastern Niagara Hospital in Lockport began depleting its stocks of those medications last spring, CEO Anne E. McCaffrey said, but has since "built those supplies back up," along with a stock of the antiviral drug remdesivir, which has shown promise in early trials. ECMC has also identified a list of 10 medications to stockpile, said hospital vice president Charlene Ludlow, including propofol and rocuronium, which are both used to treat patients on ventilators.
"You don't want to deprive people in Tucson or California," said Gibbons, of the UBMD Physicians Group, who also serves as director of surgery at Buffalo General. Still, he added, in light of a possible second wave, "we worked hard to develop an adequate reserve of medications."
Meanwhile, at doctor's offices and medical groups, executives are doubling down on telemedicine and virtual visits. At the height of the pandemic in April, Univera Healthcare logged 337,000 telehealth visits among its members – an increase of 7,500% over the year before.
While doctors can now safely see patients in offices again, they want to normalize the experience of getting treatment over the phone or computer – in part so that patients don't skip appointments if things "get uglier as the year goes on," said Dr. Robert Zielinski, the associate medical director at Buffalo Medical Group, one of the region's largest practices.
The group is installing technology at its major buildings so that patients can check in to appointments automatically, without congregating in waiting rooms. Other practices have built out dedicated apps and internet portals; on Aug. 12, BlueCross BlueShield extended telehealth coverage through December.
"We have emphasized to our providers and patients from the beginning that this is not a snowstorm," Zielinski said. "You can't batten down the hatches and expect it to be over in a few days. ... [So] we've got to find a way to continue to maintain contact with patients."
Some offices are also buying new equipment in anticipation of running more Covid-19 tests. Jericho Road Community Health Center, with locations on the East and West sides of Buffalo, recently purchased in-office rapid testing machines that detect Covid-19, flu, strep throat and the respiratory infection RSV within 30 minutes, said founder and CEO Dr. Myron Glick. Even in a normal year, the clinic typically sees a spike of viral infections "two to three weeks" after school goes back in session.
This year, Glick added, it will be critical to quickly differentiate patients with Covid-19 from patients with the flu and other respiratory illnesses, which have similar symptoms. Health care providers are imploring patients to get the flu shot this fall – "if you get it at any point in your lifetime, make it this year," Cornell's Weisfuse said – because a simultaneous surge in both diseases could strain the health care system.
Jericho Road has ordered more flu vaccines than in the past, Glick said. Local health insurance companies are also readying billboards, radio ads and mass mailings as part of an unprecedented flu vaccination campaign.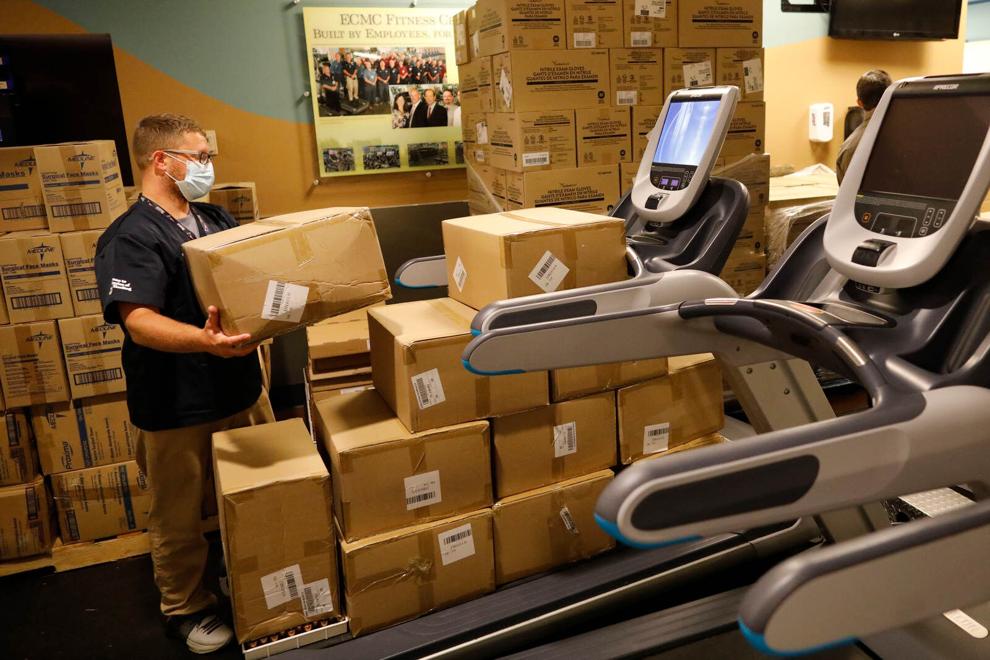 'We're better prepared than we were before'
Across the board, hospital executives and public health officials say they are far better prepared for a spike in Covid-19 cases now than they were last spring. Surge plans have been written; test sites have been opened; contact tracers have been trained. In March and April, "there was no clinical care playbook," Catholic Health CEO Mark A. Sullivan said, and front-line caregivers devised new systems "on the fly."
Now, hospitals, clinics and insurance companies have codified plans for everything from waiving prior authorizations to converting intensive care beds to ordering standard slates of tests for Covid-19 patients.
"We flipped on that switch, and it was a lot of work," said Dr. Stephen Cohen, corporate medical director at Rochester-based Univera Healthcare. "But while we've since flipped it off, it's not gone forever. If we have to flip things back on, we're going to flip on more quickly and be as proactive as possible."
The past five months also saw major advancements in Covid-19 treatment. While "we haven't cured this disease by any stretch of the imagination," Cornell's Weisfuse said, studies have surfaced some promising therapies – such as remdesivir, convalescent plasma and the steroid dexamethasone – and doctors have fine-tuned their use of ventilators and oxygen. At the start of the pandemic, ICU physicians across the country believed patients would benefit from going on ventilators early, allowing their lungs to "rest," said Dr. David Hughes, the chief medical officer at Kaleida Health. They've since learned patients do better with less ventilation.
"Covid, in a very short period of time, became, especially in the elderly, almost a relative death sentence," Hughes said. "It has now become something that is treatable, something we can manage much better than we could at the outset."
Dozens of studies have also clarified that Covid-19 spreads primarily through respiratory droplets, a point of confusion in March and April. ECMC staff did not initially wear masks across the board, Ludlow said, a measure they now know slashes transmission.
Thirty minutes north, at Niagara Falls Memorial, "anxiety was very high among staff members" who didn't initially understand how Covid-19 spread, said Bajwa, the hospital's chief of the infectious diseases division.
"We were sort of on the learning curve for the first round, both in terms of treatment and public health measures," said UB's Russo. "We now know how to handle an influx of cases ... so even if there is a bump, we're better prepared than we were before."
But there remain significant challenges, particularly around Covid-19 tests. In order to stop a "ripple" from becoming a "wave," to use disease modeler Peter Winkelstein's terms, Covid-19 patients must be identified and isolated within two to three days of getting tested, before they can spread the virus to other people.
Some local labs, however, continue to see lags as long as two to three weeks, said Burstein, Erie County's health commissioner. A surge of cases in the south has diverted reagents and other test materials, causing sporadic local shortages. Jericho Road, for instance, has only enough supplies to run 200 tests on its new equipment; Catholic Health, a far larger player, has found it difficult to come by nasal swabs and pipettes.
Some health care leaders say they're also concerned about funding for Covid-19 tests, following a move by local insurers to stop covering testing for many asymptomatic people. Burstein called the change "frustrating" and said it would limit access to testing, especially for low-income people.  
Besides testing materials, some medications and protective equipment also remain in short supply. Remdesivir is the "most promising of the treatment options at this point," Kaleida's Hughes said, but it's tightly rationed by the federal government.
Personal protective equipment shortages have also eased since the peak of the pandemic, but gloves and size-small N95 respirators are still particularly difficult to get, said Jeff Ashkenase, an executive at the national group purchasing organization Premier, which counts several major local hospitals among its membership.
ECMC has stockpiled 90 days' supply of face shields and isolation gowns, but is still waiting on gloves, Ludlow said. The hospital also has 90 days of N95 masks, but still requires staff to use only one per shift unless it gets dirty or damaged. Both Eastern Niagara Hospital and Niagara Falls Memorial have also struggled to get N95 masks. Prices at some hospitals remain almost seven to 10 times their normal rate.
"I don't think the supply chain for personal protective equipment, especially N95s, is back to normal," Bajwa said.
But nothing is truly back to normal yet – a point that many regional health care experts stressed. While case counts have fallen to new lows in Western New York, the existence of the virus represents the constant potential for some kind of resurgence, Cornell's Weisfuse said.
For individuals weighing that risk, the health care system's approach may provide one model: constant vigilance as the fall approaches – and layers of mitigation in the meantime.
"I don't want to appear overly confident," said Catholic Health's Sullivan. "One of the things we take pride in is humility and being a learning organization. So I wouldn't say we got it right. I would say we learned a lot and we continue to get better every day. The day we think we got it right is the day we're going to fail."