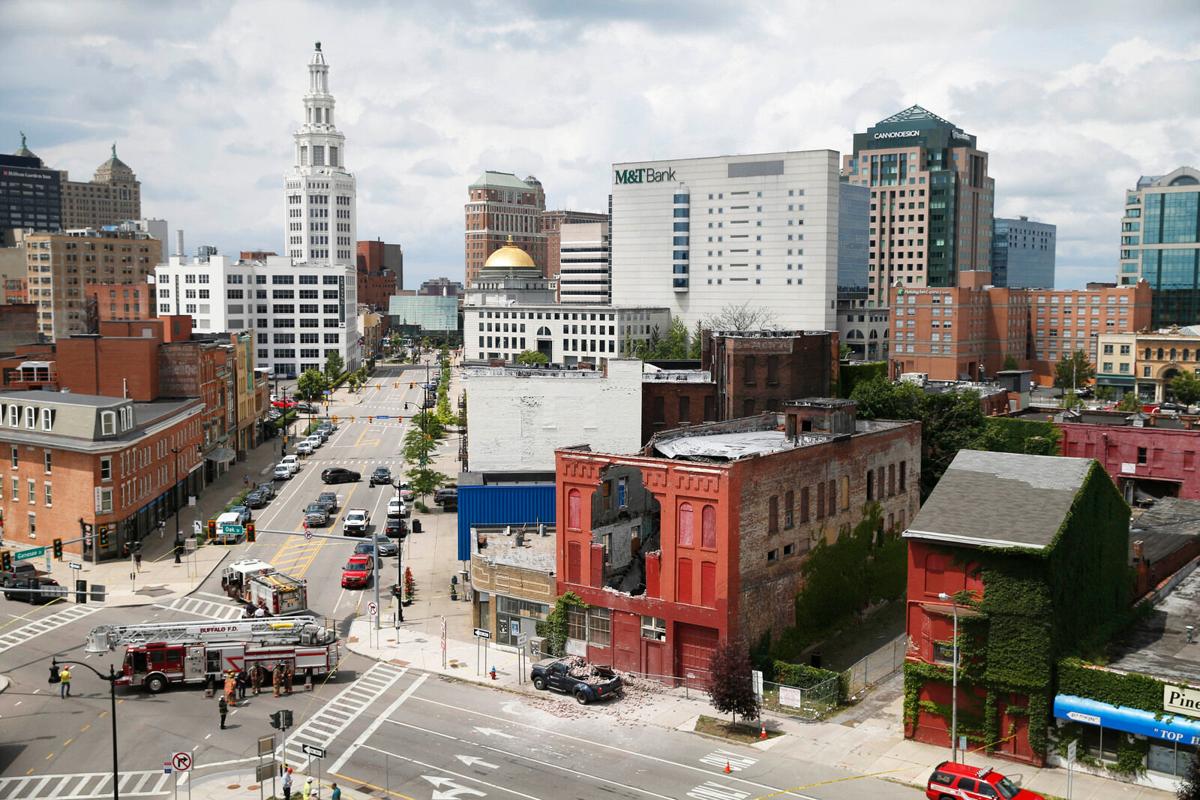 The Brown administration plans to start using drones to help inspectors spot problems involving Buffalo's tall, old buildings.
The decision comes in response to the partial three-story building collapse and emergency demolition of a former flour mill earlier in the month on North Oak and Genesee streets. Mayor Byron Brown said Friday that using EagleHawk drones for closer looks at hard-to-reach buildings will help prevent any more collapses.
For Buffalo preservationists, both incidents are examples of why city policies need to go further to protect the kind of architecture that the city has become famous for.
But his announcement drew a tepid response from Preservation Buffalo Niagara, which said no one needed a drone to know the building at North Oak had been deteriorating for years.
"Investing in new technology is great, but if it's not coupled with action against recalcitrant owners, it really doesn't matter," said Jessie Fisher, the group's executive director. "I would be happier to see the city taking care of problems already identified."
When the building at North Oak was sold last year, there were 15 pending violations, with Housing Court Judge John Carney having issued maximum fines of $1,500 per count. The new owner was working on a plan to save the building using historic tax credits, with input from the city and preservationists, before it gave way, according to Lou Petrucci, deputy commissioner of the Department of Permit and Inspection Services.
Fire Commissioner William Renaldo said at a news conference at the scene that the century-old commercial building was under renovation when it collapsed.
James Comerford, commissioner of permits and inspection services, said the drones will be a huge help for inspectors.
"The buildings are older around here, and we need to get up higher and our inspectors can't do it," Comerford said.
Inspectors have had to resort to using ladder extensions on fire department trucks to get up high for some buildings. 
"This is going to provide a safe way of inspecting buildings, and we're really excited about this," Comerford said.
Drones carry sensors that include high-resolution cameras, zoom cameras and thermal imaging capabilities to spot problems such as leaks in roofs, water intrusion, energy impacts and slight movements, said Patrick Walsh, co-founder and CEO of Buffalo-based EagleHawk.
The mayor issued his warning while standing at 435 Ellicott St., where a Civil War-era building once stood. An emergency demolition was ordered earlier this month after a second structural
Comerford said drone technology could have revealed a greater sense of urgency to inspection reports at 435 Ellicott St., a long-deteriorating building that collapsed in December 2019. The city ordered an emergency demolition at 435 Ellicott after the roof collapsed inside the 1860s-era, three-story Italianate brick building.
"We can't just break into a building when it's mothballed, and we can't take them away from people who pay taxes," Comerford said. "There was nothing from the outside that said it was falling apart. If we had the drones years ago, we would have detected the potential for future collapse."
Comerford said that regardless of what inspectors write up, the ultimate say still rests with the Housing Court judge.
Many of the properties written up are in and out of court for years, he said.
"We bring them to Housing Court, and then the judge dispenses justice and it's out of our hands at that point," Comerford said. "I'm not blaming the judge. I'm in the code enforcement business and the business of protecting the public. I'm not in the real estate business, but we're trying to save buildings and we're not trying to knock them down. We want to save them.
As Susan Adamucci drove her 12-year-old son to school last Wednesday, she heard on the radio that a building was in peril in downtown Buffalo. A short time later she learned the property being torn down included Two Wheels Bakery & Cafe, which she opened in April 2018 as the city's lone fully gluten-free bakery. Adamucci estimated the overall
"I'm really convinced the drone will be a great tool for the city to save big, older buildings," he said.
Preservation Buffalo Niagara, along with Common Council members David Rivera and Mitch Nowakowski and State Sen. Sean Ryan, released a report earlier this month calling for the city to take several steps to better preserve buildings. They include a moratorium on demolitions, called for in the city's Comprehensive Plan in 2006, and the adoption of a citywide preservation plan that would make better use of legal and financial pressures to protect the city's historic housing stock.  
The drones will be useful, Fisher said, but will fall far short without a more comprehensive plan.
"This feels like a Band-Aid on a gaping wound," she said.
Mark Sommer covers preservation, development, the waterfront, culture and more. He's also a former arts editor at The News.