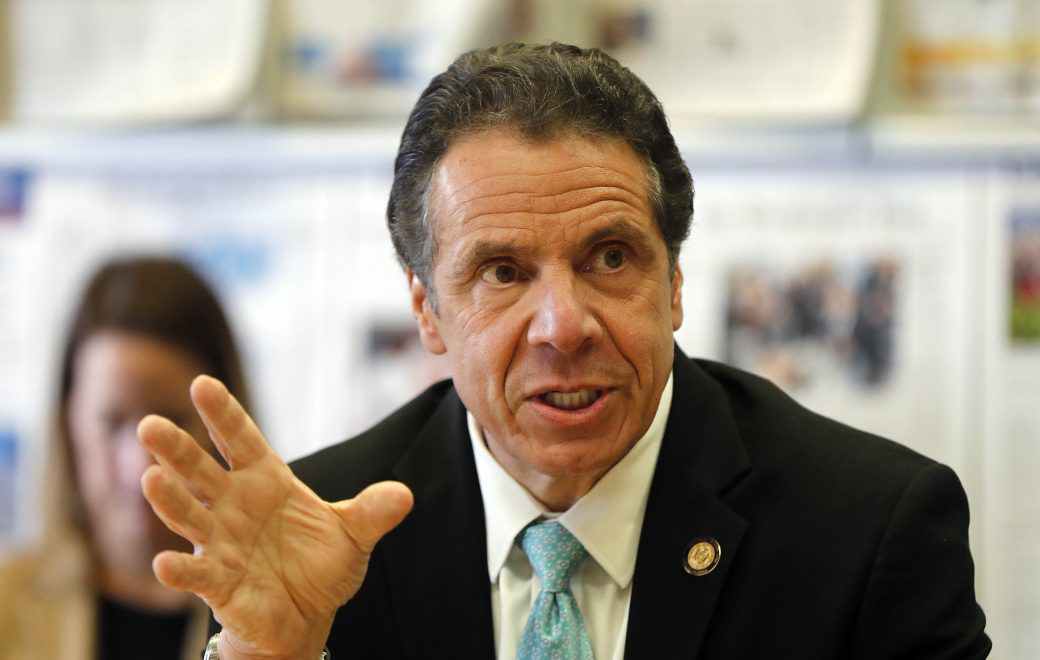 The coronavirus pandemic has hurt many people.
But not so much Gov. Andrew Cuomo.
During his interview with CBS Sunday Morning host Jane Pauley, one of the first things Pauley did was point out that his approval rating had climbed to nearly 80% near the height of the public health crisis.
"You have a political jujitsu," Pauley said. "You and a handful of other governors asked people to do hard things and got more popular."
"Go figure," said Cuomo, with a smile and slight shrug.
Pauley's interview capped off a week that saw an end to Cuomo's 111-day stretch of daily press briefings. Cuomo used this last week to laud the drop in statewide Covid-19 numbers to such an extent that his daily updates became less and less newsworthy.
But Cuomo has not escaped the health crisis unscathed.
His Siena College approval numbers fell sharply from a record high 78% in late April to 66% in late May, as the governor took heat for his handling of the Covid-19 cases that resulted in a high nursing home death toll.
But those numbers remain a change from the many months prior to the crisis, when Cuomo's approval rating often failed to crack 50%.
Other big state governors, such as Gavin Newsom of California, have likewise seen a bump in their approval ratings, while Greg Abbott of Texas and Florida's Ron DeSantis saw their poll numbers slide in May, according to the Washington Post and others.
While Southern and Western states are now seeing a surge in Covid-19 cases and hospitalizations, New York has remained on a downward trajectory, with statewide hospitalization numbers down to 1,142 as of Saturday.
Those numbers, as a three-day rolling average, have fallen almost every day since the state reached its peak of 18,825 cases in mid-April.
In Western New York, hospitalizations stood at 46 as of Saturday, the lowest level since late March and down from a high of 263 in mid-April.
The region's numbers have fallen every day over the past 30 days, as a three-day rolling average, according to Buffalo News data, which shows a long, gradual descent.
However, the state release on Sunday also showed that Erie County breached the 7,000 mark for positive cases of Covid-19.
Erie County Executive Mark Poloncarz also announced that a total of 623 people have now died of the virus as of Friday.
Western New York remains on track to open up for the state's phase four by July 1, which will loosen state restrictions on recreation and entertainment.
Pauley's gentle interview with Cuomo, which aired Sunday, rehashed his leadership during the health crisis, gathered his thoughts on the death of George Floyd, and sought answers about his political ambitions and his dating life.
Cuomo again demurred on the idea of running for president in four years.
"Joe Biden is going to be the President of the United States. I believe that. I believe Joe Biden will run for a second term," he said.
"Yes," Cuomo said, "and I hope to be the Governor of the State of New York. I have something to contribute. This is my home. I love it, and I'm happy."
Pauley said it was a pity Cuomo hasn't had much success courting a woman to share his governor's mansion and asked if his social life was still in "phase one."
"Yeah, the house isn't mine. It's sort of like a rental," he said. "I will move out one day. I can reopen the economy – but dating, that's a whole different thing beyond my control."
Watch Cuomo's interview with Jane Pauley on CBS Sunday Morning:
Get Government & Politics updates in your inbox!
Stay up-to-date on the latest in local and national government and political topics with our newsletter.