Kathleen Courtney Hochul was raising her family in the Town of Hamburg in the early 1990s, when she heard Walmart wanted to build a store 3 miles from their home.
Worried about the effect the large retailer would have on small businesses in the nearby Village of Hamburg, she began attending Town Board and Planning Board meetings.
And she made sure she was heard.
"She started giving me a hassle. She was in the audience. She started asking me some questions I was unable to answer," recalled former Planning Board Chairman Richard Crandall.
"After the meeting, she and I had a discussion. We resolved any concerns she had," Crandall said. "After that, we got along pretty good."
The store was built, and several years later, when Hochul was a member of the Town Board, she was instrumental in courting Walmart to build a superstore in a dilapidated plaza on Southwestern Boulevard, just a few miles from that location.
Her early outspokenness led her down a path that led to government jobs at the county and federal level before she became lieutenant governor following the 2014 election.
The town residents and officials who knew her style long before the rest of the nation knew her name say the woman who is about to become governor of New York bears a striking resemblance to that 1990s version.
"That ties into her character and her ability to work with those maybe she was on the opposite side with," said Thomas Quatroche Jr., president and CEO of Erie County Medical Center. He served on the Hamburg Town Board with Hochul. "The previous location was not the best location, it abutted a residential area."
"She was concerned about how the building would look," Crandall said, adding that her efforts helped put softening architectural features on the big-box store.
As a constituent, Hochul was always respectful and articulate in advocating in front of the Town Board, said James Connolly, who was on the board and later became town highway superintendent. And the Democrats, who were in the majority on the Town Board, noticed. Connolly, a former town Democratic chairman, said Democrats suggested she become involved in local government. Hochul joined the Hamburg Democratic Committee.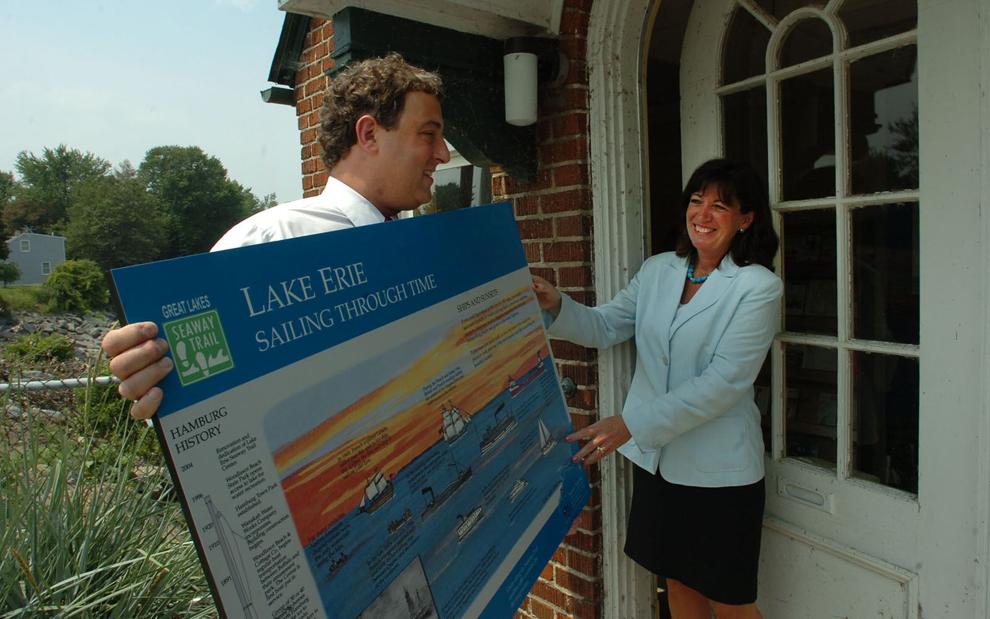 When Councilman Patrick H. Hoak was elected supervisor, the all-Democratic Town Board appointed Hochul to fill the council seat in January 1994. She won election to the seat that year, and served 13 years on the board before becoming Erie County clerk. Town government, with its instant feedback from vocal taxpayer groups, was the training ground for Hochul as she honed her political skills.
"She understands the grassroots of constituent service," said Joan Kesner, who served with Hochul on the Town Board. The two remain friends.
"She was every place, just like now," Connolly said. "She advocated for a lot of community involvement and community events."
She pushed for the renovation of the old Wanakah Water Works building into a Seaway Trail visitors center, led the town's Rejuvenation Project that reviewed town codes and sponsored the annual townwide cleanup, and she instituted the town's Blast at the Beach, a daylong series of family activities in July at Hamburg Town Beach, ending with fireworks. 
"She was very strong about making sure that commercial did not intrude upon residential, while allowing commercial to develop," Connolly said.
Another former board member remembers Hochul pulling on a pair of boots to walk through a field to see how a new development would affect an existing community.
"Kathy loves public service. She loves listening to people and she likes to see how the decisions that are being made affect people," Quatroche said.
And she was not one to back down to developers.
"We're trying to be a bit progressive and visionary here ... and you're telling us to take a hike," Hochul told a developer who objected to a rezoning.
"She was very resilient. She was persistent in all matters. She was never rude or aggressive. ... She certainly made her opinion well-known. She never gave up," Connolly said. "At least to me, she seems totally consistent to the woman I met years ago."
Kesner, who worked for a state senator and then for Hochul in the county Clerk's Office, was on Hochul's congressional transition team.
"You don't tell Kathy Hochul no, " Kesner said. "You tell her the facts, what's going on, why you think this is a better option, and she makes up her own mind."
Crandall, the Planning Board chairman, said he and Hochul worked on a number of projects, including the Seaway Trail.
"She was not one to be pushed around. She had very strong feelings and she was going to follow through on them," he said.
Crandall said he worked with everyone, no matter their political affiliation.
"I think she recognized that. We always got along and we always got things accomplished," said Crandall, a Republican. "I probably even voted for her, I don't remember for sure."