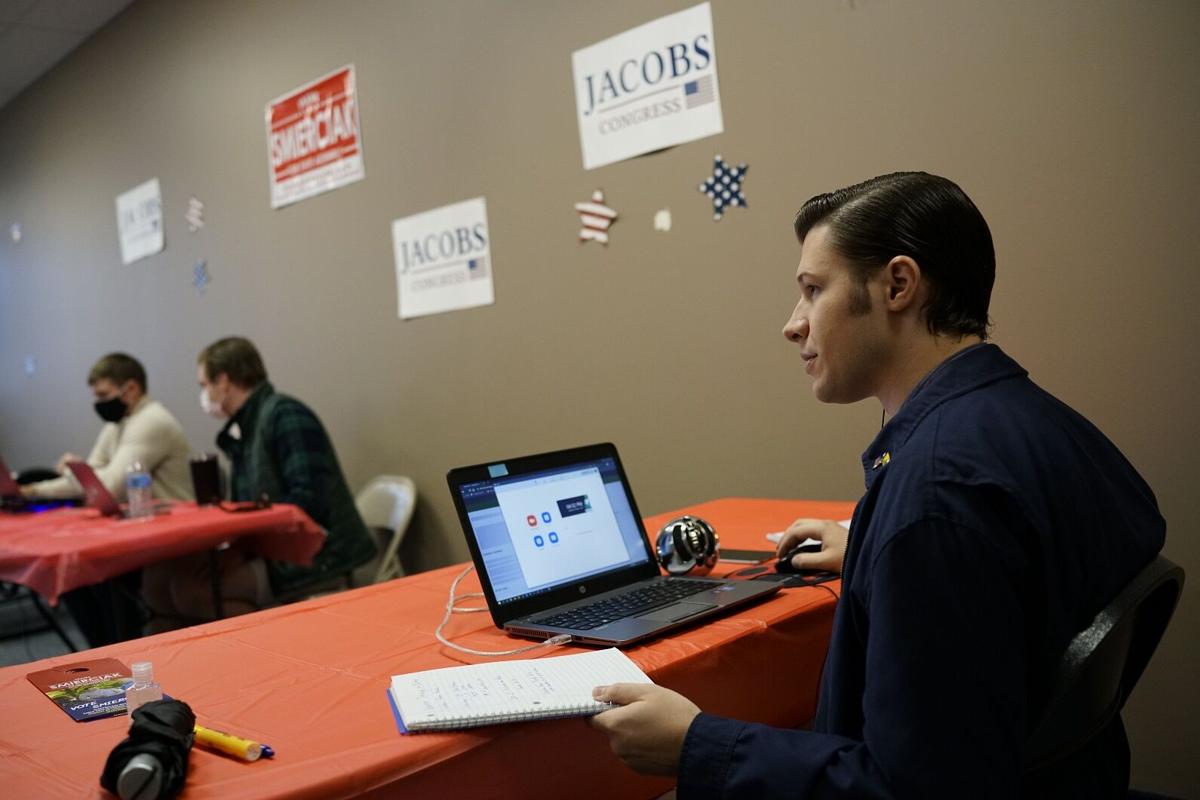 Republican Edward A. Rath III may appreciate the finer points of working the campaign trail as much as anybody running for office this year.
The county legislator from Amherst – the grandson of Erie County's first county executive, the son of a state Supreme Court justice and a state senator – this fall seeks the Senate seat of retiring Republican Michael H. Ranzenhofer. Electioneering is nothing new to him. He's been pressing the flesh for Rath relatives since his Little League baseball days.
"My 'first race' was in 1977 when I was 10, going door to door with my mom distributing palm cards after games," he recalled. "I wore that uniform to events all the way to September."
But for Rath and all other politicians in 2020, running for office has suddenly and drastically changed, given the Covid-19 pandemic, especially following its affliction of President Trump and first lady Melania Trump. The virus has largely erased the idea of volunteers and candidates ringing doorbells seeking support. Who wants to interact with anyone standing on the front porch?
Ditto for campaign rallies, debates and forums, as well as the in-person fundraisers that have always fueled the broader outreach of advertising. For Democrats and Republicans alike, chalk up the loss of even more rituals to the coronavirus.
"There's no shaking of hands and kissing of babies," said Chautauqua County Democratic Chairman Norman P. Green. "I can guarantee that."
As a result, Western New York's political candidates are innovating. Video conferences replace back-room strategy sessions, phone calls substitute for personal visits, and social media takes over for fundraisers previously featuring hundreds of supporters.
Erie County Republican Chairman Karl J. Simmeth Jr. labels Covid-19 campaigning a "whole new world out there." He said some Republicans are holding in-person fundraisers and knocking on doors, but maintain a safe distance while masked and limit gatherings to no more than 50 people. Volunteers have dropped 22,000 pieces of literature for Republican Assembly candidate Matthew Szalkowski, say party sources, but in bags hanging from door knobs and without the usual in-person pitch.
"We're following Gov. Cuomo's rules on what we can do and what we can't do," Simmeth said. "We sure don't want to get in trouble with the Covid police."
Green, the Chautauqua Democratic chief, said the personal interaction he has always favored cannot occur during a pandemic.
"My thing has always been knocking on doors," he said. "Well, we're not knocking on doors."
Green said his committee has never relied on expensive television advertising that must originate in Buffalo or Erie, Pa., relegating fundraising to a lower priority. Now he seeks donations through the mail, and acknowledges the lack of in-person events is exacting a toll. Chautauqua County Democrats are down to about $1,000 in their treasury, he said.
"Fundraising is definitely off," he said. "Fortunately, this year is not on the County Legislature cycle where we usually get most involved."
Rath, who is running against Democrat Jacqualine Berger, said the pandemic has forced him to learn the tricks of video conferencing, noting he finds it a "good way to connect with people." Drive-thru chicken barbecues have proven effective fundraisers, he said, adding that he sponsored 1,200 phone calls to win the Independence line in the June primary.
But he misses the personal contact.
"It's painful," he said. "I don't get a chance to conduct the traditional campaigning in a way that I'm comfortable with. But everyone gets it and understands the scenario."
Indeed, political veterans such as former Rep. John J. LaFalce say they can't imagine running for office without engaging people. From his first campaign in 1970 to his last in 2000, the Town of Tonawanda Democrat said he always relished the campaign trail as well as "a million and one town hall meetings."
"So much of the joy of being a public official was being with people, meeting people, embracing them and feeling for them," he said. "That's why I always lived in Buffalo and not in Washington."
Social media had not yet arrived during his days in Albany and Washington, LaFalce said, and he suspects it serves as a useful tool.  But it cannot, he said, substitute for human interaction.