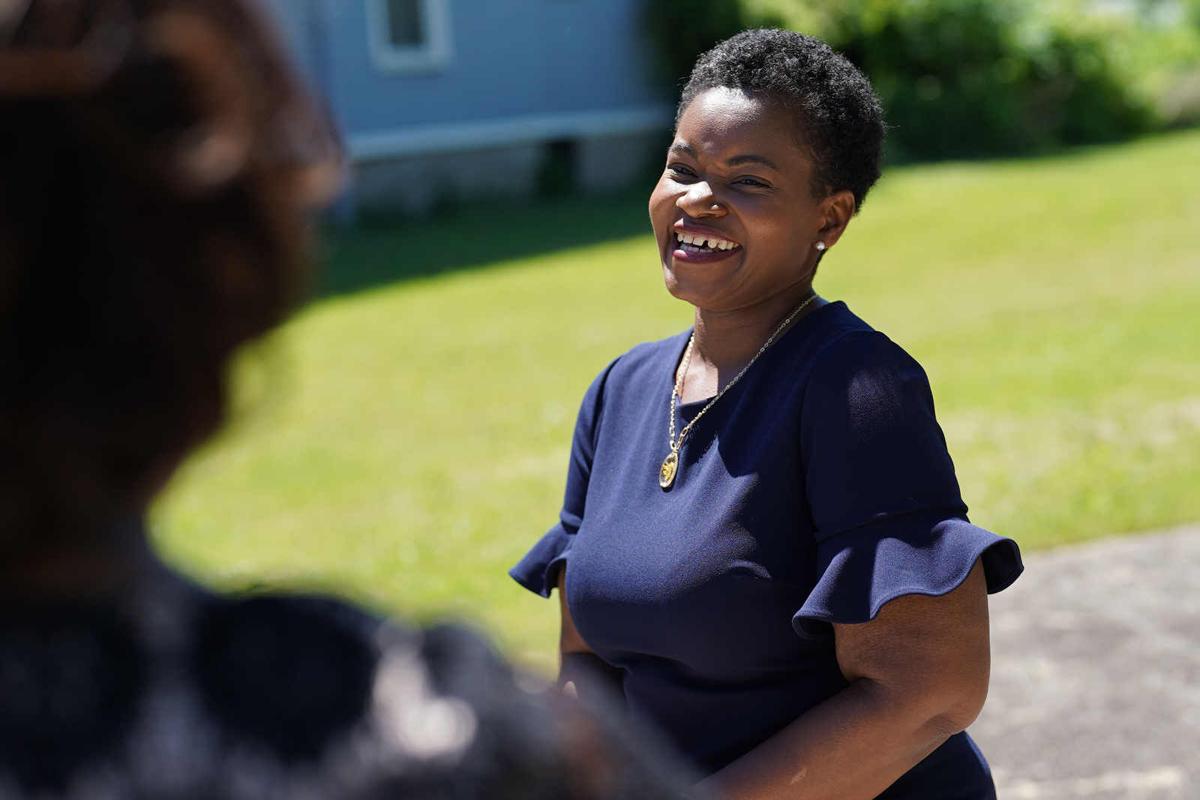 Alexandria Ocasio-Cortez called to thank her for bringing progressive ideas to Buffalo.
People for Bernie – as in Sen. Bernie Sanders – tweeted a video of her victory speech.
CNN, NPR and Politico covered her all but certain win over four-term incumbent Byron W. Brown.
"Socialist Candidate Stuns Longtime Incumbent in Buffalo Mayor's Race," read a headline on The New York Times' website.
India Walton, 39, a nurse and community organizer who has never held public office, stands on the brink of becoming the first socialist in decades to win a mayoral election in a major industrial city.
Barring extraordinary circumstances, Walton is also set to become the first woman mayor in the history of Buffalo.
After a sleepless night and then back-to-back interviews with local media all morning, she emerged from Betty's restaurant in Allentown a little before noon. Diners seated on the patio cheered and clapped.
"Should I clap, too?" asked Walton, a little unsure about how to handle the sudden spotlight on her.
"It's surreal," Walton told The Buffalo News. "I entered into the race with the intention of winning. I don't do things thinking I'm going to fail. But the level to which we took this campaign is incredible. I have the best team. Sixteen national endorsements. The expertise and capacity of the Working Families Party. This has just been an unprecedented campaign like Buffalo has never seen before. I'm extremely proud."
From teen mom to community leader
Walton teared up momentarily as she discussed her unlikely story.
She's a single mom of four – just 14 years old when she had her first baby. She earned her GED while pregnant with her twin sons, who were born prematurely. That inspired her to become a nurse, first in a neonatal unit at a hospital and then later at a Buffalo public school.
She became a representative in the 1199 SEIU union and later a community organizer with Open Buffalo, taking on issues including criminal justice, marijuana legalization and fair housing.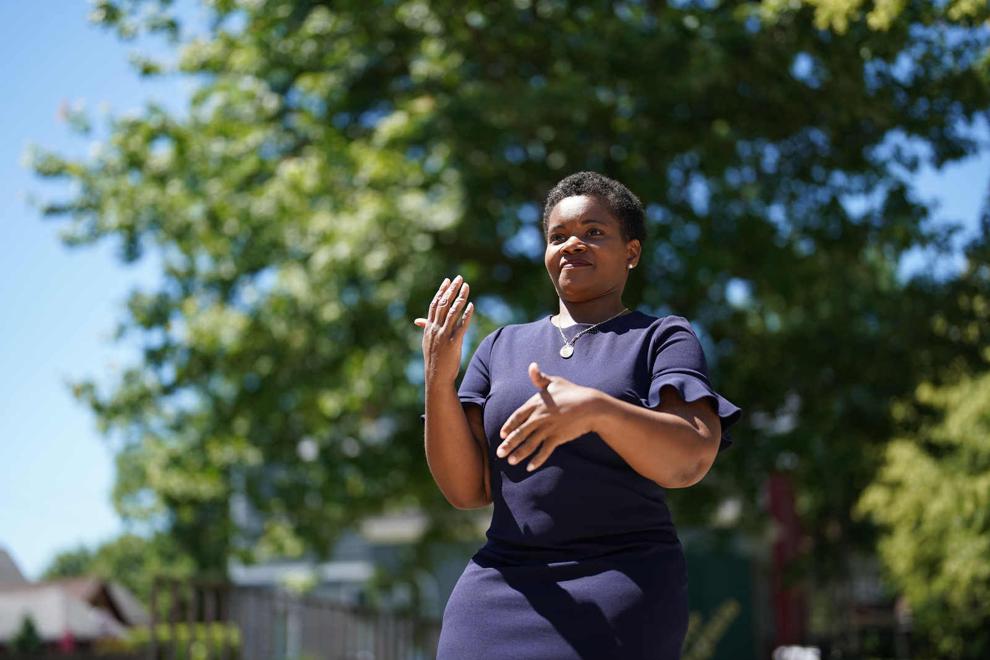 She worked with the Community First Alliance, a coalition of 19 organizations both inside and outside the Fruit Belt, to achieve a parking permit system in 2016 that sets aside half of the on-street parking for residents in the neighborhood that borders the Buffalo Niagara Medical Campus. The legislation came after workers at the growing campus began monopolizing the free parking spots.
Walton then became executive director of the land trust to ensure residents – not outsiders and elected officials – control the vacant city land near the campus.
"I have responsibility to this community," she said. "And, you know, I'm raising my children here. And I know the potential that Buffalo has. And I just want it to be realized. I want every person in Buffalo to have an opportunity to live a decent life. And I believe that under my leadership, that will be possible. We're going to make that happen."
While she ran as a Democrat, she considers herself as socialist and is proud of it.
"All it means is that I'm putting people first. People over profits. I'm representing the working class, the poor, the forgotten," she said.
Walton has laid out an ambitious, progressive agenda addressing everything from policing and infrastructure to protecting tenants, producing a climate action plan and establishing a public bank.
On the top of her list of key campaign issues is public safety.
She wants to remove police from responding to most mental health calls and eventually traffic enforcement and "quality of life" calls.
"Things that are just not really the responsibility of police," she said. "We substitute police officers in lieu of mental health counseling."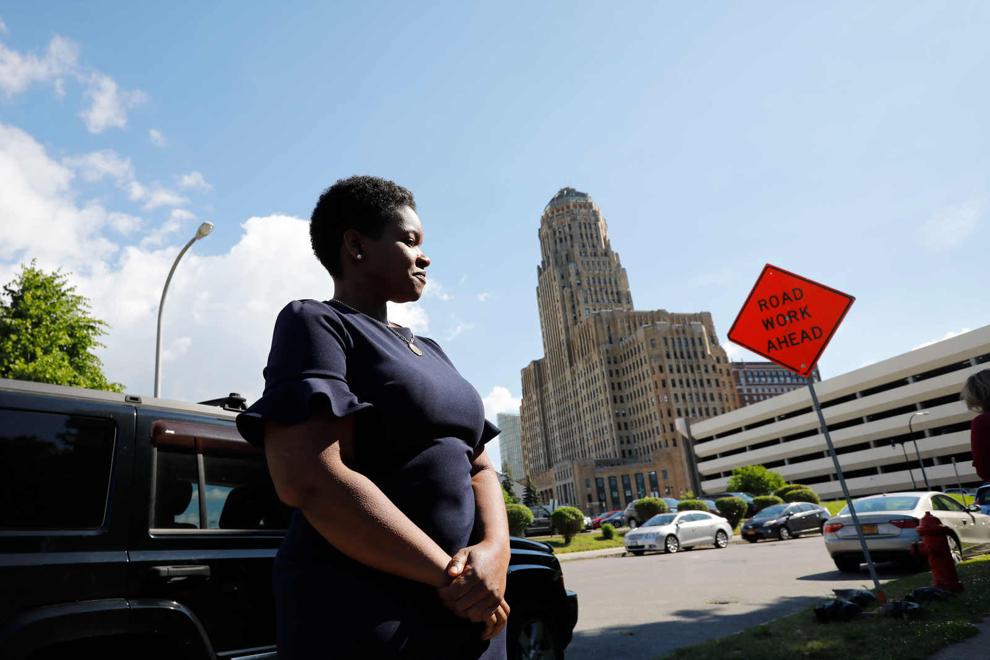 She also wants to decriminalize possession of small amounts of drugs, not just marijuana.
"I believe in harm reduction and jail is not the place for people who choose to use substances," Walton said.
She wants to cut $7.5 million from the police budget. The 2021-22 fiscal year budget for the Buffalo Police Department was $85.3 million. She hopes to achieve that by limiting overtime pay for police officers.
She plans to start by "just engaging with rank and file officers."
"I'm excited to just have conversations about what we can do better together," she said.
Walton says her top issue right now is community violence, which she said is on the uptick because young people in Buffalo are not given options and opportunities across the board.
"Work, recreation, our community centers are still shuttered. There's just not enough resources for folks," she said.
Walton said she would bring in a national organization, Advance Peace, based in Richmond, Calif., that runs a program aimed at reducing gun violence in urban neighborhoods across the country.
"They're not the police," she said. "If we are saying that we're already having a problem with community police relations, people don't trust the police, more police is not going to help." 
Walton "absolutely" favors term limits.
"I think that 16 years is just far too long for one person to be in office," she said, referring to Brown's four terms as mayor. "In order to make progress, we need fresh ideas."
With her first day in office still six months away, Walton said she doesn't yet know who she'll appoint to various positions. But she does anticipate making some major changes in how City Hall operates.
"I definitely don't need two deputy mayors. I definitely don't need nine people in our communications department. I don't need the Buffalo Police to give me a personal security detail," she said.
And what will that first day be like?
"What I really want is to open the doors," she said. "I want to open the doors to City Hall and welcome my community. And I not only want to welcome them into City Hall, I want to be in the streets and neighborhoods and having conversations with people and figuring out how together we are going to make Buffalo into the place that we know it can be."