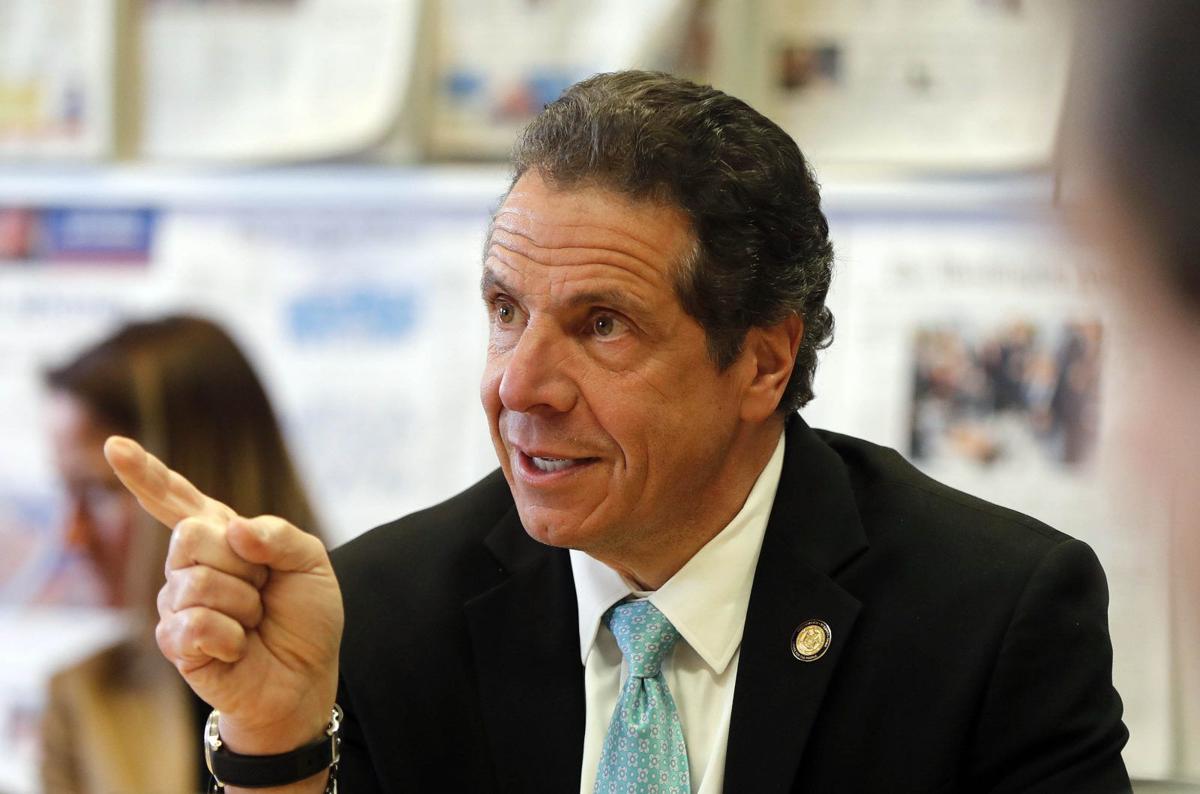 ALBANY – Gov. Andrew M. Cuomo provided his own end-of-session wish list Tuesday, and it includes everything from legalization of marijuana and driver's licenses for immigrants in the country illegally to permitting gestational surrogacy contracts.
The governor, in the first year of his third term, also provided a further peek into his political future: He plans on running for a fourth term in 2022, a hint he first dropped in March.
Cuomo, in two public radio interviews Tuesday morning, outlined a kind of top 10 list of items he wants lawmakers to address before the 2019 session ends June 19. It also includes loosening the legal standard to define workplace sexual harassment; eliminating "gay panic" as a legal defense for criminal acts committed against gays and others; and passage of an equal rights amendment to the state constitution.
Over the next month, Cuomo said on WAMC, the Legislature has an opportunity to define "what it means to be a progressive body."
On legalization of marijuana, Cuomo did not comment on changes the bill sponsors – Assembly Majority Leader Crystal Peoples-Stokes, a Buffalo Democrat, and Sen. Liz Krueger, a Manhattan Democrat – made last Friday to their plan to permit the cultivation, sales and use of marijuana by adults over the age of 21.
"The political reality is that you don't have the votes in the Senate," Cuomo said on WAMC.
Cuomo then checked off the "more difficult issues" that have not been resolved, including the amount of marijuana a person can possess, whether homegrown marijuana will be allowed and — the most thorny during talks this session between the Legislature and Cuomo — how tax money from marijuana sales will be spent.
Cuomo said, in the end, that the marijuana issue will be decided not on the merits, but "on the politics," especially in the Senate, where a number of lawmakers have raised public health and safety concerns. Some represent localities that already have come out and said they would not permit marijuana sales within their borders.
On Friday, Sen. Liz Krueger, the sponsor of the marijuana legalization bill in the Senate, acknowledged that the measure would not pass if brought up for a vote now. "I still don't have enough votes in the Senate, unless the Assembly passes it first and the governor comes out in full-throated support for this bill. … Then I feel like I could probably put it across the finish line," the Manhattan Democrat said.
Krueger said opponents – which include an array of local government and county health officials, along with the Medical Society and the New York State PTA – "are doing a better job than I think we realized they were going to be able to do." She criticized the opponents for raising what she said are "false health concerns" associated with legalizing marijuana.
On the issue of permitting online sports betting, Cuomo opened the door – slightly.
"It's possible. It's possible. I think the time is short and the list is long, so I would counsel the legislative leaders (to) get the priorities done because these priorities are not easy," Cuomo said of other major issues the sides are hoping to address in June. Sports betting did not make his top 10 list of issues.
The Cuomo administration is moving ahead with a rule-making process that could bring sports betting – but only sports betting done in person – to four upstate commercial casinos and, by default, to the Indian-owned facilities, including the casinos run in Western New York by the Seneca Nation.
The Cuomo administration has been adamant that permitting online sports betting would require a change in the state constitution, which would take three years.
Asked if Cuomo's saying online sports betting is now "possible" represents a change in the constitutional concerns, Richard Azzopardi, a senior adviser to Cuomo, said Tuesday: "Our position on constitutional concerns has not changed, but we remain in discussions with the Legislature."
The Legislature returns to Albany on Wednesday, when it will have 13 session days left on the 2019 gathering at the Capitol.
Other priorities that Cuomo outlined Tuesday are:
• Renew expiring New York City rent control regulations to make them more tenant-friendly and perhaps expand the rent protection system to other areas of the state.
• Join with 47 other states that permit paid surrogacy arrangements by a couple facing infertility problems, or an LGBT couple, so they do not have to travel out of state to have a child through a gestational surrogacy contract.
• End the statute of limitations for second- and third-degree rape and end "gay panic" defense – in which someone charged with a criminal act can seek to use the victim's sexual orientation or identity as a criminal defense.
Cuomo also put in his top 10 list new minority and women-owned business initiatives, expanding the prevailing wage laws beyond purely public projects, and allowing the state to give driver's licenses to people who are in the United States illegally.
Immigrant groups and many Democratic lawmakers say letting such immigrants have licenses would help improve road safety by encouraging those non-citizens to learn the rules of the road and to become insured. Opponents say such people should not be rewarded with a privilege when they are in the country illegally.
Also not making his priority list: an effort called medical aid in dying, or assisted suicide by opponents, in which a terminally ill person can obtain a prescription from a physician for a drug to end their lives. "I don't know that it's going to make it to the finish line this session, but it's something I support and it's something I think is needed," Cuomo said on WNYC.
An appearance by Cuomo on WAMC would not be complete without a discussion of his political future. Tuesday's interview did not disappoint. Pressed about the future use of money he's been getting from big dollar fundraisers, he said, "If I wasn't running for office why would I be raising money?"
"I plan to run for a fourth term," Cuomo said. He has made comments in the past suggesting that he wants to run again in 2022. Cuomo then used the questioner's interest to launch into a self-imposed slap on the back with a list of his accomplishments since taking office in 2011.
"I know this job. I work seven days a week at it and I think we have accomplishments. … I think I'm doing good things," Cuomo said.
The governor's late father, Mario Cuomo, was governor of New York for three terms; he lost a bid for a fourth term in his failed 1994 re-election campaign against little-known George Pataki.