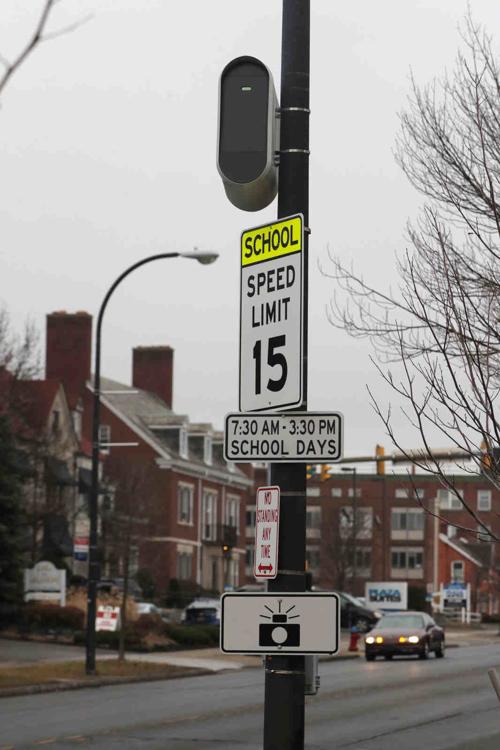 Buffalo's controversial school-zone cameras would be gone by September under a proposal by University District Council Member Rasheed N.C. Wyatt.
The School Zone Safety Program sets a 15 mph speed limit around 20 public, private and charter schools. Drivers captured on camera traveling at least 26 mph receive a $50 citation mailed to the car's registered owner.
"My commitment to protecting children in every neighborhood of this City will not waver," said Mayor Byron W. Brown in a written statement.
Wyatt called the program a hindrance to a city dealing with a great deal of poverty.
Wyatt introduced legislation for Tuesday's Common Council meeting to declare the program a failure and rescind the Council's 2019 approval of the contract for the program.
Wyatt wants the city to replace the cameras with radar speed signs and install non-punitive traffic calming measures in school zones, such as speed humps.
He also wants to change the school-zone speed limit from 15 mph to 20 mph and have the city place "school" pavement markings and crosswalks by schools. 
"We think that's more responsible," Wyatt said. "It's a way to make sure we address the same issue in a more productive way, as opposed to burdening people." 
The school zone camera program set up 15 mph zones around 20 schools in Buffalo. Flashing beacons warn motorists about the zones.
Buffalo Public Schools has appealed to Common Council members to activate speed-zone cameras all day at its schools.
The program has drawn criticism that it was poorly rolled out and executed. Others have complained that the cameras target the city's most impoverished residents by placing many of the cameras in high-poverty, minority neighborhoods. 
The Common Council in December formally asked for a pause in the contract that operates school-zone cameras, but Mayor Byron W. Brown said he saw no reason to pause the program.
Wyatt said he is hopeful his proposal will gain the support of Council members. He said more Council members are getting complaints as more of the cameras have become active, and several Council members told him they support the measure.
While it will come up at Tuesday's meeting, it involves changing an ordinance, so it will be sent to the Legislative Committee, Wyatt said.
Attorney Kevin Stocker's lawsuit calls the drop to 15 mph in school zones from 30 mph outside the zones "a drastic sudden change" that creates a dangerous condition, based on traffic engineering safety studies.
Earlier this month, attorney Kevin Stocker filed a legal petition in State Supreme Court on behalf of himself and 53 other ticketed drivers to end the school-zone camera program.
Stocker's lawsuit calls the drop to 15 mph in the school zone from 30 mph outside the zone "a drastic sudden change" that creates a dangerous condition, based on traffic engineering safety studies.
The petition seeks an injunction against the city's speed-camera program, the dismissal of all current outstanding tickets issued as part of the program and refunds for those tickets that have already been paid.