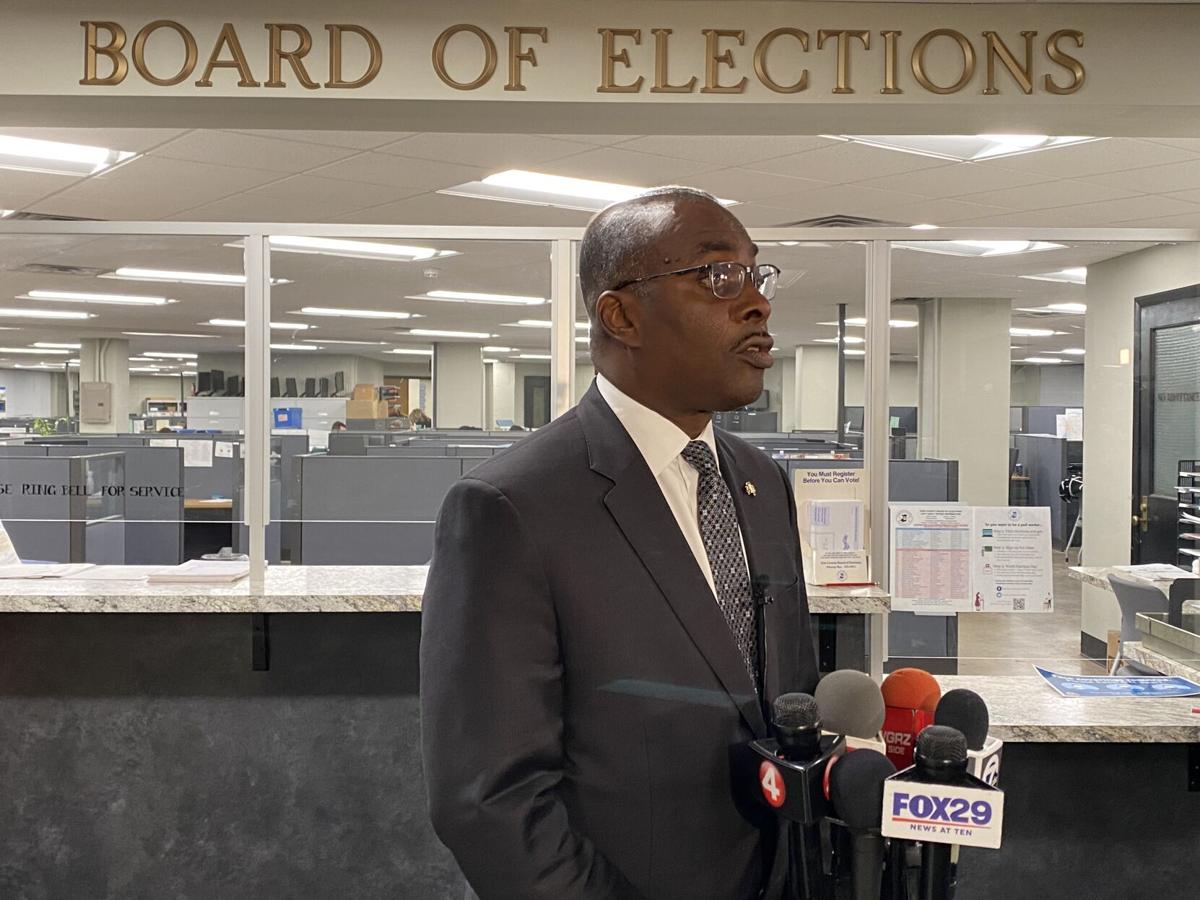 Mayor Byron W. Brown said he is humbled and honored by the "tremendous outpouring of support" from Buffalo voters, who have given him an unprecedented fifth term as mayor. 
Brown received 38,338 write-in votes, according to unofficial results posted by the Erie County Board of Elections. As was expected on election night, his tally now exceeds the 25,194 votes cast for his opponent, India Walton, after write-in votes were painstakingly inspected and counted by Board of Elections workers. Their effort concluded Friday night. Only a handful of write-ins have gone to someone other than Brown.
The city's most conservative areas – South Buffalo, Lovejoy and the North District – voted overwhelmingly to make Byron Brown the city's first five-term mayor and its first write-in mayor.
"It's clear that every vote matters. Every vote is important, and we were the candidacy of ballot access," Brown said in a brief press conference at the Board of Elections on Friday. "We were the candidacy that gave the voters a choice. Clearly, the voters wanted a choice in this election, and that's why we have won an unprecedented, historic, write-in victory, which is a real mandate from the people of Buffalo."
Walton, who had not formally conceded, issued a statement Friday, saying she accepts the "will of the voters." 
"I believe that there is healing required, and I remain committed to working to reduce poverty and using my platform to create the safe, healthy Buffalo we all need and deserve," she said.
In the aftermath of Brown's apparent write-in victory, questions surround whether Buffalo was ever ready to follow the progressive path India Walton's primary victory seemed to have charted.
Walton's campaign maintained that parts of Buffalo had been forgotten, but Brown said the results of the election show that people did not believe that.
"We know we have made substantial investment in every single section of Buffalo," Brown said, adding that there is more to come with an influx of federal stimulus aid.
Brown decided to run a write-in campaign after he lost the Democratic primary to Walton, and his name did not appear on any other ballot line. 
His campaign held rallies, sent mailings and advertised that the only way to vote for him was to "Write down Byron Brown." And he took credit Friday for the historic win.
Real estate developers like Douglas Jemal and Carl P. Paladino clung to the Brown campaign, pouring money into his effort in hopes that they could save the development-friendly administration. And it worked.
"I think everything happens for a reason, and I think standing here today, winning this resounding, unprecedented, write-in victory, something that has never happened at this scale and magnitude in the history of the State of New York, shows that it happened the way it was supposed to happen, and the state, the nation and the world will take note of this victory that was scored tonight," Brown said.
But Walton, the nurse and community organizer who gained a following around the country for her progressive views as a Democratic socialist, vowed to continue her efforts to inspire others.
"This election was not an end, but a beginning. The new ideas we articulated, the new energy we inspired, the new volunteers we trained and the new relationships we built will only grow in the coming years," she said. "This campaign planted many seeds. The blossoms are inevitable."