The incumbent says her opponent lacks the experience to lead one of upstate New York's largest municipal courts.
The challenger says she wants to give voters a choice in an election often decided by cross endorsements from party leaders before anyone casts a ballot.
The race for Amherst town justice has heated up as Tuesday's primary nears, with the contestants and their allies trading allegations of conflicts of interest and ethical violations in their campaigns.
The contenders are Democrat Kara Buscaglia, a lawyer who won election in 2013 and again in 2017 when she was jointly endorsed by the Republicans, and Republican Kathy Weppner, who is best known for her stint as an outspoken host on WBEN radio and is not an attorney.
Buscaglia said Amherst Town Court is too busy and the cases that come before its judges too varied for someone who lacks legal experience.
"It is not something that can be learned in a five-day crash course," said Buscaglia, referring to the training program New York requires for new, non-lawyer municipal judges.
But Weppner said she meets the state's minimum standards to serve as a judge.
"She's obviously well-qualified," Weppner said of her opponent, "but so am I."
The two candidates are facing off in the Republican, Conservative and Working Families party primaries.
Buscaglia had hoped to earn the support of Amherst Republicans for reelection this year. But Weppner, attending what she said was her first town GOP committee meeting, objected when she heard discussion of a judicial cross endorsement.
She said she offered to run, arguing voters deserved to have a say in selecting their town justice, and won the committee's backing.
"I know Kara was very upset that she had to run, because in the past they've done the dealmaking," Weppner said.
In Weppner's telling, after the GOP committee meeting, Buscaglia walked across the room to Weppner, who said, "It looks like we will have a primary." Weppner said Buscaglia ignored her outstretched hand and admonished her for interfering in the endorsement process, saying, "This is my career."
Buscaglia offered a different version of events, saying she did shake Weppner's hand, congratulated her and agreed Amherst voters deserve a choice between two "qualified" candidates.
"That is not the choice they have," Buscaglia, an attorney for 18 years who scaled back her practice after becoming a town justice, told The Buffalo News.
Amherst Town Court, which has two judges, handled 40,000 cases involving criminal charges or violations in 2019, Buscaglia said. The town also has several treatment-based courts that focus on veterans and cases involving drugs, gambling and domestic violence.
New York does not require its town judges to hold a law degree or practice as an attorney. Weppner said she's more than prepared to take and pass the state's mandated training program.
Weppner did not earn a college degree but said she has experience helping people seek justice and has a particular interest in assisting veterans. Serving as town justice is, Weppner said, "a teachable craft."
In addition to battling over qualifications, the judicial candidates and their surrogates are trading ethics complaints.
Amherst Democratic Chairman Jerry Schad questioned why Weppner's campaign hasn't filed any financial disclosure forms prior to Tuesday's primary. He said the candidate has spent money on campaign signs and literature and is required to record this activity with the state.
Weppner filed an in-lieu-of statement with the state Board of Elections, indicating her campaign had not yet received or spent any significant sums of money.
She told The News that Amherst Republicans made a $1,600 contribution, but it came after the pre-primary filing deadline and she has not otherwise raised campaign funds. She said her next disclosure form will include information about this and any other donations and spending on printing and other expenses.
Buscaglia has $15,510 on hand, according to her most recent disclosure form, raised from donors that include local lawyers and law firms. Weppner in a campaign flyer said she would not accept such contributions because "that would obviously be a serious conflict of interest for any judge."
Buscaglia pointed to ethics guidelines that state candidates for judicial office should not attempt to learn the identities of their donors. "We are not allowed to know" to avoid any conflict, she said.
The candidates also are accusing each other of violating rules regarding campaign signs.
Schad filed a formal complaint over some Weppner signs that say "Kathy Weppner/Amherst Town Justice." He said candidates who aren't sitting justices must include the words "for" or "elect" to make their status clear to voters.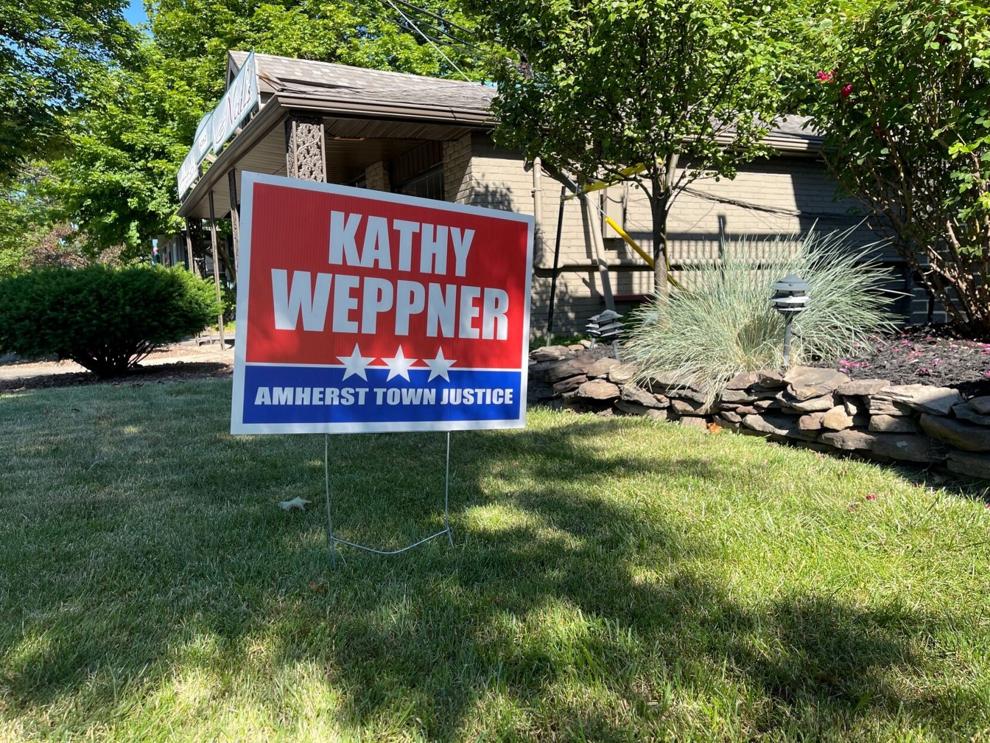 "It is an ethical violation," Buscaglia said.
Amherst Republican Chairman Brian Rusk said there's nothing wrong with Weppner putting her name and the office she is seeking on a sign.
Weppner said she received a call from a state investigator following up on Schad's complaints. She explained her large campaign signs were left over from an unsuccessful 2014 race against Rep. Brian Higgins, and she used "Amherst town justice" stickers to update the "Elect Kathy Weppner" signs.
She did have another set of smaller signs printed and, in response to the complaint, she said she is buying stickers with the word "for" to add to those signs.
"I'm going to immediately fix that," Weppner said.
Further, Weppner has filed her own ethics complaint accusing Buscaglia, or her supporters, of placing inappropriately large signs on public property in Williamsville and Amherst. A village employee later removed some of the signs, Weppner said.
"She should know better," Rusk said of Buscaglia. "She's a judge."
Buscaglia, for her part, said she was contacted by a town employee about one sign. She said her campaign distributes signs to supporters but it's up to the property owner to decide where they go.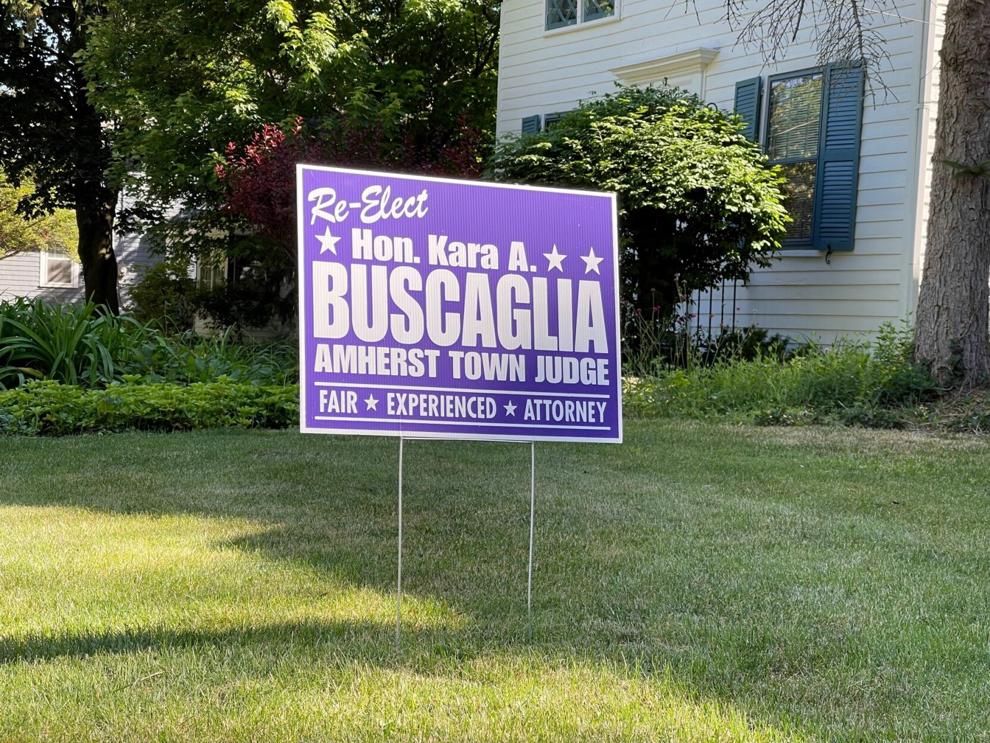 "I don't have 100% control over that," Buscaglia said.
Buscaglia has the Democratic line in November no matter what happens Tuesday, while Weppner has to win at least one primary to have a place in the general election.
Also Tuesday, Town Board incumbents Jacqualine G. Berger and Shawn A. Lavin and challenger Ray Herman are competing in a three-way contest for the two Conservative ballot lines in that election.