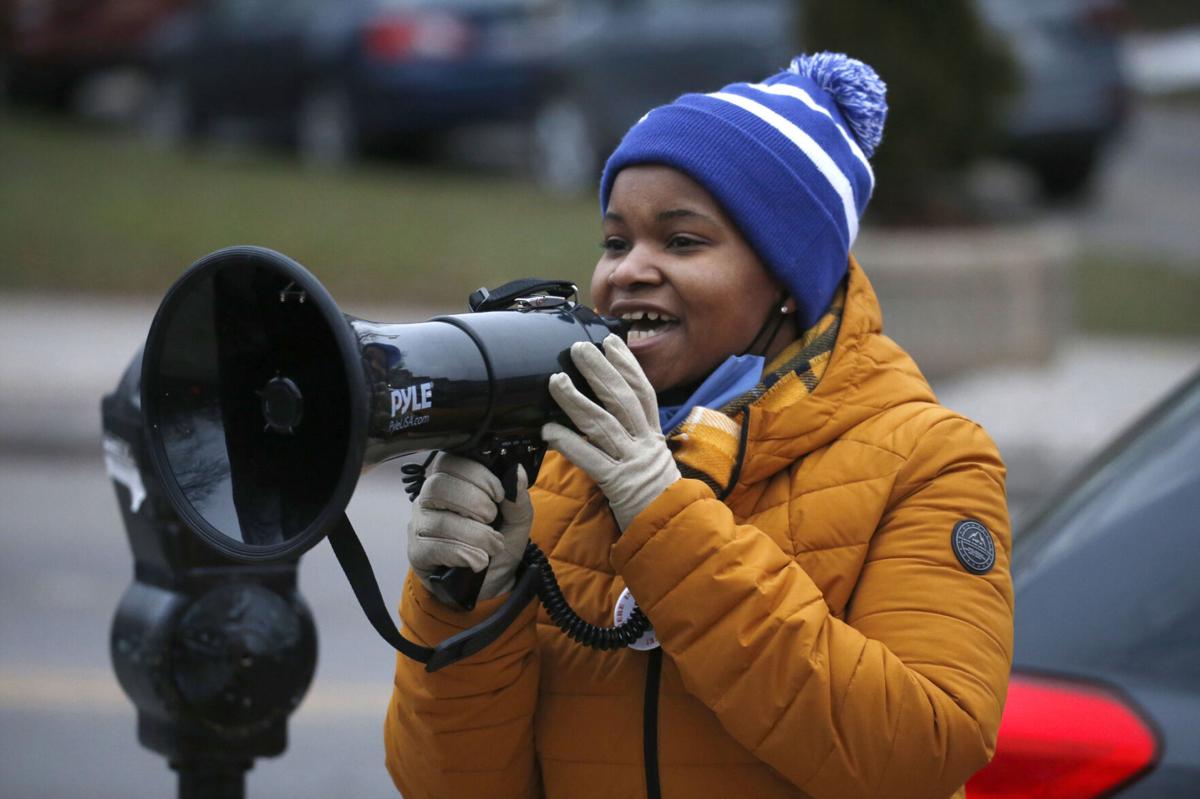 When thousands of protesters took to Buffalo streets last summer demanding racial equity, at least one political entity took notice.
Leaders of the left-leaning Working Families Party say that the protests influenced their deliberations this week as they bypassed Democratic incumbent Byron W. Brown and endorsed activist India Walton for mayor.
"It comes from the Black Lives Matter movement, from the death of George Floyd and the situation with the police officers in Rochester," said Western New York Working Families member Dave Chudy, referring to galvanizing events of the summer protests.
State party leaders also previewed their approval of the local choice.
"As founding executive director of the Fruit Belt Community Land Trust, India showed a remarkable vision for delivering affordable housing – and the leadership skills to deliver the outcomes that working people need," said state Working Families Party Director Sochie Nnaemeka. "As a single mother, a NICU nurse, and a seasoned organizer, India has always grounded her leadership in care and justice for all. We're ready to get to work to elect her as the next mayor of Buffalo."
Walton reacted by noting that her platform and values "are closely aligned in putting justice for working people first."
"This endorsement proves that the people of Buffalo are ready for real progressive leadership," Walton said. "I'm ready to work alongside the WFP to help deliver that."
Brown will seek the endorsement of the Democratic Party on Thursday, confirming the long-held open secret that his campaign seeks to break the current four-term record he shares with the late James D. Griffin.
Now Brown faces not only a June primary from Walton and the left wing of his own Democratic Party, but also her general election challenge in November on the Working Families line. Brown, with his powerful political organization and fundraising capabilities (not to mention all the advantages of incumbency), is still considered the overwhelming favorite in both contests.
But the mayor's effort to gain an unprecedented fifth term now faces a more than token challenge capable of attracting left wing votes. And while no major elected officials or business leaders appear to recognize significant vulnerabilities in Brown and challenge him this year, he must guard against any surprise challenge from the left in a time when similar forces are gaining more and more strength around the nation.
Indeed, the mayor recognized that in his re-election announcement remarks to The Buffalo News earlier this week.
"I take nothing for granted," he said.
In a Wednesday statement, spokesman Michael J. DeGeorge reiterated the mayor's sentiments when asked to react to the Walton endorsement, though he did not address questions about the failure to again gain Working Families backing.
"Mayor Brown will work hard to earn the support of every City of Buffalo resident," DeGeorge said, "and ask them to continue to put their faith in his leadership during these challenging times for four more years."
The friction in the last year and a half contrasts with the historically placid relationship Brown has had with the legislative branch during much of his 15 years as mayor.
Erie County Democratic Chairman Jeremy J. Zellner said that he does not anticipate major problems from Walton.
"I don't see it as having an effect on that race at all," he said.
Still, Working Families has backed Brown in every election since its start in 1998, and it seemed natural that it would grant him the line he requested again this year. But Chudy said his minor party is considering new concerns among its younger members.
"We see this as generational among people who think things need to happen quicker," he said.
And Walton impressed Working Families officials enough to gain their nod. Chudy said that they noted Walton's "push back" against gentrification in the city's Fruit Belt neighborhood.
"That seemed to galvanize a lot of younger people who are not participating in politics," he said, "and we are a bottom-up party."
Covid-19 concerns related to circulation of designating petitions are expected to lessen signature requirements again this year, so it remains possible that other lesser-known Democrats could still qualify for the primary ballot.
Officials of the tiny Buffalo GOP say they have not identified a challenger for this year's mayoral contest.