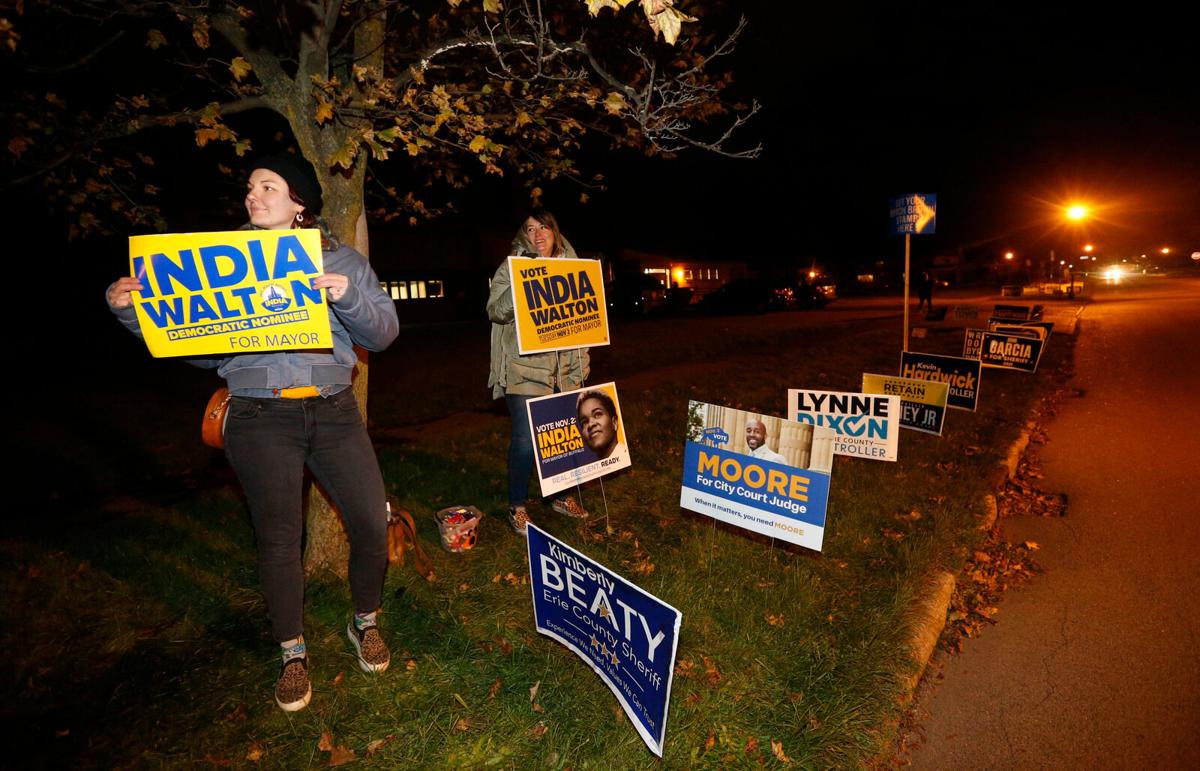 When India B. Walton acknowledged Wednesday that she would lose her campaign for mayor, she seemed resolved to avoid ending up as a footnote in Buffalo's political history.
Instead, the nurse-turned-candidate who captured national attention with her challenge to incumbent Byron W. Brown served notice on the city's political establishment. While unsuccessful, she said, her campaign had accomplished "ending the era of complacent Buffalo politicians."
Election officials will not begin examining the actual write-in votes until Nov. 16 when all absentee and military ballots are returned to the Board of Elections.
"No longer can they feel confident that they can rest easy in their seats of power," she warned. "They now know that, unless they step up for our city, their careers are at risk. We taught them that."
Though Brown created his own history with an unprecedented write-in victory, Walton may have awakened a potent progressive force in Buffalo politics. Preliminary results, which do not include mail-in ballots or tally the write-in names, show she lost the city 59% to 41%, but Walton tallied impressive wins throughout the East and West sides.
Now political observers debate whether Walton or a similar candidate can build on the success of Tuesday's election and win the mayor's office for the left wing of the Democratic Party.
India Walton received just over half of the votes cast in the Niagara, Ellicott and Masten districts in Buffalo's mayoral race.
"I think Nov. 2 was a new beginning, and I think that effort will only continue to grow," said Henry Louis Taylor, founding director of University at Buffalo's Center for Urban Studies. "India Walton did not create the progressive movement, but India Walton came out of the progressive movement and became its face."
In her statement acknowledging defeat, Walton especially noted victories in the city's poorer districts. She tallied 56% in Niagara, 53% in Masten, 52% in Ellicott and 48% in University. Heavy turnouts in pro-Brown districts such as South (where Brown won with 84% of the vote) carried the day for the mayor, but some observers say her brand of progressive politics may have at least taken root.
Taylor, who recently authored a study noting little economic progress among Buffalo Blacks since his last investigation in 1990, rejects the notion of Buffalo as a bastion of moderate Democrats because of Walton's strong totals in some neighborhoods. The party's most loyal members live in districts like Masten and Niagara, he said, and will continue to exert their influence.
"The idea that this progressive movement will disappear now that Brown has four more years is an illusion," he said. "It's only a matter of time before India Walton or someone like her is mayor of Buffalo – certainly within the next 10 years."
Walton differed from previous mayoral contenders. She did not spring from the Common Council or State Senate (from which Buffalo's last three mayors graduated), had no previous political experience, and was largely unknown outside her own progressive circles. Even more noteworthy, she drifted into the spotlight while leading 2020 protests against police brutality (as opposed to adopting pro-police stands).
"The fact that his own neighbors voted for India should serve as a wake-up call to the mayor," said Jesse Myerson, India Walton's campaign spokesman.
Soon she was gaining attention from major left wing figures such as Sens. Bernie Sanders and Elizabeth Warren, along with Rep. Alexandria Ocasio Cortez, of the Bronx, who campaigned for her in Buffalo on Oct. 23. She also traveled to New York City last month to raise money in high profile, left wing circles. Even more importantly, she attracted financial and logistical help from forces like New York's Working Families Party. The left leaning minor party provided much of her staff, as well as hundreds of thousands of dollars worth of television and direct mail advertising.
After the party failed to qualify Walton for its line this year after filing late designating petitions, it appears ready for the next round.
"We've seen what happens after India laid out a positive vision for the City of Buffalo," said party spokesman Ravi Mangla. "That's something we want to realize whether India is in office or not.
"We have a robust membership in Buffalo," he added, "and they are excited to continue to shape its politics and do whatever we can."
Not everybody believes that Walton has set a template for Buffalo politics. Former Mayor Anthony M. Masiello won three terms as Brown's predecessor, is now an Albany lobbyist who does business with the city and this year worked for the mayor's re-election. He noted that all the talk of Walton success ignores the mayor's ability to attract what will likely be 35,000 votes cast as write-ins – unprecedented in the city's and possibly state's history.
In the aftermath of Brown's apparent write-in victory, questions surround whether Buffalo was ever ready to follow the progressive path India Walton's primary victory seemed to have charted.
"That's significant because people were petrified of her radical politics," he said, noting her plan to cut Police Department funding by $7.5 million collided with concern about crime. "That was overwhelmingly rejected."
Still, Masiello acknowledged that just as throughout its history, Buffalo's voters and its politics constantly change. Immigrants bring new ideas, ethnic voting patterns evolve, and different issues dominate the discourse. Walton's 41% stands as a basis to build on, he said, but not with a candidate like Walton.
"I believe that if there were a less radical, progressive candidate, the campaign would have been a lot closer," the former mayor said.
"Buffalo has changed and will change several times again. All of us are going to have to adjust to those things," he added, "but we won't adjust to such radical positions overnight."
South Council Member Christopher P. Scanlon, an early Brown supporter who fiercely opposed Walton's socialist philosophy, emerged as a potent force in the Brown victory as he helped mobilize voters in the city's most moderate district. He said he never believed the 11,000 voters who selected Walton in the June Democratic primary reflected "a moderate city with a moderate platform."
"There are liberal Democrats, for sure," he said, "but India Walton was even to the left of them, and that's how she painted herself."
His district, populated by significant numbers of police officers, firefighters and other city workers, provided the highest turnout (8,620 votes) and highest plurality (84% to 16%) for the mayor.
Tuesday's election and what it portends for the future is creeping into the statewide scene. As he weighs a decision about running for governor within the next few weeks, Rep. Thomas R. Suozzi of Nassau County told reporters in a Thursday conference call that the election of moderates like Brown in Buffalo and Eric Adams in New York City should send a message to the far left.
He says Democrats could be "sleepwalking into catastrophe" by pinning their hopes on far left candidates. He called himself as "progressive as you can get," but fears the party will not benefit from embracing socialist positions.
"No candidate (for governor), none of them, is standing up to the far left," Suozzi said. "We are not going to move our country forward and the Democrats are going to lose unless we stand up to the far left."
None of that resonates with Taylor, who believes Walton accelerated a timetable for a progressive takeover of Buffalo politics as a "fantastic politician" who captured the attention of the city, state and even the nation.
"She inspired a generation of folks and I don't think anyone else could have done that," he said. "That can only come from someone who has experienced life on the ground as has India."