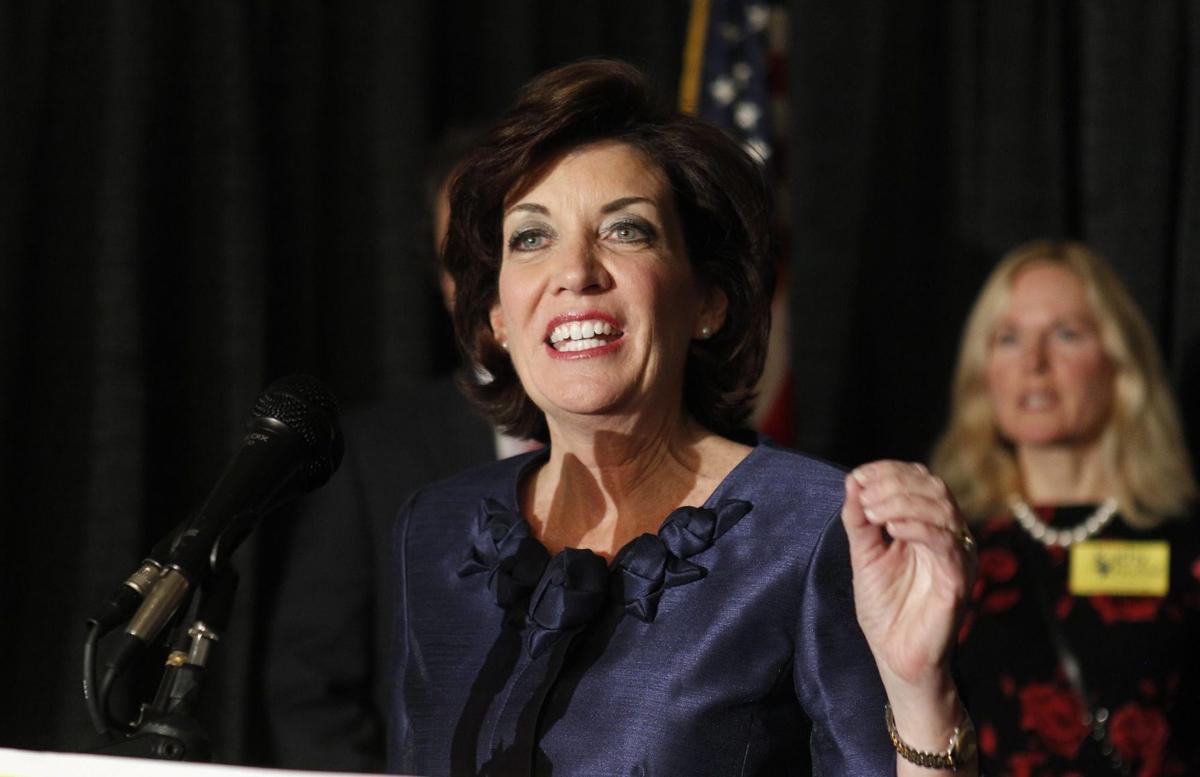 Lt. Gov. Kathy Hochul will soon shed her "lieutenant" status and step into a new role overseeing a state government system that employs more than 100,000 people.
The last time the well-traveled Democrat was directly responsible for supervising a government department, she headed the Erie County Clerk's Office, which employs about 170 people. The elected, countywide position of county clerk is a fairly bureaucratic post that oversees local Department of Motor Vehicles offices and processes real estate transactions and pistol permits.
When Hochul served as deputy county clerk and, in 2007, became Erie County clerk, she had a reputation as a leader focused on customer service. She reduced wait times at the county auto bureaus and allowed court documents to be filed electronically. She also relocated the downtown auto bureau into the county's Rath Building.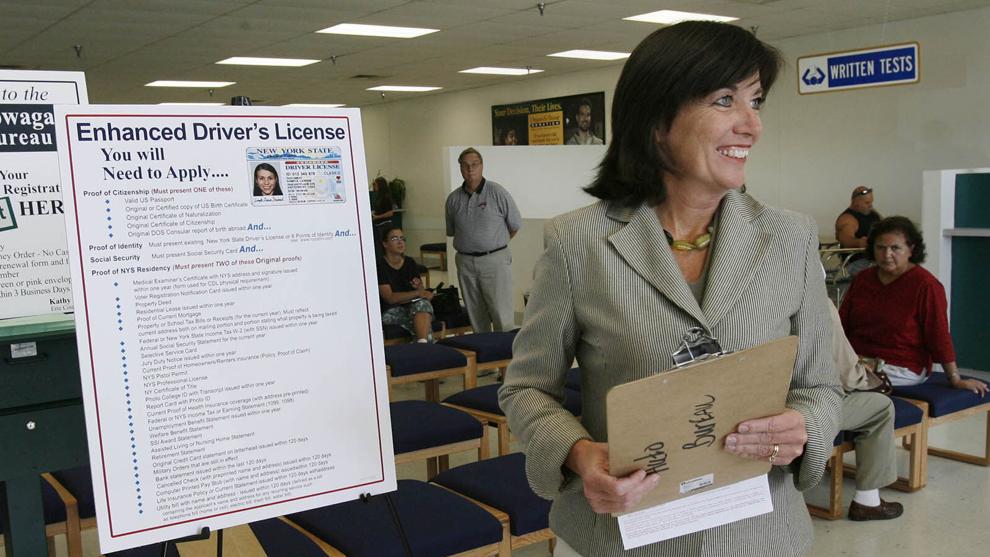 But not everything she did was a success. After Hochul was elected to Congress, her Republican successor as county clerk found a year's worth of mortgages, deeds and other real estate papers in the office still awaiting electronic verification before they could be returned to their owners. 
The failed process for handling those documents that Hochul had attempted to establish would eventually become fodder for her political opponents.
Former County Clerk David Swarts had known and worked with Hochul since she was a Syracuse University intern and appreciated her campaign, fundraising and constituent services work ethic. He appointed her as his first deputy county clerk in 2003 and recommended her to Gov. Elliot Spitzer for the clerk's post after he was elevated to commissioner of the state's Department of Motor Vehicles in 2006.
Hochul was appointed, then elected, as clerk to complete Swarts' unexpired term in 2007. She was re-elected in 2010 but left the office in May 2011 after being elected to the House of Representatives for the 26th Congressional District.
Town of Tonawanda Democratic Chairman John Crangle, who served as Hochul's deputy county clerk, said she had an unrivaled work ethic and went above and beyond to improve the customer service experience at county DMV offices. She also worked hard to modernize and improve technology use at the office, he said.
"She was hands-on with everything," he said.
She talked to residents waiting in line at the auto bureaus and worked to improve the staff culture so customers had a more positive experience, said Crangle and Hochul spokesman Matthew Janiszewski.
She had TVs, comfortable chairs for adults, and a rug for kids brought into the waiting areas, Janiszewski said. She ensured that DMV customers were greeted by someone when they first entered and given a document checklist so they didn't wait around for a long time, only to be told at the window that they didn't have the paperwork needed to complete their transactions.
Hochul had customer satisfaction forms given to every auto bureau visitor and personally called people who had a bad experience, giving them her cellphone number, he said. She expanded mobile auto bureau services. And taking a cue from doctor's offices, she even brought magazines from her house to distribute in the waiting areas. 
But it's the non-DMV work she did at the tail end of her career as county clerk that attracted unwanted attention.
She instituted a new process that was supposed to make transactions more convenient for customers.
But when Republican Chris Jacobs succeeded Hochul and took over the office in January 2012, he found a year's worth of mortgages, deeds and other real estate papers awaiting electronic verification and requiring return to their owners. Some of the tens of thousands of documents dated back to Hochul's time as clerk.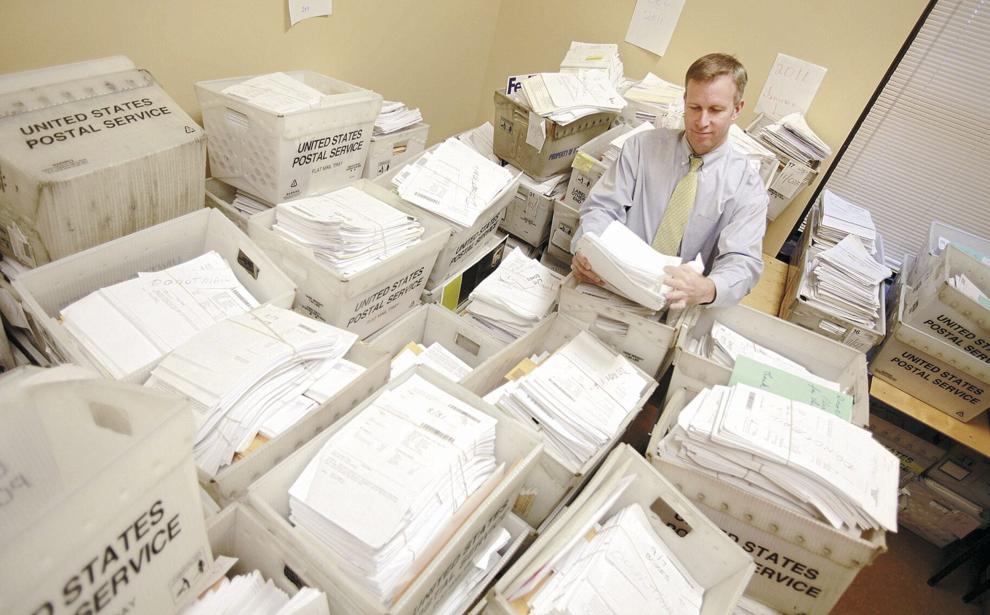 Hochul was held responsible for some of the frustrating backlog because she had redirected her attention to running for Congress shortly after instituting a new system in early 2011. When she took her seat in the House of Representatives in June, training on the new system was not complete and county office staffers were frustrated. 
Hochul said she changed the process of handling documents in an effort to scan return documents to customers sooner and save the county money.
"We were on the verge of implementing, really, a culture shift in this office that would have brought it into the 21st century," Hochul said in 2012.
Erie County Clerk Chris Jacobs had heard the stories of long lines and document delays when he ran for office. But he had no idea of the scope of the problem until he saw the boxes. More than three months of unopened mail sits in one room in the County Clerk's Office. Another room is filled with bins of
Prior to the process change, real estate professionals said the wait time to get original documents returned was six to 10 weeks.
But after Hochul instituted the new system, Jacobs said the wait extended to as long as 12 to 18 months. Real estate businesses were hurt.
"I think it's safe to say, for a long time, it was a mess," said Peter Hunt, CEO of Hunt Real Estate, which does a lot of title work.
To be fair, the county clerk position had been vacant for half a year before Jacobs took over. Crangle was in charge in the interim. In addition, real estate transactions were being recorded in a more timely manner, but the final verification step was held up.
Hochul had previously stated she was in the midst of implementing the new process and training employees when the special congressional election was held and she left office. Had her new process been fully implemented as planned, Hochul said the county would have been able to return documents to customers before they left the counter, saving the county postage costs.
"That was the game plan," Hochul said. "And it wasn't complete when I left. I cannot speak to where it broke down after I left."
Crangle, who retired as deputy clerk in late 2011, had said the number of mortgage transactions had grown dramatically over the past year as HSBC Bank USA prepared to sell its upstate network of branches to First Niagara Financial Group. Hunt noted that after the real estate crash, the Clerk's Office also would have been inundated with short sales and foreclosure transactions. 
But the procedural failures at the Clerk's Office worsened the problem.
Comparatively, current County Clerk Michael "Mickey" Kearns said mail-in procedures and electronic filing options now result in real estate transactions being completed within roughly a week's time. 
Jacobs could not be reached to comment for this story, but Peggy LaGree, whom he appointed his deputy county clerk in 2012, recalled the difficult time staff had trying to get the backlog addressed.
"They were so defeated by this time," she said. "They just didn't see a light at the end of the tunnel. The numbers were staggering."
Ultimately, the Clerk's Office caught up with paperwork after Jacobs authorized six straight Saturdays of overtime to ease the backlog of real estate documents and other mail. In addition, LaGree said, Jacobs had an M&T Bank executive come in and help streamline the Clerk's Office. The office also developed an internal tracking system to prevent this type of backlog from recurring.
"We re-engineered the whole process," she said.
She and others say Hochul was clearly attempting to improve an outdated system and credited her with making the effort, albeit incomplete.
'It's just a Stone Age system that took a lot to modernize," Hunt said. "I think Kathy did what she did to start that process, but she left to go to Congress, and a lot of it wasn't done yet."
He gave Jacobs credit for dramatically improving the real estate transaction process.
Janiszewski said that the finalization and return of real estate documents is only a small percentage of all the work done by the county clerk. 
But the problem wound up becoming an issue in Hochul's bid for re-election to her 27th Congressional District seat, the most Republican district in the state. Hochul lost her seat by a 2% margin in the 2012 election to former County Executive Chris Collins. She became part of the Cuomo's gubernatorial ticket two years later.