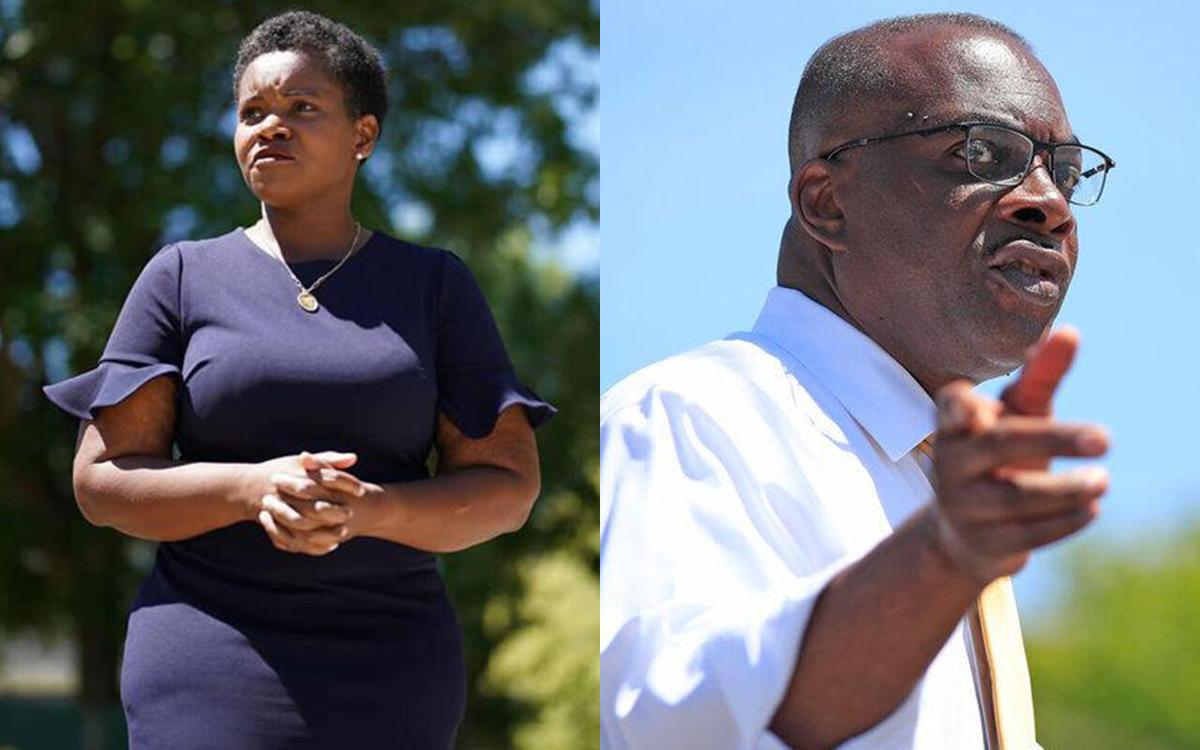 Mayoral candidate India Walton on Wednesday called for amending the city charter to establish an independent police oversight body with investigatory and subpoena power.
Police accountability is one of several planks in the "Building Healthy Communities" policy agenda she unveiled to create a safer and healthier Buffalo.
Better oversight will improve police/community relationships, she said.
For Black residents like her, she said, interactions with Buffalo police officers are as likely to be terrifying as comforting. She described a collective anger over the treatment of people of color by law enforcement, and a feeling of powerlessness and fear when confronted by an armed officer, which she said can lead to toxic encounters.
"Buffalo police already has some of the best of the best," she said. "I think that reputation is being tarnished sometimes by officers who are allowed to misbehave and treat people poorly and remain on the force, and that's why I truly believe that independent oversight and accountability will go a long way to improving the relationship between our community and police officers," said Walton, the Democratic nominee for mayor.
Mayor Byron Brown, now pressing a legal battle to get his name on the Nov. 2 ballot for mayor, said he did not know about Walton's proposal.
Generally, "we have a good police department," Brown said.
"We have been able to lower crime in the City of Buffalo every year that I have been in office as mayor with the exception of the pandemic where we've seen an increase in crime in communities all across the country," he said. "I stand for a sound police department, keeping our neighborhoods safe, our businesses safe, our families safe. My opponent has indicated that she wants to cut the police department, which would mean 100 less police officers on the streets of our city."
Walton's platform also includes supporting green jobs and local co-ops over out-of-town corporations; a community land trust federation over for-profit housing; and a climate action plan for environmental protection and energy conservation.
"We know what plagues our community the most is poverty," Walton said. "And when we talk about social determinants of health, poverty is the No. 1 leading factor in community violence, in poor health outcomes, in sicknesses that's created by poor housing conditions. We really want to tackle that head on.
"And as much as our opponent touts the progress that has been made over the last 16 years, 30% of our population is still living below the poverty line and in substandard housing, so we have to do something about that," she said.
Walton said she supports making certain police data public to the extent allowed by law, including racial disparities in stops and arrests and officer disciplinary records. She wants to create a task force to fire and demote officers with consistently bad records. Her plan includes providing resources for law enforcement suicide prevention and access to mental health services for officers.
Walton also wants to provide incentives to encourage police officers to live in the city, such as providing them down payments and closing cost assistance for home purchases.
"I know that we're being told all police officers are community police officers," she said. "That's just not true. I'm interested in incentivizing officers to become true community police officers, making sure that we enforce residency requirements and also incentivize officers to actually reside in the communities that they serve. We want them right here at home so that we can build a better Buffalo together."
Walton said she wants to make the best use of the city's financial resources to free up police to do the job of police work, which is solving crimes.
"Without being able to go into the budget line by line, I can't say exactly what can be reallocated," she said. "But I know that we're doing too much in overtime because there aren't enough officers on the street. And I know that our police officers are just overtaxed with duties that they could be absolved from, which is the reason why we're seeing such high rates of mental health issues, suicides and things like that," she said. "I want to honor the good police by giving them all of the resources they need, taking them out of situations that they're not required for like parking enforcement, mental health calls, homelessness outreach and all of the societal ills we're expecting them to be on the forefront of that they're just not equipped to take care of."