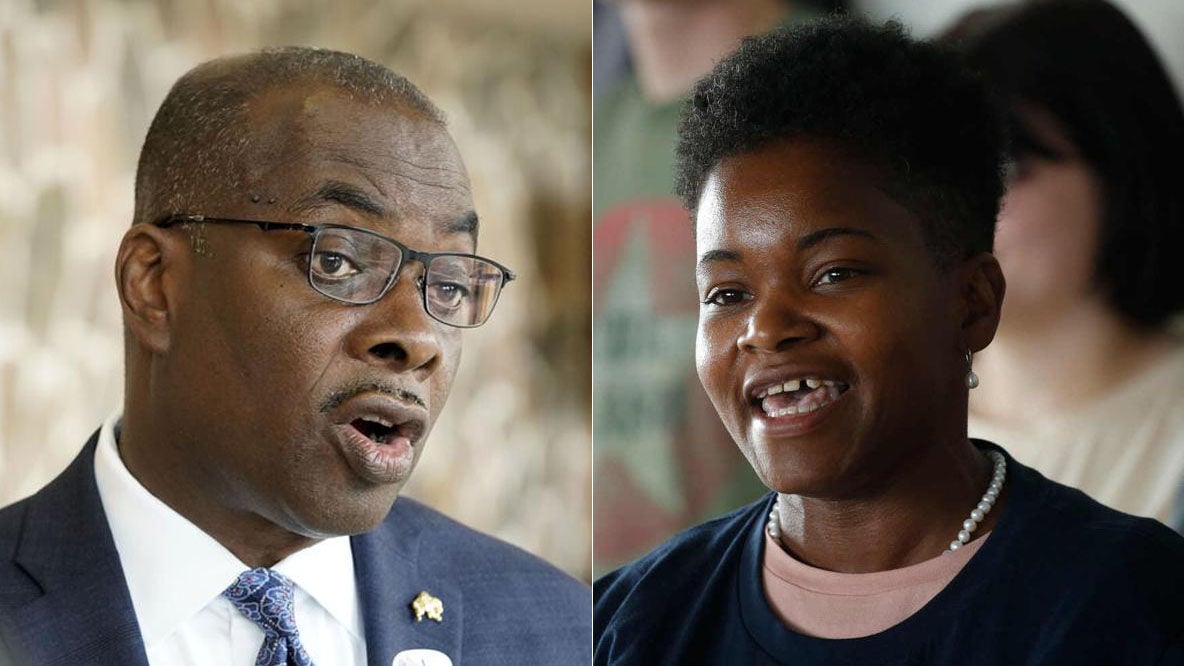 Both candidates for mayor of Buffalo are wielding sharpened campaign knives this week with hard-hitting television ads and news conferences hinting at their apparent perceptions of a close race and the need for a negative message.
On Monday, challenger India B. Walton convened reporters outside her Ellicott Street headquarters to counter a new ad aired by Mayor Byron W. Brown that highlights her 2014 arrest and her plans to cut funding for the Police Department. The spot touched off some of the most intense crossfire of the campaign between the two camps, started by the Brown campaign's assertion that Walton "thinks she is above the law."
Walton, meanwhile, debuts a new spot Tuesday that addresses "campaign ads that are false and filled with lies," and that she will not "fire police" – some of the same themes she and her staff highlighted on Monday.
The Brown advertisement ignited the exchange by noting that Walton was arrested in 2014 after being accused of threatening a co-worker, that she resigned her nursing job after being confronted about taking a trip while on family leave, and that she left an apartment in 2018 after complaints of drug dealers visiting the home.
Walton has denied threatening a co-worker and has said her former landlord sought retribution for her neighborhood activism.
"Let me be clear. I am not perfect," she responded. "I have learned from the mistakes I've made and continue to grow, become even more responsible, accountable and considerate of others."
After another Brown charge that Walton's plan to cut Police Department funding by $7.5 million would result in 100 police layoffs, however, Walton called a news conference to counter the ad's claims and "put these rumors and unfounded allegations behind us."
She reiterated her consistent claim that no officers would lose their jobs. Rather, she explained, savings would be achieved through attrition and reassignment of some officers to civilian jobs in which they would be trained to handle situations such as a mental health interventions. She called the Brown ad "a lie, plain and simple."
"This is a callous attempt to mislead the public and whip up fear," said Walton, who won the June Democratic primary and is being challenged by Brown's write-in effort.
Her ads have also drawn attention to law enforcement investigations of City Hall. 
In her remarks to reporters, Walton broke little new ground while reiterating many of her promises and platform planks. But she did cite a Monday story in The Buffalo News outlining concerns raised by the 2020 deaths of three people in an East Utica Street fire at a home owned by a Buffalo police lieutenant. The story noted the victims' family reported no smoke or carbon monoxide detectors were installed in the apartment and that no subsequent citations were issued in connection with the fire.
"This is all too emblematic of the way business is conducted by the current administration," she said, promising a Walton administration will not "treat landlords like they are above the law."
Walton took no questions from reporters. But spokesman Jesse Myerson repeated the campaign's criticism of earlier stories in The News reporting that Walton had been arrested, which he said was connected with a difficult time in the candidate's life when she was attempting to escape an abusive marriage and was living in her car.
Based on police records and law enforcement sources, The News reported in August that Buffalo police arrested Walton on a charge of second-degree harassment on June 27, 2014, at work at Children's Hospital. In the arrest report obtained by The News, the arresting officer said a fellow nurse complained that Walton "has continuously threatened to do bodily harm" to her, "causing alarm and annoyance." The nurse accused Walton of threatening her for about three months, according to the police report.
More details were included in an addendum to the arrest report, a law enforcement source said. "Defendant has told complainant that she will break her legs, and has stated to complainant and co-workers, 'I'm gonna take you out. Outside hospital property,' " a Buffalo police officer wrote in the addendum, according to the source.
Myerson brought up the addendum in his Monday remarks, calling it "simply an anonymous law enforcement source's depictions."
"She was not arrested for having threatened anyone's life," he said. "She was arrested for failing to respond to the summons that went to her abuser's house which she never saw."
Myerson on Monday rejected any characterization of the new Walton ad as "negative," instead labeling the 30-second spot as a contrast.
"Our ad draws a contrast between his leadership style and the safe, healthy Buffalo we're fighting for," he said.
In another Monday development, Walton – a registered nurse – received the endorsement of the NYS Nurses Association.
"Over the course of the last five years, Ms. Walton has used her nursing background to inform and address critical issues that impact health care," said NYSNA President Nancy Hagans. "She has also championed issues of justice including fair housing. Her vision will center the people of Buffalo and ensure their voices are present at City Hall."