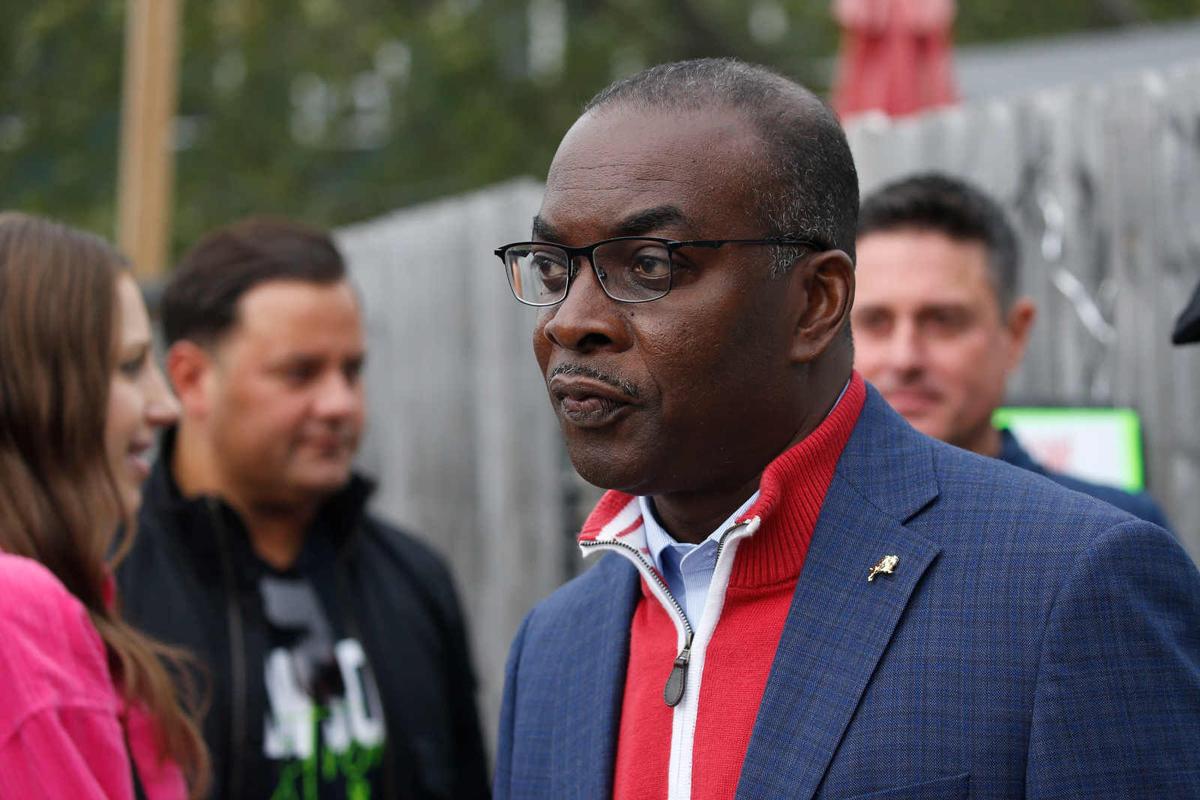 In all the years that Mayor Byron W. Brown has run for office in Buffalo, all sorts of political organizations have pitched in with help.
But never has the lifelong Democrat – in fact, the former state Democratic chairman – ever benefited from the Republican State Committee.
In this most unique of Buffalo mayoral elections, mailers from state Republicans have arrived at city homes over the past few days urging voters to write in Brown's name on the ballot and lauding his "proven, common sense leadership." They also note his support for police, protection for neighborhoods and that he is "fiscally responsible."
Early voting begins Oct. 23, and Election Day is Nov. 2. Buffalo voters will either write down Byron Brown's name and vote him in for an unpre…
Other mailers aim directly at his opponent, India B. Walton. The winner of the June Democratic primary, the mailers say, embraces a "radical agenda that will destroy Buffalo." They picture her shouting into a bullhorn and claim Walton's "destructive agenda will hurt Buffalo's economy, raise taxes, increase rents and harm property values."
They also claim Walton will advance a "lenient, no jail policy ... for sex offenders, rapists and abusers," while promising to "fire 100 or more Buffalo police officers." Walton denies her plan to cut Police Department funding by $7.5 million will result in any police firings or layoffs, but that reductions will occur through attrition. And a PolitiFact review of the claim of no jail time for sex offenders was rated false. 
State Republican Chairman Nicholas A. Langworthy on Monday did not consent to an interview, but summed up the party's view of the Walton candidacy in a statement.
"We are dedicated to fighting socialism at all levels," he said.
After Buffalo GOP Chairman Andrew Pace indicated in August that city Republicans would consider aiding Brown's campaign if asked, Walton has been striking back. Her campaign earlier this month released its analysis of campaign contribution records claiming one-third of Brown's donations from individuals in Erie County stem from Republicans and Conservatives.
The Walton campaign said the mayor took in about $194,000 from Republicans and Conservatives after the June primary, compared with only about $40,000 before.
Now Walton spokesman Jesse Myerson says the new Republican mailers back up their efforts to link the mayor to the GOP in an overwhelmingly Democratic city.
"The fact that the State Republican Committee is sending mailers on Byron Brown's behalf should put to rest any doubts about his party allegiance," Myerson said. "He has clearly sold out the Democratic Party to team up with Trump-supporting Republicans."
Brown labels any claims that he is a Republican in disguise "absolute nonsense," even questioning his opponent's Democratic credentials.
"She's not a Democrat; she's a socialist," he said. "She shouldn't even call herself a Democrat."
The mayor also said he never "formally asked" Pace or city Republicans to aid his re-election effort, though Erie County Conservative Chairman Ralph C. Lorigo said Brown sought his party's help during an ill-fated attempt to establish another minor party line over the summer. Brown said he will nevertheless accept backing from anyone, including "Democrats, Republicans, independents and Conservatives."
"I have asked every eligible voter for support in this election," he said.
The Buffalo News reported last week that Good Government for New York, a Virginia-based group that supports Republican candidates nationwide, spent $30,000 on mailings and phone calls opposed to Walton. The same group supported GOP candidates for State Senate in 2020.
On Monday the group reported spending another $15,000 on anti-Walton mailings.
Other recent contributions since Friday for Brown include:
Nicholas Sinatra, $2,700; $5,000, John Vaeth; $5,000, Peter Wilson; $1,500, Taqueria Rancho Las Delicias; $2,000, Aaron Siegel; $1,500, Fran Ewing.
Late Walton contributions include: $2,000, Rachel Bedard of Brooklyn; and $2,000 from the Women's TAP Fund of Buffalo.