The union representing Erie County road deputies filed a grievance Tuesday over a management practice that has long irritated some members – granting civilians the same badge given to deputies who have gone through the academy and earned full police powers.
In the latest example, the Police Benevolent Association says that issuing a star-shaped badge to well-known businessman and political donor Gerald A. Buchheit Jr. – now a reserve deputy in the aviation unit – violates a contract provision stating "reserve employees shall never wear a star badge."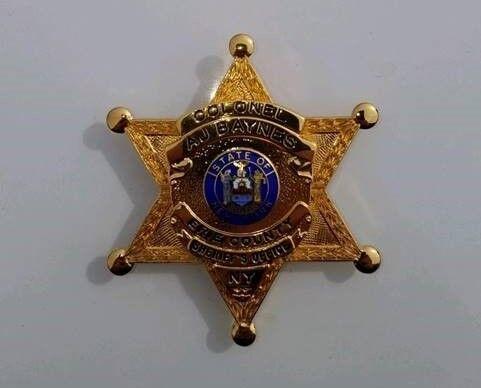 The grievance may become a matter for the next sheriff since Timothy B. Howard will leave office at year's end.
One of the candidates vying to succeed him called on state Attorney General Letitia James to investigate what's going on and said that, if elected, he will recall every badge issued to someone other than a certified police officer.
"Law enforcement officers in Erie County undergo extensive background and psychological screening during the hiring process, ensuring they are qualified to serve our community," Ted DiNoto, who is running on an independent line, told the attorney general in a letter sent Tuesday. 
"Bypassing this process and issuing badges to unqualified individuals, or donors, subjects the Erie County Sheriff's Office and our taxpayers to significant liability."
Another candidate, Democrat Kim Beaty, said she, too, would end the practice.
"Every decision I make as sheriff will be through the lens of whether it will make Erie County's streets safer," she told The Buffalo News. "It's clear that Sheriff Howard's distribution of special badges has done nothing to make our community safe. Under my leadership, Sheriff Howard's practices for distributing special badges will come to a halt."
Republican candidate John C. Garcia – endorsed by Howard and the deputies union – was less clear about whether he would end the practice, though he promised it would be a part of his top to bottom review of the agency if elected. "This includes reviewing and overhauling all divisions within the Sheriff's Office and is not limited to those who represent the Erie County Sheriff's Office through their voluntary services," a campaign spokesman said.
Without commenting on the grievance, a Howard spokesman said the Sheriff's Office would cooperate with an attorney general investigation if one begins.
For years, the Sheriff's Office has issued badges to civilians who did not go through the police academy by selecting them for an honorary/ceremonial badge, or by designating them as reserve deputies willing to volunteer their expertise in certain areas when needed. Deputies have grumbled privately that recipients have flashed badges in a plea for special treatment when pulled over.
Through his company or as an individual, Buchheit has donated tens of thousands of dollars over the years to candidates on both sides of the aisle, including Howard and Garcia. He is a pilot, and the Sheriff's Office runs an "aviation reserve" unit that wants pilots on standby. "Pilots are called upon to help perform search and rescue missions, air surveillance and air transportation," says the Sheriff's Office website.
The Facebook page of Susan Howard, the sheriff's wife, shows her and Buchheit at the controls of an airplane, and the sheriff and his wife on a later excursion to Alaska with him. Buchheit did not return a telephone message seeking comment for this article.
According to the PBA's grievance, Buchheit was issued a star badge identifying him as an "aviation captain" though reserve deputies are not to receive such badges. "Furthermore," the grievance says, "Mr. Buchheit was issued an ECSO identification card that identifies him as a sworn member … and makes no conspicuous reference to being a reserve employee."
Some civilians have abused their Sheriff's Office badges. In 2015, a local financial adviser waved his honorary star badge at another motorist in a road rage incident and pulled over her vehicle on the I-990, according to an Amherst Police Department report obtained by The News through the Freedom of Information Law. Despite a warning, the man waved his badge at another driver a year later and shouted at her to pull over on Sheridan Drive, according to a second Amherst police report. The woman refused, got the license plate number and called officers.
Undersheriff John W. Greenan, who was not the undersheriff in 2016, said the badge was taken away three months after the second incident.
Last year, the Sheriff's Office removed a reserve deputy after he claimed to be a detective during a disagreement with a fast-food worker at a drive-thru window, according to internal records The News obtained through an FOI request.
Greenan said ceremonial/honorary badges are given "to recognize individuals for their service in the community." But after seeing that the Sheriff's Office had granted a star badge and the rank of "colonel" to a Republican aide in the State Legislature, The News in 2020 sought a list of all such recipients. "Ceremonial/honorary badges do not provide the individual with an exclusive rank or privilege," Greenan responded, "and therefore those credentials are not recorded on official lists."
To settle its grievance, signed by PBA Vice President Richard L. Lundberg Jr., the union wants Buchheit's star badge recalled and an inventory of the badges given to all reserves. 
DiNoto, a detective lieutenant with the same Amherst agency that dealt with the financial adviser, also filed a Freedom of Information request in recent days seeking the identities of badge holders who are not certified as police officers under state law. He promised to recall the badges of those individuals and said he would urge police agencies in the county to confiscate the wrongly issued badges their officers see.
Said DiNoto: "I will launch an investigation on day one and order anyone who has a badge without proper state certification to return it. I will issue an alert to all law enforcement agencies in Western New York asking them to confiscate and return to me any badge and/or identification card an individual flashes who does not have the proper state certification.
"I want to know who has these badges," he said, "and how they got them."