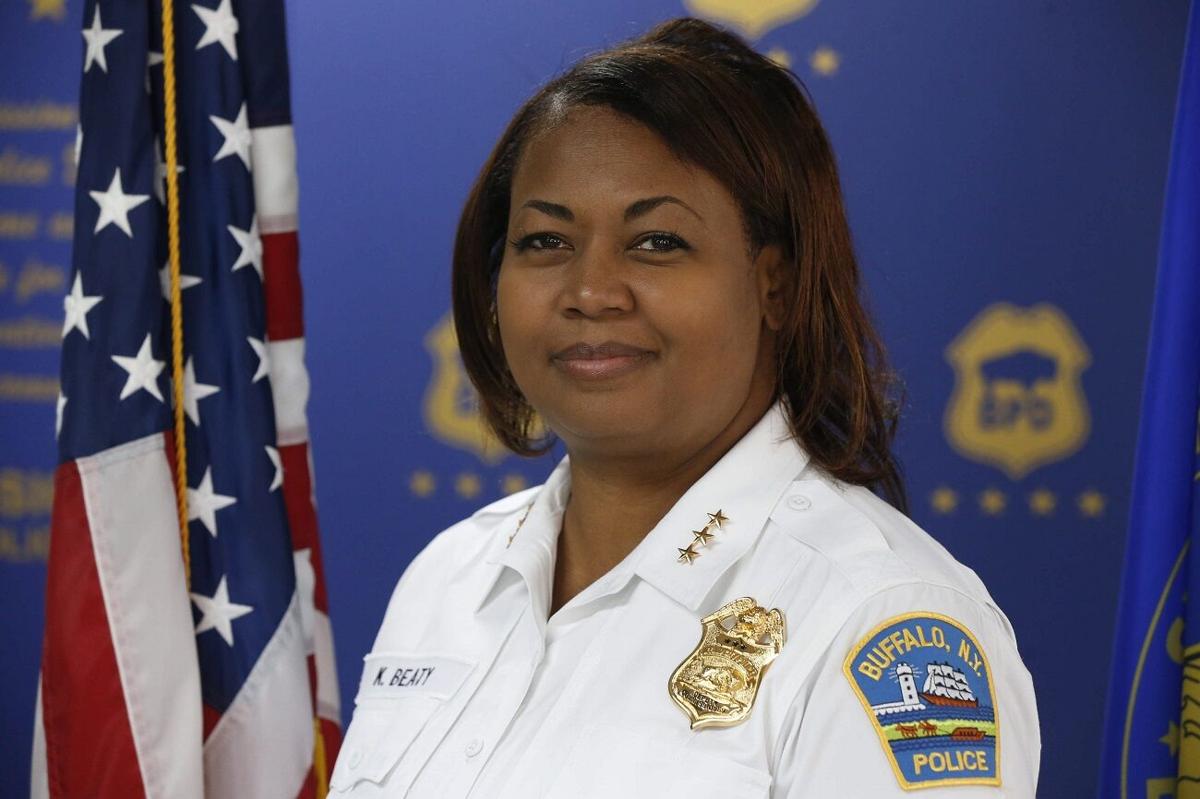 Kimberly L. Beaty has more than 30 years in law enforcement and believes she has credentials to make a strong push for the Erie County sheriff's seat as former deputy commissioner for the Buffalo Police Department. But according to her recount of conversations with the Erie County Democratic Party chairman, there was one thing Beaty didn't have.
"He said, 'You're not what a sheriff looks like, and what people are used to,' " she recalled.   
Beaty, an African American woman, was considered a serious Democratic contender for the Erie County Sheriff's seat, abruptly dropped out of the race in February, but rejoined in March after she said she was strongly encouraged by community members. 
Party Chairman Jeremy Zellner denies he told Beaty she had the wrong look. He pointed out that four years ago, the party endorsed Bernie Tolbert for sheriff in a very close race, and Vanessa Glushefski for county comptroller, both of whom are Black. 
"We ran the most diverse ticket countywide in the history of our party," he said.
When The Buffalo News asked Beaty to detail her reasons for dropping out and re-entering the race, she said she felt discouraged by Zellner. She said he and others repeatedly told her that she didn't stand a chance.
"He told me it was nearly impossible for me to win, and that I would never be the party's nominee," Beaty said. "He told me that credentials and experience and qualifications did not always matter. I believe the people of Erie County beg to differ on that."
Beaty and her supporters highlighted instances that they said point to political manipulation and vindictiveness by Zellner, and racial and geographic stereotyping of voters in the push to promote Democratic-endorsed candidate Brian Gould, assistant chief of the Cheektowaga Police Department, to succeed Republican Sheriff Timothy Howard, who is retiring.
Greg Olma, a former deputy parks commissioner and county legislator, said Democratic Committee members were told that voters who were white men from the suburbs would determine who would be the next sheriff. And former Erie County Legislator Betty Jean Grant said her granddaughter, who worked for the Board of Elections for a decade, was fired from the Board of Elections after Grant helped Beaty collect signatures to challenge Gould in the primary. 
"I've seen the vindictiveness," Grant said.
Zellner said he never told Beaty her experience didn't matter or that she couldn't win. When she called him in December to ask if she could still be considered as a candidate, Zellner said he told her she was welcome to join.
"If I didn't want her in this race, No. 1, I would have told her back in December to take a hike, right?" he said. "Because when she asked me that day, 'Is this thing closed up?' I said, 'No.' If I thought this thing was wrapped up, I would have told her, 'Yeah, we've got five people, and I'm trying to recruit a heavy hitter. You know, it's not going to work.' But I didn't."
The party then embarked on a thorough endorsement process, he said. Beaty was interviewed multiple times and referred to people in the office and in the community who would work with her and support her campaign, Zellner said.
"At no point did I discourage Kim Beaty from running, period," Zellner said.
When it was clear the party endorsement would come down to either her or Gould, assistant chief of the Cheektowaga Police Department, Zellner said he commissioned a $30,000 poll that included Beaty as a candidate. Neither candidate was told in advance, but their key supporters were, he said. Zellner said that he would throw his support behind whichever candidate was seen as a favorite by the pollster.
Why, Zellner said, would he have "gone through that process, to spend that kind of money, to get that those kinds of answers if I didn't have any interest in her candidacy?"
Beaty, whose legal last name is Miller-Beaty, said he was never interested in her as a candidate but didn't want to be called a racist if he didn't choose her.
"He said it was nearly impossible for me to win. He told me this early on, and he continued to tell me this throughout the process," she said. "With my qualifications and experience, I can smell a rat. If I don't look like a sheriff, who does?"
Olma, a Democratic committee member, said it was clear early on that Zellner preferred Gould even though "they made pains to pretend to be fair."
In a series of slides breaking down likely voting patterns in this year's race, committee members were shown a slide stating that it would be white men from the first-ring suburbs who would choose the next sheriff, he said. That bothered some committee members, who asked questions about that analysis.
Olma said that given her ability to drive city turnout in the sheriff's race and her thoughtful responses to interview questions, he thought she was the better candidate, but the tone of the voter analysis was clearly meant to favor Gould.
"I've been asked by many people throughout Erie County to not allow the process of democracy to be suppressed, so I'm back in," Kimberly L. Miller-Beaty said.
When candidates began seeking endorsements, Beaty said, Zellner did not interfere until Beaty's campaign gained momentum and endorsements started being given to her. Then, she said, Zellner discouraged other Democratic officials to offer endorsements to anyone.
Zellner said he didn't shut down endorsements, but he did ask that community endorsements wait until the party completed its own endorsement process to avoid hard feelings. That position was evenly applied, he said, pointing out that he discouraged the Cheektowaga Democratic Party from endorsing Gould while the party was still deliberating.
In regard to the voter breakdown slide that Olma referred to, Zellner said that was an analysis of residents likely to vote this fall.
"That analysis shows that nearly 80% of the vote in the fall comes from outside of the City of Buffalo," Zellner said. "Only 5% of the vote in November will be minority votes. So that's just showing a snapshot of the demographic."
When asked if that analysis would predispose Zellner to supporting a white, male, suburban police candidate, over a Black woman whose experience is most closely tied to the City of Buffalo, Zellner said no. But Zellner said he did repeatedly ask Beaty about how she would communicate her message to the 80% of voters in the suburbs. He recalled her saying that she shops at the Wegmans on Dick Road in Depew and is well-known there.
"It was simply a pathetic answer," he said.
Beaty noted she raised her family in Cheektowaga and is now a resident of Lancaster, but Zellner said that's not a strong enough answer for someone trying to win countywide office. When she announced on social media that she was dropping out of the race, he said, she took many of her own supporters by surprise.
"Kim Beaty just was not able to handle this political process," he said.
Supporters said Beaty was misled about the endorsement process and that Zellner's continued discouragement of Beaty "broke her spirit." She said supporters and family encouraged her to mount a primary challenge, even though Beaty had originally told the Democratic Committee she would not.
Zellner said Beaty was not forthcoming about her discipline record with the Democratic Committee, compared to Gould. He described a case involving a $10,000 arbitration award as a "harassment case" not mentioned by Beaty.
The case involved a union contract dispute and a lost arbitration for the Buffalo Police Department, based on actions taken by Beaty, according to the arbitrator's decision Beaty provided. It was not part of her discipline record. The police union described the matter in the documents as unwarranted and punitive treatment of a captain who was training director at the police academy and denied years of overtime work.
Beaty said she's running to reverse years of failed leadership in the Sheriff's Office. Training, community policing and reform are needed, she said.
"I don't owe that to a party boss," she said.