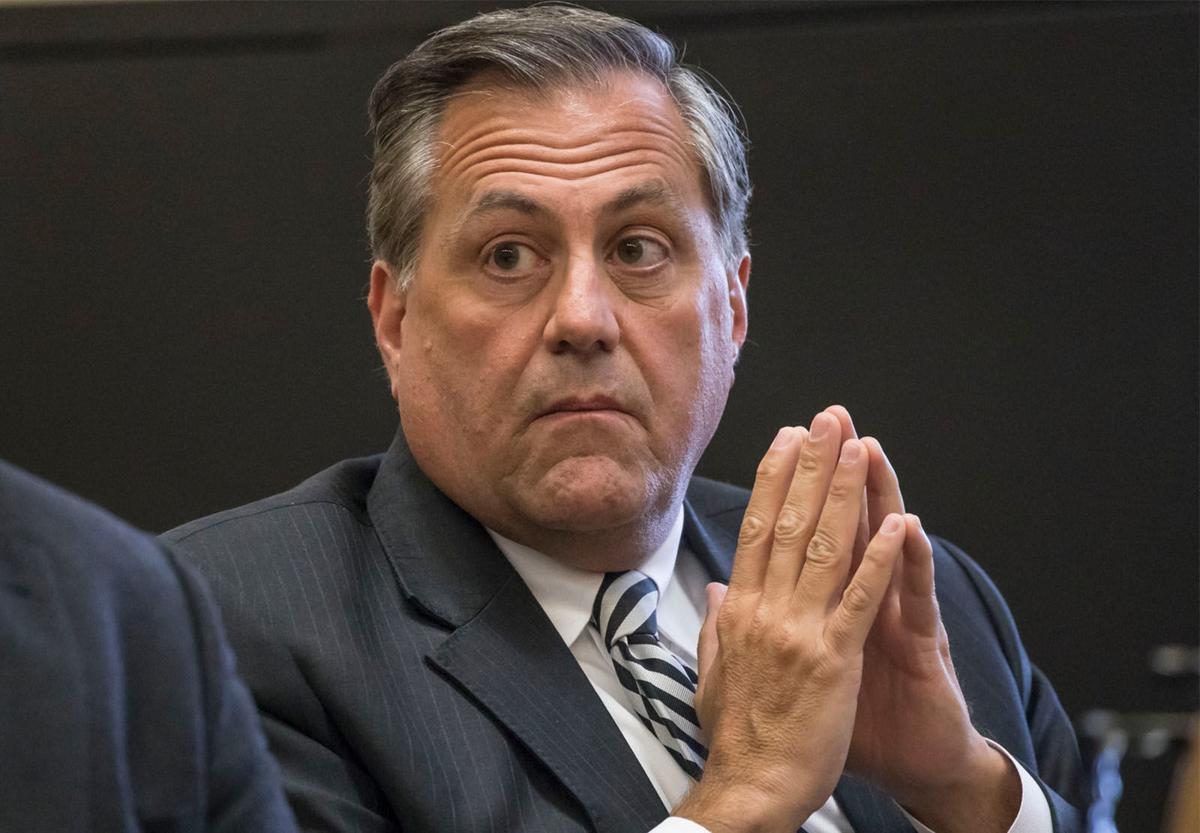 A federal judge has set a December sentencing date for G. Steven Pigeon, the political operative who has been under investigation by the FBI and other agencies for more than six years.
During a brief court meeting on Wednesday, U.S. District Judge Richard J. Arcara scheduled the sentencing for 12:30 p.m. Dec. 14 for Pigeon, 61, who pleaded guilty to federal and state charges in connection with crimes involving an illegal political donation and the bribery of a state judge.
In October 2018, Pigeon pleaded guilty to federal charges that he arranged an illegal political donation on behalf of the Canadian founder of an online gambling business to the election campaign of Gov. Andrew M. Cuomo. Neither the governor or his campaign were ever implicated in the case.
His sentencing date has been delayed repeatedly, and sources close to the case confirmed for The Buffalo News that Pigeon has been providing information to federal agents and prosecutors who have been looking into allegations of political corruption in Western New York.
Does the upcoming sentencing date – less than four months from now – mean Pigeon's tenure as a government informant is coming to a close? Will any government official or politician face charges as a result of Pigeon's cooperation?
No answers were available late Friday from those directly involved.
Pigeon, his lead attorney, Paul J. Cambria, and Justin Ginter, the attorney who represented Pigeon in court on Wednesday, did not return calls seeking comment. U.S. Attorney James P. Kennedy and Paul E. Bonanno, the federal prosecutor handling Pigeon's case, also did not return calls from The News. 
"If a sentencing goes forward as scheduled on a certain date, that usually means a defendant's obligations to cooperate are over," said Anthony M. Bruce, a retired federal prosecutor who is not involved in the Pigeon case and was speaking generally. "But a sentencing date can be delayed again, at the discretion of the judge."
"My understanding is that Judge Arcara really wants this December sentencing date to stick and he wants this case off his calendar," said a source who is familiar with the proceedings in Pigeon's case.
A former Erie County legislator and former chairman of the county's Democratic Party, the 61-year-old Pigeon was known for decades as a political supporter and fundraiser for Cuomo, former President Bill Clinton and other prominent officeholders.
A former Modern Corp. executive told the FBI and federal prosecutors that Pigeon in 2015 was making $25,000 a month as a lobbyist for Modern. One of Pigeon's main duties was to convince the Brown administration to approve a no-bid renewal of Modern's contract, which paid the company more than $5 million a year, The News reported.
City officials declined to approve the no-bid renewal, The News reported, after authorities raided Pigeon's office and home.
Brown's office declined to comment last year on Pigeon and his lobbying for the Modern Corp., except to say that the mayor has run an honest administration.
In federal court, Pigeon was charged with conspiring to arrange the illegal campaign contribution in a complaint that was filed April 28, 2017.
His sentencing was originally scheduled Jan. 25, 2019, but that was adjourned at the request of Pigeon's lawyers. A new sentencing date was set for Aug. 19, 2019. That was also adjourned at the request of Pigeon's lawyers.
Since then, Arcara has set numerous dates for conferences with Pigeon's lawyers and federal prosecutors on the case. Each of those has also be adjourned, at the request of Pigeon's lawyers.
Court records that explain why the adjournments were requested and granted have all been sealed.
Kennedy spoke of Pigeon's federal crimes after Pigeon pleaded guilty in 2018.
"Schemes such as this, which introduce obfuscation and secrecy into the political process, threaten our very democracy by endeavoring to use anonymity as a means of eliminating accountability," Kennedy said at the time.