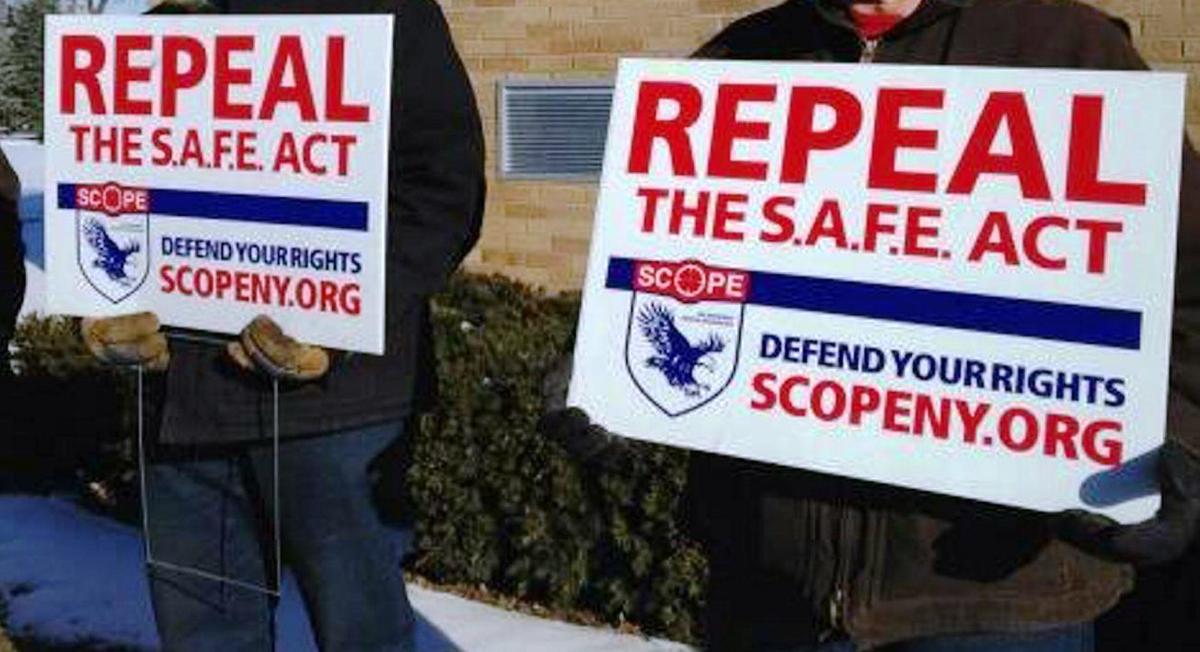 It seems most appropriate in the unconventional 2021 contest for Erie County sheriff that the issues are unconventional, too.
At least seven candidates on major party and independent lines are emphasizing everything from police brutality to refusing enforcement of "unconstitutional" mandates – topics raised this year more than any previous law enforcement election.
Now, as several candidates spar over enforcing the strict gun control law known as the SAFE Act, a major pro-Second Amendment group is assailing endorsed Republican Karen L. Healy-Case. Its president says she called for tougher gun laws as a Buffalo Police Department lieutenant, while promising "non-enforcement" of certain SAFE Act mandates as a candidate.
The 1791 Society's Frank J. Panasuk has been leading the charge against Healy-Case despite her emphatic refusal to enforce SAFE Act provisions she considers unconstitutional.
"Will you believe what she is now saying to get elected or what her real feelings are that were made public long before she was running for sheriff?" he asked in a recent post to the group's Facebook page followed by 25,000 people.
Panasuk, a retired detective in the Town of Hamburg Police Department who is active in the local gun rights community, points to a 2006 Healy-Case quote after two fellow officers were shot on Elmwood Avenue. One of them, Officer Patricia Parete, later died of her wounds. At the time, Healy-Case blamed weak gun laws and a revolving-door criminal justice system in Buffalo. Too many teenagers with guns, she said then, get too many breaks.
"I'm seeing kids 13, 14 and 15 years old with guns now," she told The Buffalo News in 2006. "People in this country should be stamping their feet and demanding stronger gun laws.
"I'm sick over what happened to her," she added. "It's scary when two of your own are shot, and citizens should be scared, too. A guy who is going to shoot at police officers is going to shoot at anyone."
Panasuk says his group is backing John C. Garcia, a retired Buffalo detective and another Republican sheriff candidate, because it does not accept Healy-Case's new views as genuine.
"That's what you say when you want to get votes," he told The News this week, citing changes in gun control attitudes among other politicians. "We've seen too much bait and switch."
Healy-Case said this week that her 2006 quotes need to be put "in perspective."
"That was a long time ago and two officers had been shot," she said. "And I was not talking about going after licensed gun owners. They're trying to paint me as anti-gun, and I am a very strong supporter of the Second Amendment."
Now working in private security, Healy-Case labels a "liar" anyone who suggests she does not support strong gun rights. She says her philosophy on the issue is easily summarized.
"I want as many good people as possible to have guns so as they are not left undefended against the bad guys," she said, denying any suggestion her 2006 comments point to a lessening resolve to resist certain aspects of the SAFE Act.
"I never back down," she said. "I believe it's an unconstitutional mandate, I believe in the U.S. Constitution as it stands, and I don't believe the people in Albany should be making those decisions for us."
Garcia, meanwhile, has received a $2,500 donation from the 1791 Society. Panasuk said the group endorsed his aim to enforce the SAFE Act "as it pertains to criminal intent."
"The key is criminal misuse of firearms and not pursuing gun owners who have no criminal intent," he said. "He won't be out there looking for technical violations."
And Garcia told The News that while he sees no need to "subject law abiding citizens" to certain aspects of the law, he wants "the criminal element to answer."
"The 1791 Society is pro-Second Amendment, but they understand we can't have criminals carrying guns," he said, adding some parts of the SAFE Act remain unenforceable "because we just don't have the resources."
He differs from his opponent, he said, over how politics may shade their views.
"I'm not going to be political about this," he said. "This will be common sense enforcement."
Another Republican, Steve Felano, is also running for the nomination on a strong pro-Second Amendment platform.
The issue has not dominated the Democratic primary contest featuring Cheektowaga Assistant Chief Brian J. Gould, former Buffalo Deputy Commissioner Kimberly L. Beaty-Miller and activist Myles L. Carter.
Gould, meanwhile is slated to begin airing ads on cable television this week introducing him as the endorsed Democrat with strong credentials. He said his push is to make Erie County "proud of the Sheriff's Office again," and is not emphasizing the same issues as his GOP counterparts.
Amherst Detective Lt. Ted DiNoto is expected to file later this month for an independent line in the race.