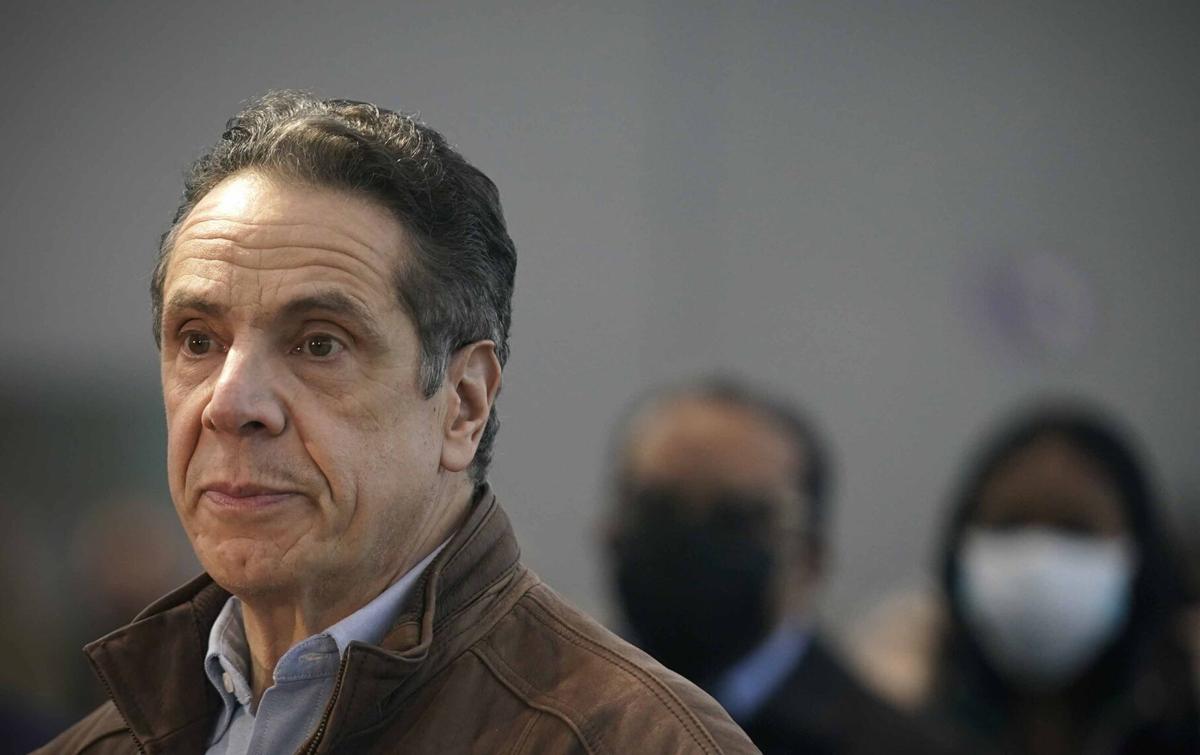 As pol after pol lines up at the microphone to tell Andrew Cuomo where to go – into temporary hiatus, permanent exile, or maybe even a courtroom – there's been no discussion about the most obvious destination.
As New York's governor fights multiple scandals to keep his job, the outrage that has most captured the public's attention is also the one that most guarantees his political future.
What should he do? It's simple: Become a Republican.
Ever since that party's wholehearted embrace of Donald Trump despite the "Access Hollywood" recording, GOP has stood for Groping, Ogling and grabbing the you-know-what.
So what are Republicans going to do now if offered one more high-profile deviant? Point to Trump and say, "We already have our quota"?
No, since these are the folks who are dead set against quotas, it would be an offer they couldn't refuse.
But more than anything, the Democrats' and Republicans' differing reactions to allegations of sexual harassment – or worse – illustrate what is best and worst about each party. It's the difference between a party of principle and a party of expediency.
For all its infuriating faults – from its pathetic messaging despite having the best of most policy arguments, to its maddening fixation on nuance when the public demands simplicity – the Democratic Party will devour its own if they violate core principles. Just ask Al Franken.
The Republicans? They have no principles left. They used to care about the deficit, then ignored it for four years. They used to consider Russia the enemy, before trusting its president more than U.S. intelligence officials. They used to be the party of law and order, until inciting their backers to attack police on Jan 6.
In fact, there is no belief on which they haven't sold out over the last four years – and none more so than "values."
That will make it easy for state GOP Chairman Nick Langworthy and other Republicans now calling for Cuomo's head to quickly reverse course should he throw in his lot with them. After all, they've had a lot of practice flip-flopping.
It shouldn't be that hard for Cuomo, either. With his desperate embrace of the GOP concoction of "cancel culture" as a defense, he's already halfway there.
That defense, of course, is an insult to the seven – and counting – young women who have come forward with allegations of everything from sexually suggestive questioning to physical contact and possible assault. Could all of them possibly be lying? Or misinterpreting the intentions of the 63-year-old most powerful man in New York State, especially those who worked for him and were invited into rooms alone with him?
Cuomo's insistence that people now "wait for the facts" from investigators flies in the face of his 2018 call for then-state Attorney General Eric Schneiderman to resign because of what Cuomo called the "damning pattern of facts and corroboration" in a magazine article detailing four women's allegations of abuse by Schneiderman.
But that kind of hypocrisy is just one more reason Cuomo would feel right at home in the GOP, where party leaders still dutifully trek to Mar-a-Lago. They make the pilgrimage despite Trump bragging on tape about assaulting women, and despite the more than two dozen accusations he's faced of everything from harassment to rape, including at least two lawsuits from women who have accused him of defamation after he denied their claims.
In the midst of all of that, it's also a near certainty that a lot more Americans died because of Trump's refusal to take the pandemic seriously than because of Cuomo's dissembling and cover-up about the number of nursing home patients who perished in those facilities as opposed to in hospitals.
Yet it's a good bet the nursing homes issue will be part of the broad impeachment inquiry state Democrats have launched against the powerful governor of their own party.
And Republicans? Their votes in the two Trump impeachment trials tell you all you need to know about the GOP's values and principles.
Cuomo's behavior has been abhorrent. But his mistake, at least in political terms, wasn't harassing women or not telling the truth about a life-and-death policy issue.
His political mistake was being a Democrat – because they actually care about such things.