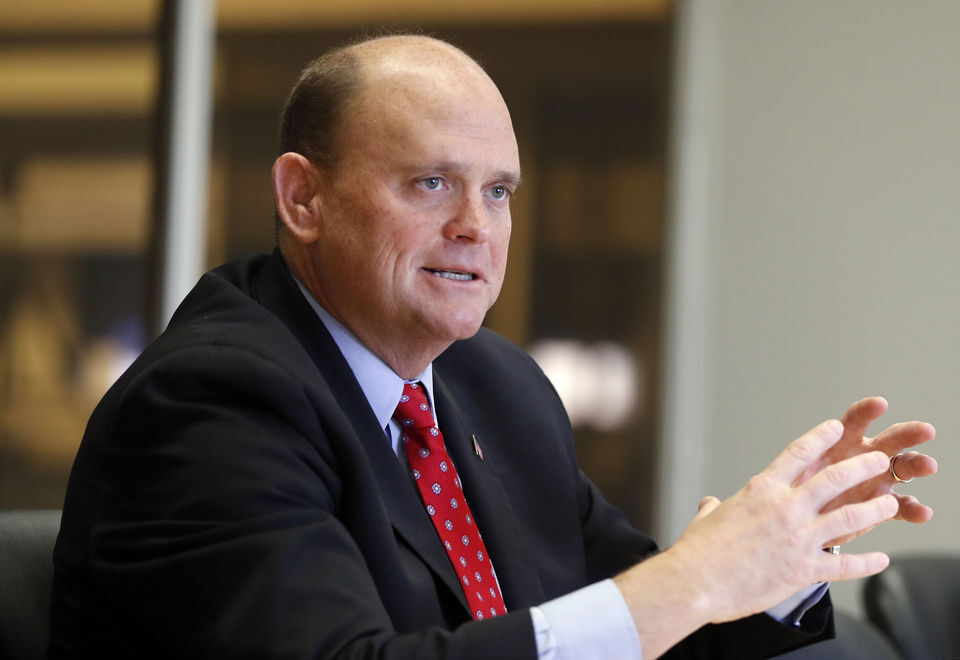 Rep. Tom Reed, stung by the sexual harassment allegations of a former Washington lobbyist, announced Sunday that he will not run for either governor or reelection to the House of Representatives next year.
Reed's decision marks a stunning reversal of political fortune just as he was beginning to line up supporters for a gubernatorial campaign in 2022. But The Washington Post reported late last week that Nicolette Davis, a former lobbyist working for an insurance company client in 2017, claimed Reed acted inappropriately while the two were together at an Irish pub in Minneapolis.
The Corning Republican, in a statement apologizing for his actions, announced that he will not run for any elected office in 2022, noting that he had promised voters he would serve no more than six terms in the House. He was first elected in 2010.
Saying that he is not offering an excuse, he conceded that he is "powerless over alcohol," sought treatment for his problem in 2017 and has been in recovery since then.
In his statement, Reed said: 
"First, I apologize to Nicolette Davis. Even though I am only hearing of this matter as stated by Ms. Davis in the article now, I hear her voice and will not dismiss her. In reflection, my personal depiction of this event is irrelevant. Simply put, my behavior caused her pain, showed her disrespect and was unprofessional. I was wrong, I am sorry, and I take full responsibility. I further apologize to my wife and kids, my family, the people of the 23rd District, my colleagues, and those who have supported me for the harm this caused them.
"Second, I want to share that this occurred at a time in my life in which I was struggling. Upon entering treatment in 2017, I recognized that I am powerless over alcohol. I am now approaching four years of that personal lifelong journey of recovery. With the support of my wife, kids and loved ones, professional help, and trust in a higher power, I continue that journey day-by-day. This is in no way an excuse for anything I've done. Consistent with my recovery, I publicly take ownership of my past actions, offer this amends and humbly apologize again to Ms. Davis, my wife and kids, loved ones, and to all of you.
"Third, I plan to dedicate my time and attention to making amends for my past actions. In addition to apologizing to those I have impacted, including Ms. Davis, I will be seeking to help those wrestling with addiction in any way I can. To others who may be struggling the way I have, please know that by seeking help your life will be forever changed in an extremely positive way. Though the journey is hard please know the rewards are amazing and you are worth it.
"As I go forward, I will strive to be a better human being, continue to fight for what I believe in, and to make people's lives better in any way I can. I hope this formal apology is just the start."
Davis told The Post that after a day of ice fishing at a campaign event to benefit a Minnesota Republican in 2017, she was seated next to the congressman and felt his hand on her back. Davis said she then felt the hand fumbling at, and then unclasping, her bra through her blouse, The Post reported. She texted a friend and coworker: "A drunk congressman is rubbing my back," and followed that up with a text saying, "HELP HELP," according to the newspaper's report.
Then, with Reed's hand moving to her thigh and inching upward, she turned to the person on the other side of her to ask for help. He pulled the congressman out of the pub, Davis told The Post.
Davis, now 29 and an Army second lieutenant at Fort Sill, Okla., told the newspaper she came forward to set the right example for the soldiers she will lead.
"I hope it will allow people who have endured similar experiences to feel confident enough to say something," she told The Post.
Reed, a former mayor of Corning who is 49 years old, had gained considerable stature in Washington as a moderate co-chairman of the bipartisan Problem Solvers Caucus that worked to find common ground among members of both parties. He also had positioned himself as a formidable force throughout his sprawling Southern Tier district that includes Chautauqua, Cattaraugus and Allegany counties.
The developments occur after Reed harshly criticized Gov. Andrew M. Cuomo and called for his resignation when several women alleged sexual harassment by the governor. Reed also never denied Davis' claims, issuing on Friday an eight-word statement about The Post story: "This account of my actions is not accurate."
But by Friday state Conservative Chairman Gerard Kassar was already questioning Reed's ability to run for governor, especially in light of the allegations facing Cuomo.
"He should not be focused at this point on a governor's race," Kassar said.
Reed is not the only GOP hopeful who had been exploring a race for governor. Other names mentioned include Rep. Elise Stefanik of Saratoga County; Rep. Lee Zeldin of Long Island; Dutchess County Executive Marc Molinaro, who was the 2018 Republican candidate; and former Westchester County Executive Rob Astorino, the party's 2014 candidate.
Reed, a term-limits proponent, promised during his 2010 campaign that he would serve only 12 years in Congress. In recent months he has equivocated to some degree on his promise, but his decision to not run again could also have occurred without his latest difficulties. 
His election in November of 2010 also followed the resignation in March of that year of Democrat Eric J.J. Massa, a former Navy officer who was accused of sexual harassment by two male staffers.