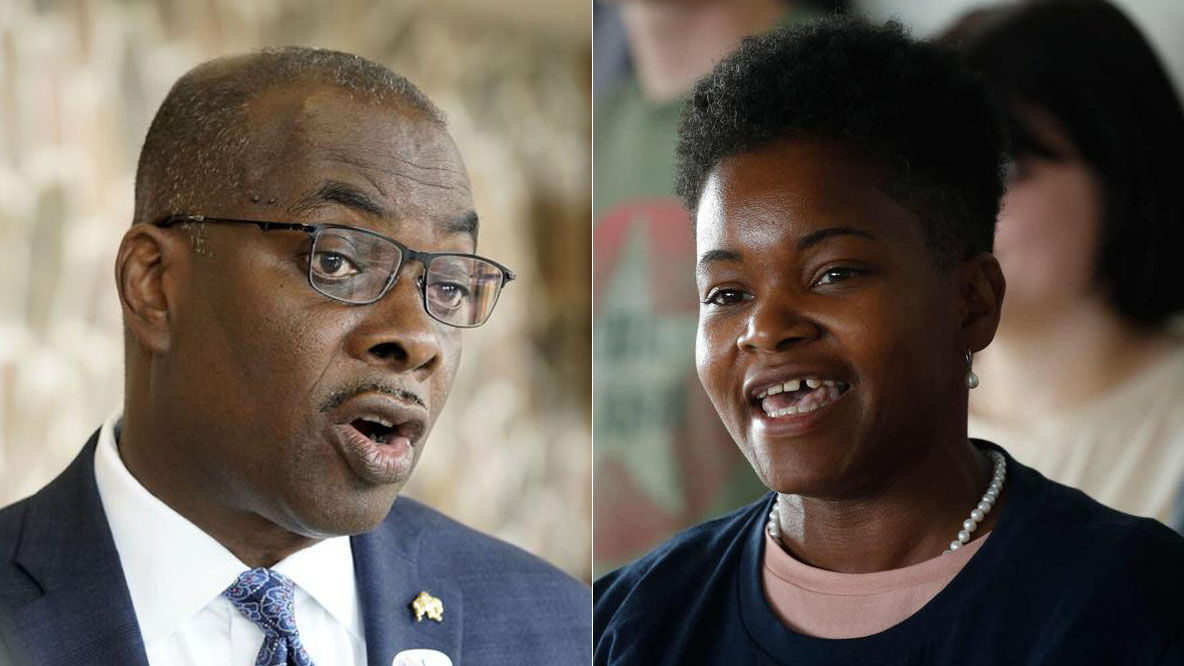 ALBANY – A super PAC funded by the real estate brokerage industry has moved into the big leagues of statewide independent expenditure groups owning a financial stake in the outcome of Buffalo's mayoral contest.
The New York State Realtors Fund has dropped nearly $300,000 into efforts to try to re-elect Democratic Mayor Byron Brown in his write-in campaign against Democrat India Walton.
Early voting begins Oct. 23, and Election Day is Nov. 2. Buffalo voters will either write down Byron Brown's name and vote him in for an unpre…
The group, which by law is not permitted to coordinate efforts with Brown's campaign, has been spending its money on mailings and things like hiring temporary workers to go door to door to find Brown backers and get them out to vote.
The political action committee is an arm of the New York State Association of Realtors, a 60,000-member group that has been active in State Senate and Assembly races, as well as statewide contests, for years.
In 2018, the Realtors Fund spent more than $1.2 million trying to help Republicans retain control of the State Senate; the effort failed and Democrats today have supermajority status in both the Senate and Assembly.
The Realtors Fund was active in the 2020 Senate races, too; in that cycle, it spent $749,000 supporting four candidates – three of them Democrats, who went on to win their races, the group noted Tuesday. The sole Republican senator it backed, with $258,000 in support, was Sue Serino of Dutchess County; she is a realtor and member of the trade group.
The independent expenditure route in the Buffalo race is not an exclusive one to the realtors; the national Working Families Party has been spending money at a fast clip – another $64,000 was reported Tuesday for more TV and radio ad purchases and phone-banking operations – on behalf of Walton.
And Good Government for New York, which is funded by a national Republican group, has spent $30,000 so far in recent weeks to send anti-Walton mailings to voters in Buffalo.
The New York State Realtors Fund began its spending on Brown's behalf in mid-September with a $171,000 payment to C3 Public Strategies, a California firm that is doing field operations, like voter canvassing, to help Brown defeat Walton.
On Monday, the Realtors Fund reported spending $117,000 with an Illinois company to send mailers out on behalf of Brown's efforts. The marketing company was used heavily by the Realtors Fund on campaign expenses related to keeping the State Senate in GOP hands.
The money does not include individual donations that real estate professionals have made directly to Brown's campaign.
The realtors trade group also has its own political action committee, which is spending heavily on a number of local races across the state, as well as donations this year to everyone from Assembly Speaker Carl Heastie, a Bronx Democrat, to State Sen. Edward Rath, an Erie County Republican.
Realtors have been regular spenders on trying to affect the outcome of state and local races; over the past decade or so, according to state election board records, the state group, local boards and associations and individual realtor firms have spent in excess of $8 million on New York races.
In the case of the money spent to help Brown's campaign, the Realtors Fund was contacted earlier this summer by the Buffalo Niagara Association of Realtors, according to Michael Kelly, the treasurer of the independent expenditure group and director of government affairs at the realtors trade group in Albany.
"We support Mayor Brown's economic policies that we believe have led to tremendous progress over the last 10 to 15 years in the City of Buffalo," Kelly said Tuesday. He added that the group believes Brown's "leadership and experience" is needed to help the city in pandemic recovery efforts.
The head of the Buffalo Niagara Association of Realtors did not immediately respond to a request for comment. The group's members include real estate brokers, bankers, attorneys, appraisers, property managers and salespeople.
The Brown campaign did not have an immediate comment.
Jesse Myerson, a Walton campaign spokesman, said Buffalo during the Brown administration "has been treated not as a welcoming home for everyday people but as a cash cow for the windfall profits of real estate speculators and corporate developers" and, as a result, "it makes perfect sense that dark money groups like the realtors independent expenditure committee would fight tooth and nail" to try to block Walton from the mayor's office.
Money from real estate developers in the Buffalo area has been a key element in Brown's campaign. His most recent disclosure report, filed Friday with the state, showed a sprinkling of developers continuing to finance his effort. Two of the donations – totaling $10,000 – were limited liability companies tied to Ellicott Development Co., the firm founded by Carl Paladino and run today by his son, William Paladino.
The state election board's site disclosing campaign activities of candidates across the state has been a busy place in recent weeks. Donations over $1,000 must be reported to the state within 24 hours by campaigns and committees, and independent expenditure funding by groups like the Realtors Fund are updated daily, as well.
On Monday, Walton's campaign showed a large non-cash donation, otherwise known as an in-kind contribution; the $4,076.86 donation came from Rep. Alexandria Ocasio-Cortez's campaign, which covered the Queens Democrat's expenses to travel to Buffalo last Saturday to stump for Walton.