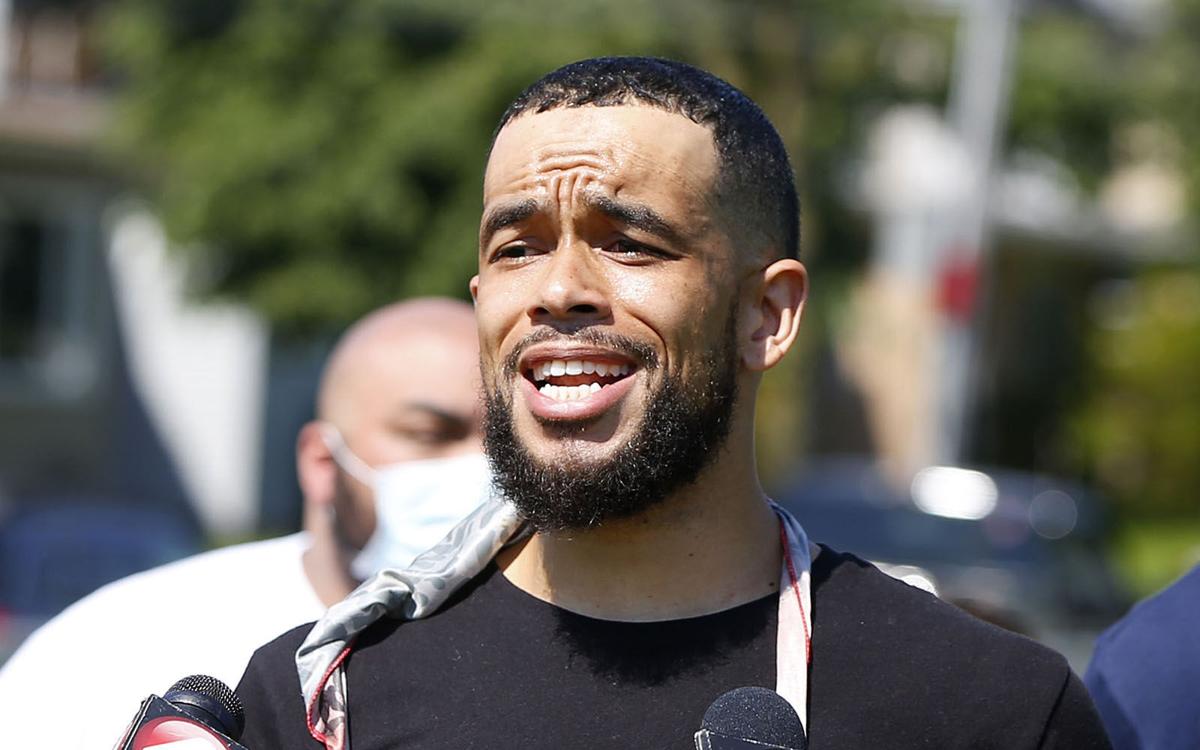 One of Buffalo's best known protesters against law enforcement excesses now wants to make his point while wearing a law enforcement uniform.
Myles Carter, who while marching in last summer's protests against police brutality was tackled by officers as television cameras rolled, said Monday that he will run for Erie County sheriff. He was slated to officially launch his bid during a late afternoon news conference.
The last available records at the Board of Elections listed Carter as a Democrat. Early on Monday, he unveiled a platform built on attacking poverty, which he labeled the "root cause" of most local crime. 
"Myles has a strategic plan, one that places the focus of corrections from supervision to one of reform," his campaign said. "He plans to focus jail spending on programs in the way of drug abuse/addiction, mental health, social work and skills training."
He also launched a campaign that is expected to focus on changing the practices and culture established under incumbent Republican Timothy B. Howard.
Myles Carter held his hands up and started to explain to a news camera why he was protesting. Nine seconds later, police tackled him to the pavement.
"We are dealing with a County Jail system that has been found to be guilty of murder and multiple counts of rape of sexual misconduct," he said in an early press release. "We must put an end to this insidious culture that has been allowed to fester under current Sheriff Howard and begin working towards restoring incarcerated individuals back into our community."
Carter, 30, was part of a July protest on Bailey Avenue, during which he was interviewed by a WIVB-TV news crew. That's when the camera caught him being suddenly tackled from behind by police. Carter was arrested and charged with obstruction and disorderly conduct, though the charges were later dropped.
Mayor Byron W. Brown later called Carter "an agitator" who was trying to incite the crowd. Carter then convened a press conference to question how protesters' stories, motivations and actions are portrayed by political and law-enforcement leaders and through the media.
At least 10 candidates are seeking the blessings of Republican, Democratic and Conservative chairmen for Erie County sheriff.
During a July interview with The Buffalo News, Carter acknowledged run-ins with the law as a youth. But he also noted that he graduated from Amherst High School and Medaille College, became a father of five and started his own business.
Carter, who did not return a call for comment, becomes the 10th candidate among Democrats and Republicans for the sheriff's post that will be vacated at year's end when Howard retires. He is also the second candidate with no law enforcement experience to announce for the post while espousing several political or policy goals.
Republican Steve Felano, a gun rights activist, said in announcing his candidacy that he would not enforce "unconstitutional" laws or edicts as sheriff.