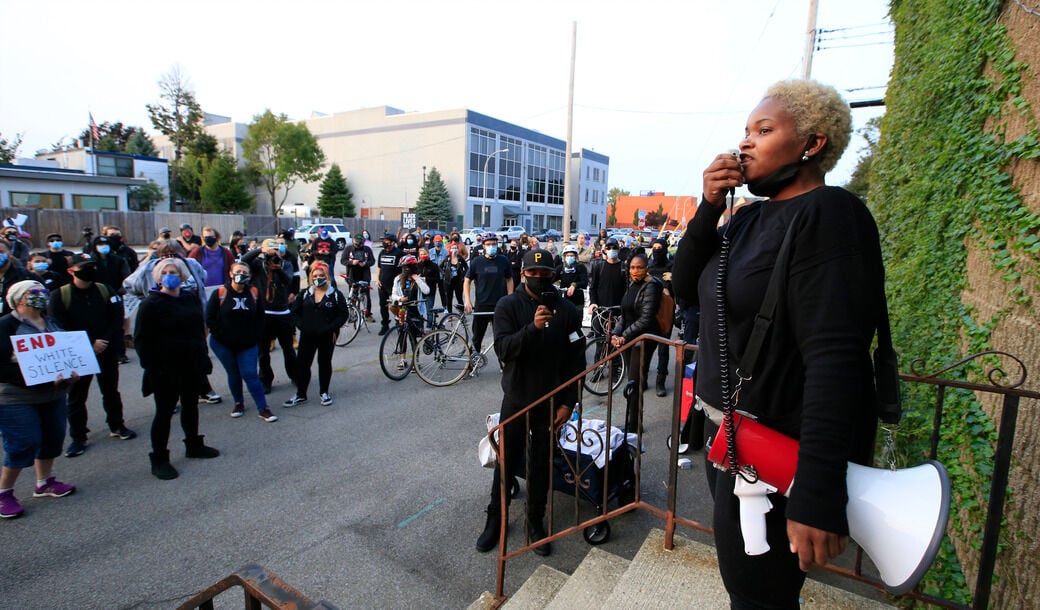 A familiar figure at recent protests against police brutality who has also spearheaded Fruit Belt revitalization efforts is lining up to challenge four-term incumbent Byron W. Brown for mayor next year.
India Walton, executive director of the Fruit Belt Community Land Trust, said Wednesday she expects to launch a grassroots campaign in mid-December. Though she expects backing from few organized political groups and nothing from the Democratic Party, she wants to harness the same energy she experienced during her many protest activities over the summer.
"I'm definitely doing it. My mind is made up," she said. "It's time for new leadership. It's time for a person of the people.
"I want us to stop depending on all these poli-sci majors and career politicians," she added.
Walton, 38, became well-known this year as part of local protests following the death of George Floyd at the hands of Minneapolis police. She was often seen bullhorn-in-hand decrying police action she says results in too many deaths of young Black man after encounters with police.
Though some national Democrats say cries of "defund the police" may have caused setbacks for the party in the just-completed elections, Walton says she will "absolutely" campaign on that platform. She has already worked for more police transparency, bail reform and adult use of marijuana in various statewide efforts.
"When something happens, I show up," she said. "I'm the mother of four young sons, who are African-American, so I have some self-interest in holding police accountable."
Walton explained she fears for her sons, and as a result, assumed a key role in several September rallies protesting the police shooting of a homeless man.
"We will ask for police to be defunded, not to punish good police, but there's been a lot of increase in crime and they have not put their investments in the right places," she said.
Walton, a graduate of Leonardo da Vinci High School who earned an associate's degree at Erie Community College, has been directing community efforts in the Fruit Belt neighborhood for the past several years. Her group has tackled parking issues, gained about $1 million in development grants, and guarded against gentrification, especially as development continues at the adjacent Buffalo Niagara Medical Campus.
Brown, meanwhile, has not revealed whether he will seek an unprecedented fifth term as mayor, but most City Hall sources expect he will announce that he will run again well before designating petitions begin circulating in February. Walton says she will not necessarily campaign against Brown as much as for what might be accomplished under new leadership.
"I just think there are a whole lot of people not enjoying what we call this 'renaissance,' " she said. "There are so many foreclosures and eviction notices going on right now. I just think that with the help of a willing city government, we can do so much more."