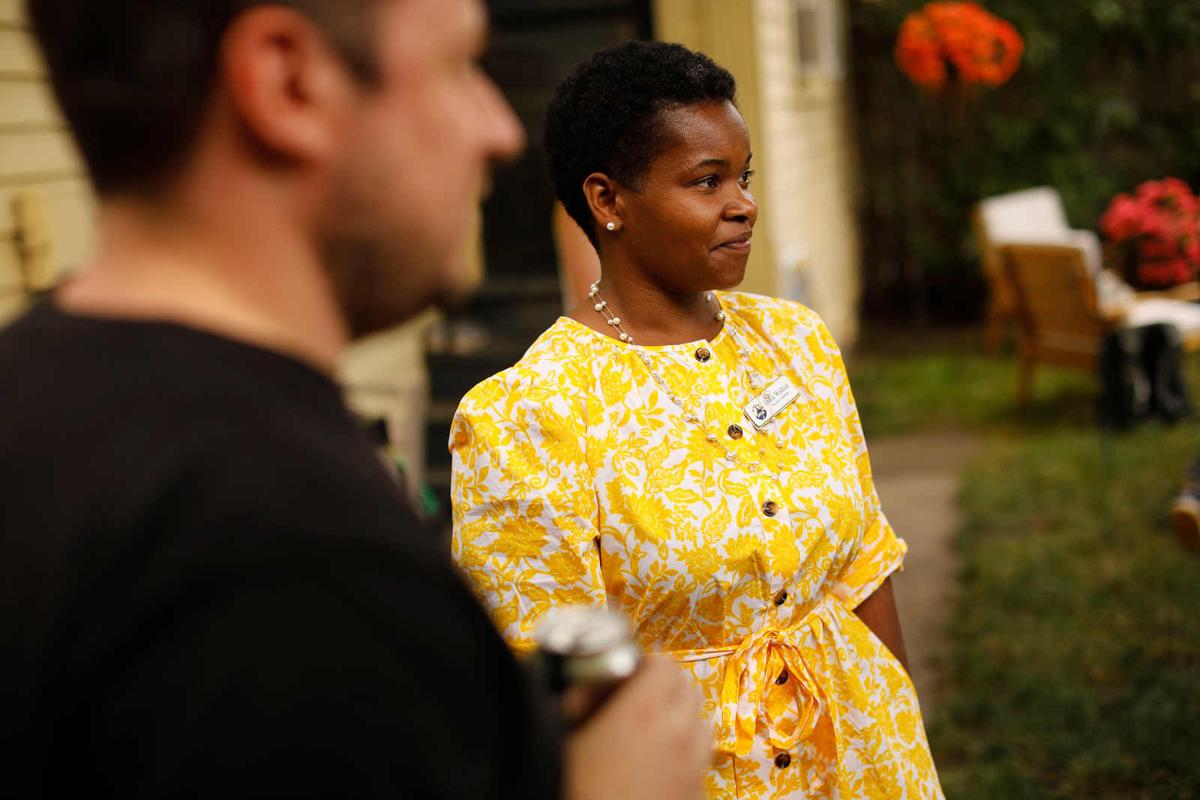 India Walton surged to victory in Buffalo's Democratic primary last month with the help of voters, donors and volunteers who are very different from her, save for their political views.
Walton grew up poor in one of the city's poorest neighborhoods, but she beat Buffalo's four-term mayor, Byron W. Brown, with votes – and a lot of campaign help – from professionals in the city's wealthier enclaves. And now Walton and her supporters are working to defeat Brown's write-in bid in November and create a progressive city administration led by a self-proclaimed democratic socialist.
Why did she earn such backing? Walton supporters say Buffalo may have been good to them – but it hasn't been good to many residents of one of America's poorest cities during the 16 years of Brown's administration. So they backed Walton, who promises to bring Buffalo's comeback into the neighborhoods it has missed.
"My neighborhoods have gotten better, my business has survived and Buffalo is much better than it was 16 years ago for me and a lot of people I know," said Rory Allen, owner of Zoom Copy, a digital printing and graphic design firm located in downtown Buffalo. "That can't be said for everyone ... so here we are. I'm rooting for India Walton."
Peter Graves, who returned to his hometown of Buffalo this year after a long career in international development, gave $549 to Walton's campaign. He said Brown has never confronted the poverty issue.
"I mean, poverty is like the elephant that's sitting in the room," one that prevents Buffalo from becoming a growing "destination city," Graves said. "It's the biggest issue the city has."
Proof of Walton's appeal among urban professionals can be seen in a close look at the election results.
She beat Brown by 28 percentage points in the Delaware District and by 45 points in the Niagara District. Brown didn't win any Common Council districts by that kind of wide margin.
"The key to her victory was that she won the White liberal and progressive vote decisively on the West Side and North Buffalo," Henry Louis Taylor Jr., director of the Center for Urban Studies at the University at Buffalo, said in an analysis of the race posted to Facebook. "The irony is that those Whites who benefited the most from Brown's neoliberal city rejected him."
That doesn't mean, though, that huge numbers of African American voters rejected Walton. Taylor theorizes that the primary's low turnout reflected something else.
"Many folks did not like Byron but believed that India had no chance," he wrote. "So, they went to the bar rather than the polling booth or just stayed home or attended to other tasks."
Walton's volunteers sometimes posed a conundrum to her campaign, though, in African American neighborhoods.
"With our volunteers being largely from Delaware and Niagara (districts), when we go door-knocking on the East Side of Buffalo, some people don't open the doors," said Eve Shippens, a Buffalo teacher who serves as Walton's campaign field director. "They're like: 'This isn't people from our community knocking on our doors: We're not opening the door.' But when people did open the doors and have conversations, we found a lot of people who were energized over what India had to say."
Another sign that Buffalo's professionals class lined up behind Walton can be found in her campaign finance reports. Several of her donors are associated with think tanks or nonprofits aimed at tackling the city's problems.
Carl Nightingale, a professor of Africana and American studies at the University at Buffalo and co-secretary of the board at PUSH Buffalo, gave Walton more than any other donor: $5,200. Sam Magavern, senior policy fellow at the Partnership for the Public Good, gave $1,000. Robert Galbraith, senior research analyst at the Public Accountability Initiative, donated $130.
Nightingale did not return an email seeking comment and Magavern declined to comment. But Galbraith said he has known Walton for several years through her work on housing in the Fruit Belt and has always been impressed with her.
"I thought she had just an incredibly keen mind for cutting through rhetoric and really getting to the core of the issues that the city faces," said Galbraith, who stressed that he was speaking on a personal basis and not on behalf of the Public Accountability Initiative. "She understands power, and, and I think she understands, in a very systematic way, how power has been wielded to create a Buffalo that works for the very wealthy, the people who own businesses, who own property."
Walton has a series of proposals, set out in short-term, near-term and long-term goals, to boost the city's supply of affordable housing, expand the availability of healthy foods throughout the city and to help small businesses.
Walton also won the backing of people who were involved in protests in Buffalo last year after the murder of George Floyd in Minneapolis. Karen Huffman, a board member at Slow Roll Buffalo and the bicyclist struck by a pickup truck during a protest in front of City Hall in September, gave Walton $1,000. And Martin Gugino, who was pushed to the ground by Buffalo police during a protest in Niagara Square last year, donated $948.
In a Buffalo News op-ed in May, Gugino said he was particularly impressed with Walton's plans to address the city's aging and increasingly more expensive housing stock.
"India Walton has laid out the kind of bold platform our city needs," he wrote.
Walton also made deep contacts with city activists years ago. She was in Open Buffalo's Emerging Leaders program in 2015 and in WomenElect's program for aspiring female candidates after that.
"She has a diversity of support across a lot of areas of the city that come out of her work in the Fruit Belt Land Trust and with Open Buffalo," said Diana Cihak, founder of WomenElect, who gave the Walton campaign $200. "She strikes this balance between being accessible and approachable and being strong and very principled at the same time. ... So I think people remember her, people are drawn to her, and that has been throughout her work in the nonprofit world."
Far more Buffalonians have been energized since Walton's primary victory, too, said Jess Wheeler, a hair stylist from South Buffalo who serves as Walton's volunteer coordinator. She said about 400 people volunteered for the campaign before the primary, and that was just the start.
"They are itching to get back out there," Wheeler said. "We're working really hard on our strategies for phase two here. And since India won, we have about 500 new volunteers and we're ready to activate and, you know, get on the streets, too."