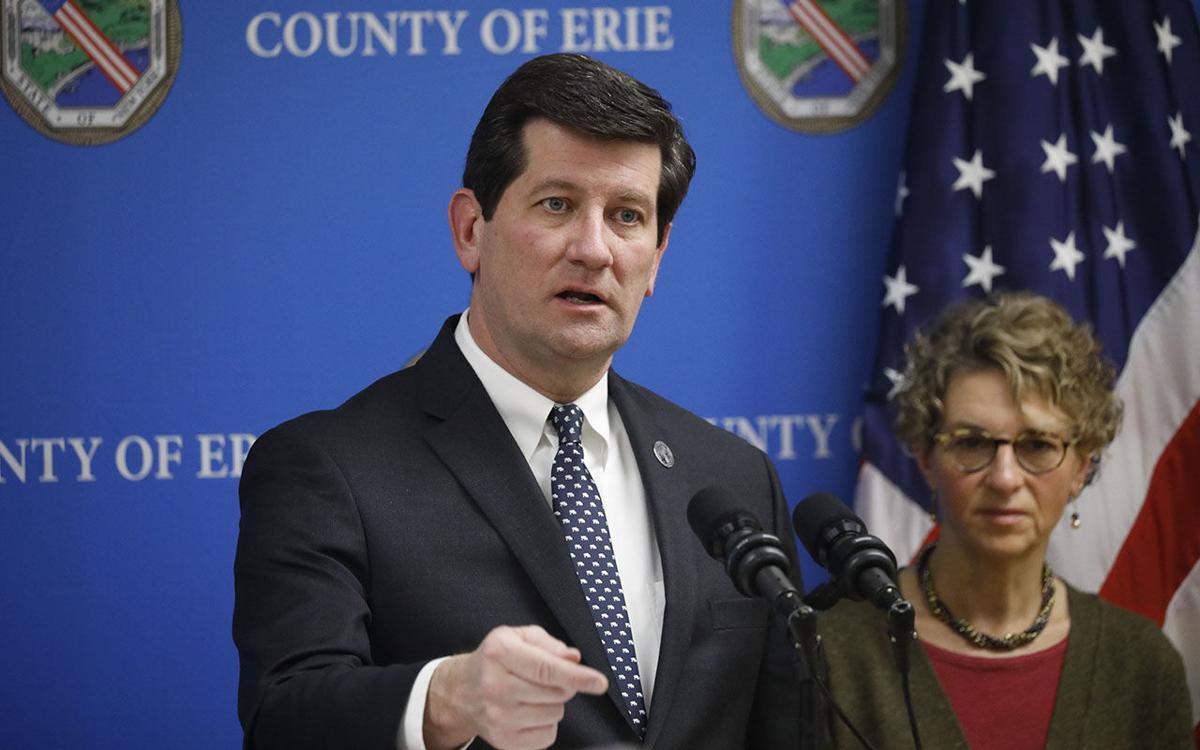 Erie County continues to be deluged with complaints about bars and restaurants violating Gov. Andrew Cuomo's emergency orders regarding social distancing and capacity mandates to prevent the spread of Covid-19 at food and drink establishments. More than 2,000 complaints have been investigated overall, including 84 so far in August.
"And it's only Aug. 5, so they've been very, very busy," Health Commissioner Dr. Gale Burstein said of the department's health inspectors.
However, County Executive Mark Poloncarz said he objects to a proposed local law by some county legislators requiring the Health Department to provide a detailed justification report within 48 hours to the Legislature for any bar or restaurant that is shut down for violating the governor's orders. 
"That would be a waste of money, it would be a waste of time and our health sanitarians have more important things to do, a lot of things to do at this point," he said.
Since restaurants and bars were allowed to reopen by the state in June, the Health Department has issued shutdown orders for Kaz's on Lake Avenue in Blasdell; the Cowboy on Chippewa Street in Buffalo; and the Stage on Main Street in Clarence. The county has allowed establishments to reopen after rectifying violations and submitting reopening plans that adhere to the state mandates.
But legislators said what restaurant and bar owners want is more guidance and assistance, not threats.
To that end, Burstein announced Wednesday that the county Health Department is hosting a free Restaurant Owners Workshop on Aug. 17 in conjunction with the Erie County Business Task Force and SUNY Buffalo State. The workshop will cover health regulations and concerns, as well as the financial challenges facing restaurants. Preregistration is required. Information is available on the Health Department website.
Poloncarz criticized legislators for asking for information about restaurant shutdown justification when health inspection reports are available online. He accused legislators of not understanding how county departments function and said if legislators don't know how to look up restaurant inspection reports then "shame on them."
The report must include details that justify that closure order, a copy of the actual closure order, and "any and all evidence" the county government has to justify the order.
"I'm shocked that legislators don't understand the rules associated with the departments they oversee," he said, a reference to a scene from the movie "Casablanca." "But they do it all the time. How many times have legislators said, 'We need a law for that.'? It's like, no, we don't because it already exists."
He also said, "I would remind the legislators that they have almost no role in this anyway because this is all controlled by New York State sanitary code."
Health inspection reports are available on healthspace.com/erieny, though there can be a lag in reporting, and the reports do not consistently indicate whether a bar or restaurant was shut down by the Health Department. Of the three restaurants shut down by the state for what were labeled "non-critical violations," only one report stated that a shutdown order was issued. Health sanitarians did indicate "an imminent health hazard condition" regarding crowding and lack of face mask usage.
The law proposed by members of the Republican-supported minority caucus asks that the county provide more details that justify the decision to shut down a business, a copy of the closure order, and "any and all evidence" the county government has to justify the order. Legislators have said they also would like more detailed information regarding how much contact a health inspector had with a restaurant before taking the drastic step to close a private business.
Minority Leader Joseph Lorigo said Wednesday he was offended by what he considered Poloncarz's attempts to avoid accountability.
"I'm tired of his stupid lectures telling us that we don't understand county government," he said. "The fact that the Poloncarz administration routinely fights against transparency and accountability to the Erie County Legislature tells me that he believes he is above oversight and the appointed king of Erie County. If Mark Poloncarz doesn't want to be transparent with the public and with the Legislature, then shame on him. We are the oversight body, not him."
He also said he doesn't dispute the right of the Health Department to shut down restaurants for violating the state sanitary code, but he has asked Commissioner Burstein to provide the legal authority that allows violations of the governor's emergency orders to result in business closures. 
"I did ask where the authority comes from and she hasn't given me an answer," he said.