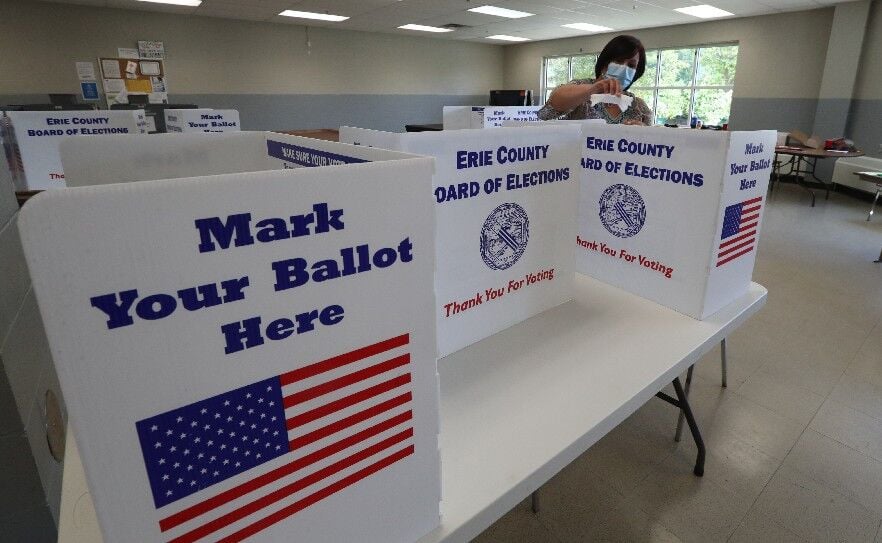 For more than a decade, Erie County Republicans faced criticism for failing to field candidates in uber-Democratic Buffalo – hoping to keep Democratic turnout lower in the city – to bolster their countywide candidates counting on votes from the GOP-friendly suburbs.
But as designating petitions for the 2021 elections arrived at the Board of Elections Friday, some Republicans now accuse Democrats of the same trick. Erie County Comptroller Stefan I. Mychajliw Jr. is leading the charge, pointing to at least two suburban contests for County Legislature with no Democratic candidate.
"It appears the Democrats are trying to suppress the suburban vote to help their candidates for comptroller and sheriff," said Mychajliw, who will not run for reelection this year in favor of the Hamburg supervisor contest. "It's the height of hypocrisy for Democratic Party bosses to work to suppress the suburban vote. It's as clear as day what they're trying to do."
Erie County Democratic Chairman Jeremy J. Zellner said Mychajliw's assertions "make no sense" because Democrats are running candidates in many Republican areas.
"We have full slates in almost every town," he said. "If we tried to suppress votes the way they do, we just wouldn't run candidates there."
Republicans also failed to field candidates again this year against two city-based Democratic incumbents in Districts 1 and 2.
It's all part of the strategies of both parties that recognize the futility of fielding candidates in districts or municipalities where they are exponentially outnumbered by voters of the opposite party.
"It's almost impossible for a Republican to run citywide," Mychajliw said of Democratic Buffalo. "I'm not calling that suppression. That's smart politics."
On the final day of petition submission, here are some highlights.
As expected, a crowded field is assembling to seek the vacancy created by the retirement of Republican Timothy B. Howard. Democratic contenders include Brian J. Gould, assistant chief of the Cheektowaga Police Department; former Buffalo Deputy Commissioner Kimberly L. Miller-Beaty; and activist Myles L. Carter.
Republicans who filed petitions include former Buffalo Det. John C. Garcia, former Buffalo Lt. Karen L. Healy-Case, and gun rights activist Stephen T. Felano.
In what could prove an important development, the Working Families Party stayed with a "placeholder" candidate, and did not nominate Miller-Beaty after she rejoined the race earlier this week. Party spokesman Dave Chudy said Working Families may name a Democrat in June following the Democratic primary.
"We didn't want to be spoilers," he said. "We'll wait for the Democratic primary."
Detective Lt. Ted DiNoto of the Amherst Police Department is expected to file on an independent line next month.
In a significant development, businessman Hormoz Mansouri filed his petitions to challenge endorsed Democrat Kevin R. Hardwick in the June primary. It is not known, however, whether Mansouri will accept or decline a candidacy on Monday – the deadline for accepting or declining a candidacy.
The Republican candidate is Lynne M. Dixon, a former county legislator.
Byron W. Brown submitted his petitions in a bid for an unprecedented fifth term, but will face plenty of competition. Democrats India B. Walton, Lecandice M. Durham and Scott J. Wilson Jr. also filed. It is also not known at this point whether any of the candidates will challenge the signatures of their opponents during challenge periods, also slated for coming days.
In another development, Republican Ross M. Kostecky filed for mayor in what is expected to prove a "show the flag" effort for the outnumbered GOP. Still, it means voters will have a Republican choice in November.
Howard J. Johnson Jr., the District 1 incumbent, will face challenges from fellow Democrats Samuel A. Herbert and Dominique C. Calhoun. No other Democratic primaries are expected in the Legislature.
Other Democratic candidates include April N. McCants-Baskin in District 2; Lisa M. Chimera in District 3; John A. Bargnesi Jr. in District 4; Jeanne M. Vinal in District 5; Ronald S. Shubert in District 6; Timothy J. Myers in District 7; John J. Gilmour in District 9; and Peter A. Schwan in District 10.
Republicans expect no primaries for Legislature. Their candidates are Anthony T. Muscato in District 3; Spencer T. Kowal in District 4; Richard C. Wilkinson in District 5; Christopher D. Greene in District 6; Michael J. Zachowicz in District 7; Frank J. Todaro in District 8; Frank M. Bogulski in District 9; Joseph C. Lorigo in District 10; and John J. Mills in District 11.