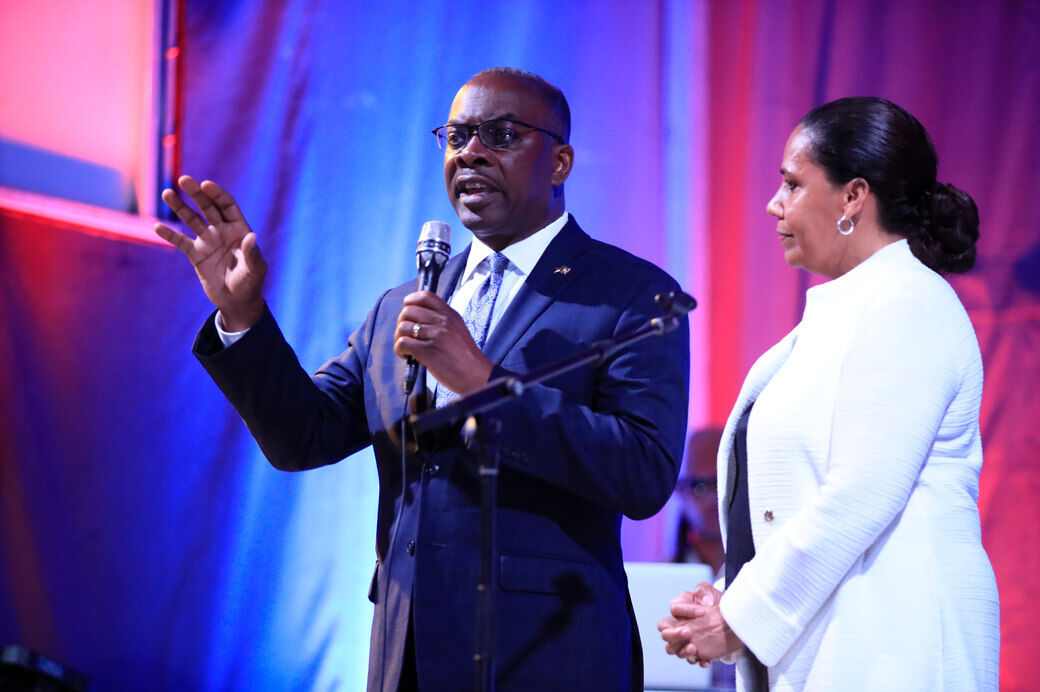 Business leaders from throughout Western New York are urging Byron W. Brown to run a write-in campaign for mayor of Buffalo following his Tuesday defeat by India B. Walton in the Democratic primary.
Carl P. Paladino, the Buffalo developer and one time Brown critic who now solidly backs the mayor, was planning to host a meeting Thursday night to coalesce business support behind an uphill effort that would require significant money and organization to accomplish. But Paladino said the meeting has been rescheduled to a later date. 
Paladino said the effort stems from concern within the business community that Walton's socialist philosophies will deter further investment in the city's recent revitalization.
"The business community and the development community can sustain anything that's out there, because that's what a businessman does," developer Douglas Jemal said.
"There is a lot of pressure from the business community for him to say 'yes,' " said Paladino, noting that some believe "there is nothing in her background that qualifies her for the job."
"We know him well; he runs a good government," he added. "He runs a straight show and deserves another term."
Brown spokesman Michael J. DeGeorge was not available for comment.
Other business community sources indicated they are also working on efforts to persuade Brown to mobilize his forces and wage a write-in campaign for the Nov. 2 general election. Some of them are not aligned with Paladino's efforts, but are pursuing the same objective. 
Walton said in a statement that she was looking forward to working with developers.
"This people-powered administration is coming into office to serve all of Buffalo, and that includes our local business community," she said. "We are open to working with anyone who is truly invested in creating a brighter future for our beloved City of Good Neighbors."
"It's simple. India Walton's base was energized, excited and aggressive," said former Mayor Anthony M. Masiello. "She got out her vote and unfortunately, the mayor's base did not come out."
Paladino said that any revived effort must include new campaign management that would also require a significant fundraising component. Brown's primary campaign against Walton, which most observers labeled "low key," must be revamped into a high-energy affair, Paladino said.
"We want him to get the best advice on how to do a write-in campaign," he said
Walton beat Brown by about 52% to 45% in Tuesday's primary, which drew about 21,000 of Buffalo's approximately 100,000 registered Democrats to the polls. The mayor's campaign has been criticized for failing to energize his traditional supporters – especially in his East Side home base.
He also ran only positive television and direct mail advertising, largely ignored Walton and refused to debate. Paladino said he and a host of other business leaders will urge the mayor to revamp his next effort to concentrate on Walton's policy proposals.
"It would be so destructive to the ongoing efforts to make Buffalo a better place, and it will look horrible to the rest of the world," he said.
Paladino said he and his son, William, president of the family's Ellicott Development Co., will coordinate the meeting of business people. He said he does not know if the mayor will attend and is not aware of his plans, though several sources who do not wish to be identified say consideration of a write-in campaign continues on a serious level.
"We're looking for enough concerned people to give Byron the confidence of significant backing," he said. "We want Byron to run again and win."
Brown backers say new and easier procedures assigned to write-in voting by state law could make a write-in effort feasible, though it has never been significantly attempted in Buffalo.