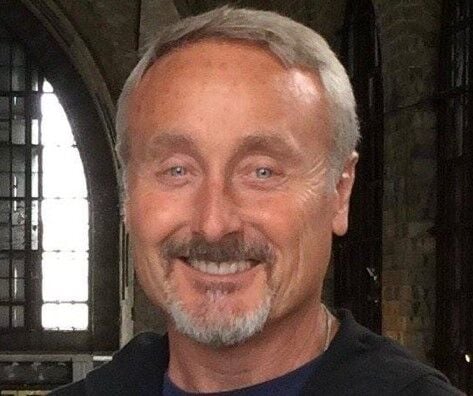 Call it a case of bad initial judgment.
John O. Jacoby Jr. on Monday was awarded the victory in a close election for a Lewiston Town Board seat, and the reason has everything to do with the letter between "John" and "Jacoby."
State Supreme Court Justice Frank A. Sedita III ordered the counting of ballots from 43 Lewiston voters who filled in the "O" in Jacoby's name, instead of the oval for voting on their paper ballots.
The computerized scanner that counts Niagara County votes missed those 43 votes because they are programmed to register marks in the oval.
The scanner did count 21 ballots for Jacoby on which the voter filled in both the oval and the O. Acting Republican Election Commissioner Michael P. Carney sought to disallow those 21 votes because of the double marking, but Sedita refused.
The apparent winners of town board elections in Lewiston and Hartland were confirmed when absentee ballots and write-in votes were tallied this week.
The result of the court ruling was to turn what seemed to be a 18-vote defeat for Jacoby into a 25-vote victory.
"I'm pretty familiar with the election process, but this was a fluke," said Jacoby, an incumbent board member who was county Democratic Party chairman for almost a year before stepping down this summer.
He had to sue the county Board of Elections to add the 43 votes on his middle initial and to keep the 21 double-marked votes.
"The intent of the voters is clear. It seems to be repetitively clear," Sedita III said Monday as he declared all 64 ballots are valid votes for Jacoby.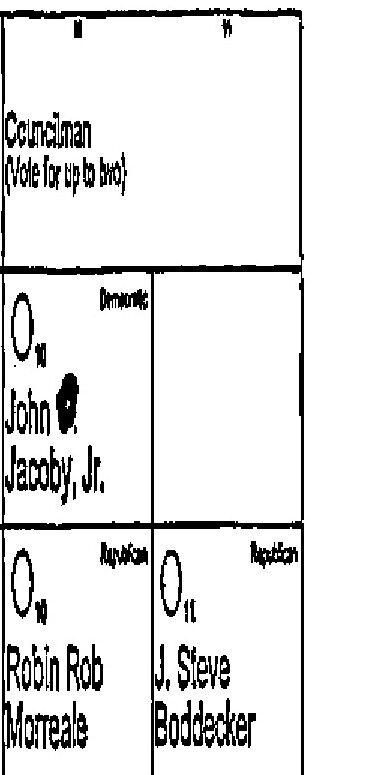 "A lot of my constituents are like me. They're old. I'm 78," Jacoby said. "People don't wear their glasses and these things can happen."
The Niagara County Republican Party didn't bother to respond to the lawsuit. Nor did J. Steve Boddecker, the GOP candidate who seemed to defeat Jacoby.
Town Supervisor Steve Broderick, a Republican, said that was probably because Boddecker decided he couldn't take the board seat anyway.

"I got an email from him that someone made an offer on his house. He accepted it and moved out of town," Broderick said Monday.
Boddecker confirmed that account. He said he talked to Jacoby about the case last week.
"I'm 100% in favor that votes should be counted that are legal votes, and I told him that," Boddecker said. "I know his family. It's not like we're arch-enemies."
County GOP Chairman Richard L. Andres Jr. said he didn't even know about the lawsuit until a reporter told him Monday that Jacoby had won the election.
"I never met Boddecker in my life, either," Andres said.
John O. Jacoby Jr. was included among 85 endorsements for local offices, released Monday by Conservative Chairman William L. Ross.
Boddecker acknowledged he was criticized for not campaigning much.
"There's a little bit of mudslinging going on out there. I got told you're going to have put your big boy pants on, and that's the way it is," Boddecker said. "I did have interest in the run. ... I was a firm believer that you live in this community and you give back."
Boddecker was the top vote-getter in the June Republican primary, polling 373 votes. Incumbent Robin Morreale won the GOP nomination for the second available seat with 331 votes, while Edward Lilly polled 256.
"You give people a choice, not have it be an election that has been fixed. Why vote?" Boddecker asked. "I hate non-elections. I don't like not having a choice, so that's why I did what I did. Honestly, I was more successful than I thought I was going to be."
In the general election, Morreale was the leader with 2,078 votes as of Election Day, while Boddecker had 1,298 votes and Jacoby had 1,219, counting both early and Election Day ballots.
When absentee and affidavit votes were opened, Boddecker's lead for the second board seat shrank from 79 votes to 19 votes, but he still seemed to have defeated Jacoby.
However, those results brought the margin in the race under 20 votes, or 0.5% – the margin of difference that, under terms of a new state law, requires a manual recount of all ballots.
That recount adjusted Boddecker's lead to 18 votes, but it also uncovered the problems with Jacoby's middle initial, and the double-marked votes.
"Actually, before then, a woman had called the Democratic chair here in Lewiston and told her that she had been confused and inadvertently filled in my middle initial," Jacoby said. "That set off alarm bells for the Democratic chair down here, but I thought, 'How could this be of any consequence? One person, two at most.' But when they went through that manual canvass, they pulled out quite a stack of ballots that people had done that. I'm still incredulous. I couldn't be happier."
Broderick, a Republican, said he has no problem with Jacoby returning to the board.
"We were comfortable just running Rob Morreale. We have a good relationship with John Jacoby. We were just going to leave well enough alone," Broderick said.
As for the future, Jacoby likely will consider one change in his election strategy: "It's been suggested to me that if I ever run again, I should remove the O from my name."