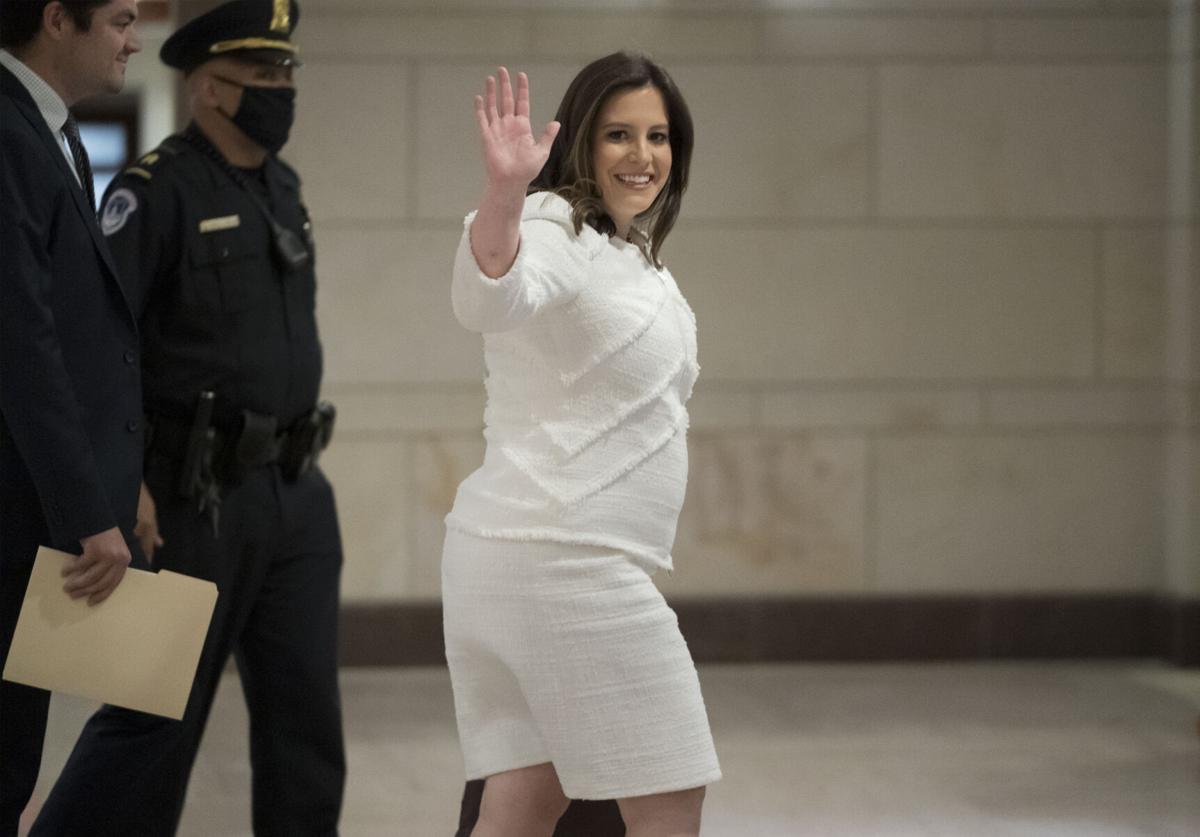 WASHINGTON – House Republicans on Friday overwhelmingly elected Rep. Elise Stefanik of New York's North Country to the third-ranking post of conference chair, where she vowed to be an on-message messenger in tune with a GOP electorate still enthralled with former President Donald Trump.
Two days after Republicans voted to dump Rep. Liz Cheney of Wyoming from the leadership post amid her repeated criticism of Trump's false claim that he won last year's presidential election, Stefanik pledged her loyalty to the the former president.
"I believe that voters determine the leader of the Republican Party and President Trump is the leader that they look to," Stefanik told reporters. "I support President Trump. Voters support President Trump. He is an important voice in our Republican Party and we look forward to working with him."
Stefanik's election, by a 134-46 margin over conservative Rep. Chip Roy of Texas, means lawmakers from New York will serve parallel roles on both sides of the aisle in the House. Rep. Hakeem Jeffries, a Brooklyn Democrat, chairs the House Democratic Caucus and is seen as a potential House speaker someday, as is Stefanik.
Friday's vote also puts an end to a drama that's been roiling the House Republican Conference since Jan. 6, when a mob of pro-Trump rioters stormed the Capitol in hopes of persuading Congress to refuse to certify the election of Democrat Joe Biden as president.
A week later, Cheney joined nine other House Republicans in voting to impeach Trump for his role in inciting the riot. And ever since, Cheney – while serving in a job where she was supposed to craft messaging for rank-and-file House Republicans – has continued challenging the former president. 
The night before Republicans voted to oust her, for example, Cheney stood on the House floor and said: "I will not sit back and watch in silence, while others lead our party down a path that abandons the rule of law and joins the former president's crusade to undermine our democracy."
Many House Republicans were both in no mood to discuss Cheney or their vote to replace her on Friday. One by one they walked past reporters, refusing to answer questions.
Rep. Chris Jacobs, an Orchard Park Republican, stopped briefly to sing Stefanik's praises.
"She's been very helpful to me in adjusting," said Jacobs, who joined the House last July after a special election. "She certainly was supportive of me when I when I first got in and really wanted to get on the Agriculture Committee."
With that, Jacobs slipped into the meeting where Stefanik was elected. He could not be found afterward and did not return a call placed through his press secretary.
Earlier, in a statement, Jacobs said: "Having a member of our New York Republican congressional delegation in leadership for the first time in decades will be especially good for our state, and I look forward to working with Elise in her new role. Now, our conference must be unified and focused squarely on stopping the reckless partisan spending and tax increases, rebuilding our economy, and combating the socialist agenda being pushed by the president and Democrats in Congress."
Rep. Tom Reed – a Corning Republican who has kept a low profile since a March Washington Post story reported that he made drunken advances on an insurance industry lobbyist in a Minneapolis bar in 2017 – was not spotted among the lawmakers entering the GOP conference meeting.
Earlier, at the time of Cheney's ouster, Reed issued a statement saying: "Today, our conference in the House of Representatives decided its future. I defer to its collective wisdom. While I will always be a proud Republican, I also see the reality of the challenges that face our nation and the world. ... With these things weighing heavily on my mind, I intend to describe myself and priority going forward as 'American.' May God bless, help and guide the United States of America."
For her part, Rep. Claudia Tenney, an Oneida County Republican, was more than happy to discuss Stefanik's rise.
"She's young, she's dynamic, she's energetic, and I think she could bring a new energy and voice to the conference that we didn't have with Liz," Tenney said.
Stefanik, 36, has been seen as a rising star in the House since her first election in 2014. Tenney credited Stefanik with recruiting and helping a record number of Republican women win House seats in 2020 and mentoring them once they came to Washington. 
Regarding Cheney's criticism of Trump, Tenney said: "That is not an acceptable view in our conference. A large majority of our conference, you know, loves the policies that we got through him. A lot of them are great."
Trump endorsed Stefanik in the leadership race even though she has a considerably less conservative voting record than Roy. While she opposed Trump's signature 2017 tax cuts, she has moved toward his positions over time and served as a fierce defender of Trump during both his impeachments.
Stefanik signaled that her move toward Trump paralleled that of voters in her district.
"My district is the story of the growth of the Republican Party," she said. "My district voted for President Obama by double digits and voted for President Trump and myself by double digits."
Stefanik is best known in Western New York as the Republican co-chair, along with Democratic Rep. Brian Higgins of Buffalo, of the Northern Border Caucus. 
"Our relationship is strictly based on issues, on substance, not on politics," Higgins said.
But politics is likely to be Stefanik's focus in her new role as one of the GOP's chief message-makers.
"We are unified working as one team, and the American people know that the stakes are incredibly high," Stefanik said. "We're going to fight for them each and every day against the destructive radical far-left socialist agenda of President Joe Biden and Nancy Pelosi that's destroying America."