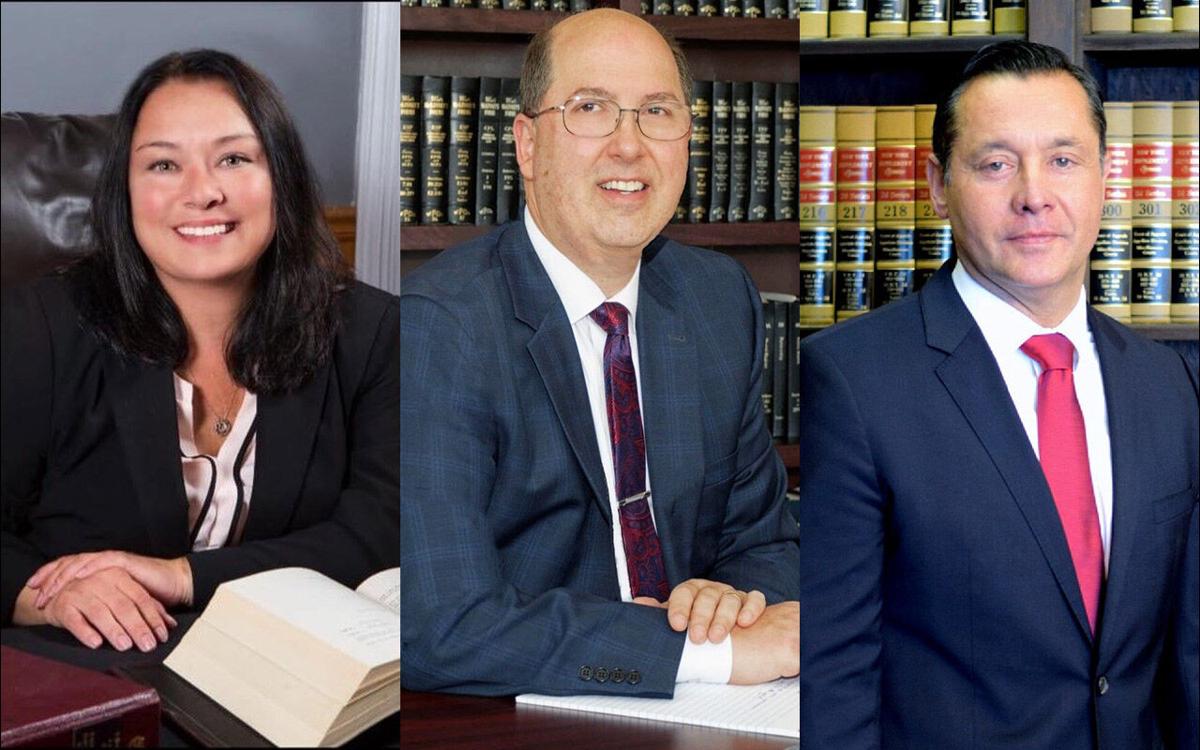 The three-way race for a Niagara Falls City Court judgeship has boiled over, with two of the candidates exchanging charges about their personal histories while the third tries to stay above the fray.
Jenelle L. Faso and Dominic H. Saraceno, both assistant Niagara County public defenders, and Corporation Counsel Christopher M. Mazur are the contenders in the Democratic, Republican, Conservative and Working Families primaries.
The winner of the November election will serve for the next 10 years. All three candidates are rated "well qualified" by the Niagara County Bar Association.
Saraceno, 53, and Faso, 47, said they have been personally attacked by the other's supporters, but neither accuses Mazur, 55, of taking part in that aspect of the race.
"We're supposed to be in a judicial race. It's not a place for that," Mazur said. "I've been trying to stay above board the whole time here, and I think that's the whole purpose of the rules of decorum in a judicial race."
Saraceno said the campaign has become "despicable," while Faso, asked if she approved of the tone of the contest, replied, "Absolutely not."
"I think both sides need to concentrate on their qualifications and let the voters decide," Faso said.
Her resume includes time as a Town of Niagara Court clerk before becoming a Sheriff's Office civilian dispatcher in 1997. She worked the overnight shift while attending University at Buffalo Law School. She rejoined the county in 2014, first as a conflicts attorney, later as an assistant public defender. She's now assigned to Niagara Falls City Court.
"I think that my life experience, my previous job in law enforcement and my job as an attorney have prepared me," Faso said. "I've practiced in City Court for pretty much my whole career. I've done every part there."
Mazur, a lifelong Falls resident, has worked in the city Law Department for 24 years, serving five mayors as city prosecutor, handling criminal violations, housing and building code violations in City Court. He became corporation counsel, the city's top attorney, in 2020.
"I've probably been involved in more cases than just about anybody else during that time period," Mazur said. "I handled various issues in criminal court. I've handled numerous civil cases on behalf of the city and on behalf of my own personal clients."
"I have 20 years of serious felony criminal experience. That's more than the other two combined," said Saraceno, who became a public defender in Orleans County in 2001. He added the same duties in Niagara County in 2006, and continues to work in both counties.
Saraceno was born Nabil Hakim in Syria and moved to the United States with his family when he was six months old. He grew up in Gowanda and Hamburg.
In the late 1990s, he moved to Atlanta for a private-sector job, but decided he didn't like it and obtained a law degree from Georgia State University through five years of night classes before returning to Western New York to open his law practice.
A month after the Sept. 11, 2001, terrorist attacks, he decided to change his name because he was on the receiving end of hateful communications and losing law clients. He said his research of his family tree shows that his great-grandfather was named Saraceno.
"I have my DNA results that show I'm 20% Italian," he said.
Last week, a letter in a Niagara Falls newspaper accused Saraceno of "cultural appropriation" for adopting an Italian name. Voters of Italian background are a significant part of the city's electorate.
The letter-writer endorsed Mazur, but Mazur said he had nothing to do with the letter and Saraceno said he believes Mazur's denial.
Faso also disavowed any involvement.
"I told my campaign committee from day one that we were running a clean campaign, that that nonsense has no place in a judicial race or in my opinion any race whatsoever. It was not authorized by me at all," Faso said.
She complained that she is being regularly attacked online by a woman whose Facebook page banners her support for Saraceno.
Saraceno denied any connection to that woman and said Faso also has, in a sense, changed her name.
She is married to Hugh C. Messer, a former Niagara County deputy sheriff who resigned in 2007 after pleading guilty to attempted official misconduct. He had been charged with having sex in 2006 with a 16-year-old girl at Niagara Wheatfield Senior High School, where Messer was working as a resource officer.
"I went back to my maiden name because that's how people know me," Faso said. "Ninety percent of my clients call me Faso. That's how they know me. My family has a good name and that's what I'm running on."
Her father, James J. Faso Sr., is in his 32nd year as Town of Niagara justice. Her brother, James J. Faso Jr., was one of the area's busiest defense attorneys before being elected to City Court in 2017.
Saraceno said that electing Judge Faso's sister will impede efforts to clear the court's pandemic-driven backlog of cases, because any conflict of interest one Faso has will extend to the other.
"My brother's conflicts of interest are over. I could hear a case of a past client of his," Jenelle Faso said.