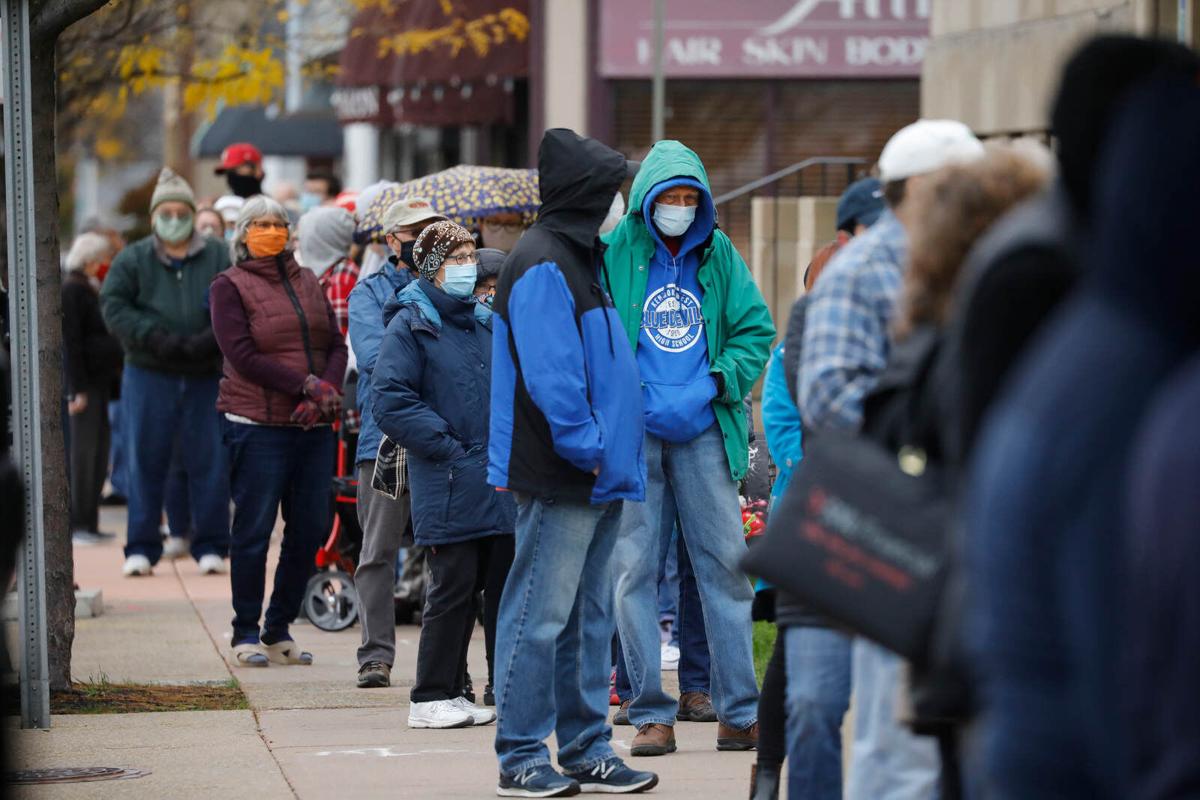 The first day of early voting in New York State saw scores of people lining up outside polling places Saturday in Buffalo, Niagara Falls and many of the region's suburbs.
Voter enthusiasm, concerns about how well mail-in voting will work this year and requirements for social-distancing inside polling places led to peak waits of an hour or more – but voters interviewed as they stood in line generally said they didn't mind.
"I've been waiting four years to do this," said Jared Gressley, 48, the first person in line to vote at the Kenmore-Tonawanda municipal building. He got there at 8:30 a.m., 3½ hours before early voting started in Erie County, wearing just a Siouxsie and the Banshees band T-shirt despite the brisk weather.
Local election officials say they're ready for the biggest challenge faced by New York's early voting system, in only its second year of operation: a presidential election in the midst of a pandemic, at the same time everyone from politicians to pro football players is urging people to vote.
"People are very interested in this election," said Jeremy Zellner, Erie County Democratic election commissioner and party chairman.
That interest has been manifested in the mail and at early voting sites.
By the time early voting sites closed on Saturday, 14,724 ballots had been cast in Erie County, or 2.3% of the county's roughly 630,000 registered voters, election commissioners said. By comparison, there were 26,514 ballots cast in Erie County for all nine days of early voting in the 2019 general election.
As of Tuesday, 51,000 mail-in ballots had already been returned in Erie County.
On Saturday, hundreds of people lined up outside the St. John de LaSalle Center on Buffalo Avenue in Niagara Falls, one of just two locations in all of Niagara County set up for early voting.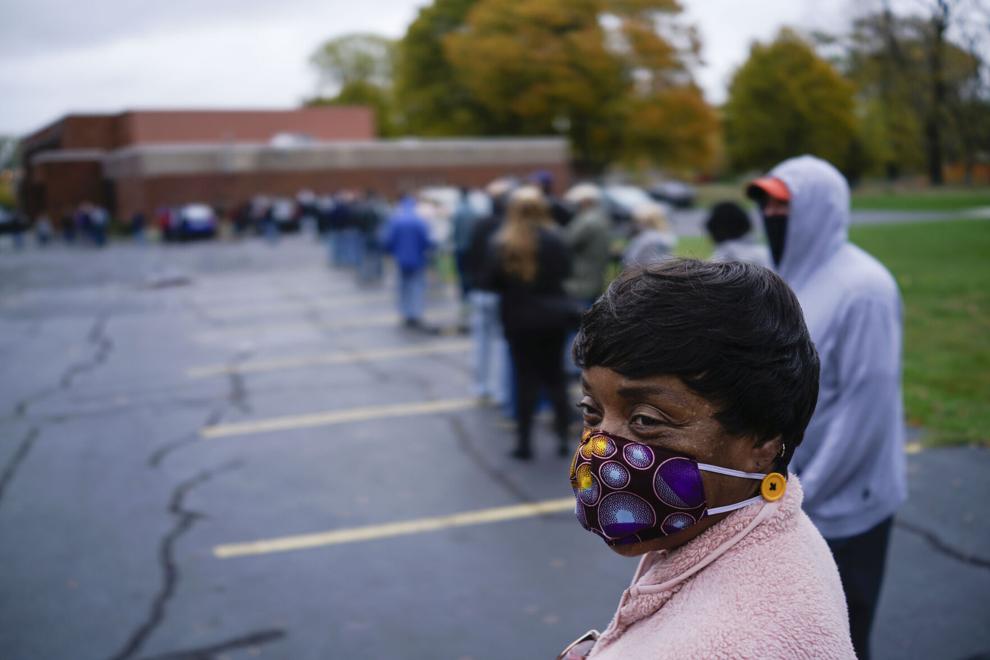 About 100 people, socially distanced and wearing masks and overcoats for the chilly weather, lined up outside the North Buffalo Community Center on Sanders Road to vote early.
"I am sick and tired of all the chaos that's going on," said Avi Israel, who was waiting with his wife, Julie. The Israels are well known for the organization they created to raise awareness of prescription drug addiction, Save the Michaels of the World. It's named for their late son, who took his life after years of addiction to painkillers.
Julie Israel said she grew up in a family that considered voting a civic duty. "I want our country to be more unified," she said. "We are all Americans."
Over in the University District, the line to vote early at the Gloria J. Parks Community Center wrapped around the back of the building, down Heath Street and west on Main Street several storefronts more than an hour after polls opened.
"I want my vote to count," said Sonia Burgin, owner of a medical transportation company, who lives in the Masten District. She wore a Black Lives Matter face mask and a T-shirt with an image of the late Supreme Court Justice Ruth Bader Ginsburg that read "Fight for the things you care about."
Cars passing the community center on Main Street occasionally honked their horns at the waiting voters as they went by.
"I'm actually excited and hopeful that people want to vote as soon as they can," said Deborah Howe, a seventh-grade teacher from Eggertsville, waiting in line at the community center with her husband, Kenneth Regan, a University at Buffalo computer science professor.
The couple came prepared for the wait, with Howe reading a young adult science-fiction book for her class and Regan editing a paper on quantum computing.
Asked why they supported Democrat Joe Biden over Republican President Donald Trump, Regan said, "Do you want to take five hours?"
Lines called 'encouraging'
In West Seneca, the line of early voters wrapped in front of the building, across the sidewalk and down to the baseball diamonds. When they noticed a 97-year-old World War II veteran with a cane get into the line, voters one by one offered to let him go ahead of them.
A wonderful thing just happened in the early voting line at West Seneca Community Center: Voters one-by-one gave up their spot in line for an elderly man with a cane who was at the back and could barely stand. @TheBuffaloNews pic.twitter.com/KmmV8Do5XG

— Toni Ruberto (@ToniRuberto) October 24, 2020
An hour before voting started at noon, the line of voters outside the Ken-Ton municipal building wrapped nearly all the way around the village green. By 12:20 p.m., it went past the building and half a block north on Delaware Avenue.
Taiwan native JuYi Banchich, 34, was getting ready to vote for the first time here after becoming a U.S. citizen last year. The Town of Tonawanda resident wore a patriotic winter hat and carried an American flag as she waited in line.
"I just want to show that I'm proud to participate," she said.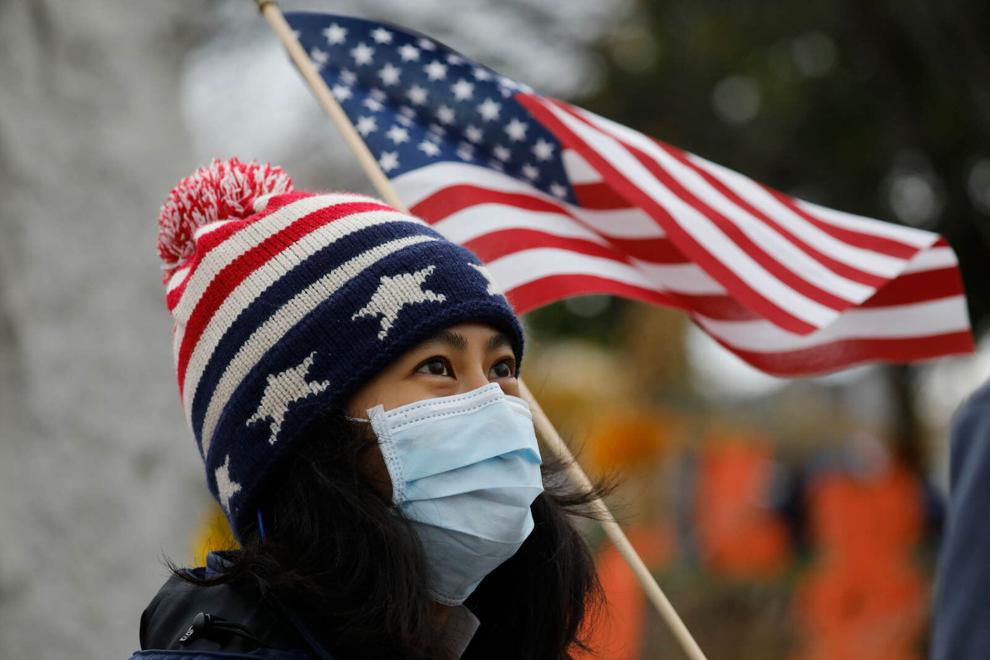 Charles Killian, who volunteers with the Town of Tonawanda Republicans, wore a red-white-and-blue "Make America Great Again!" sweatshirt over a Trump T-shirt and had on a "Keep America Great" hat as he waited to cast his ballot.
He said he wanted to get in line to vote as soon as possible even though, when it comes to the presidential election, "I know where New York's going to go."
And in the Town of Hamburg at about 3:30 p.m. there was no line outside of Town Hall on South Park Avenue. Exiting voters said it took about 20 to 30 minutes to get through the line inside the building. 
However, some people said a line had formed earlier outside. 
"It was when we got here. It was to the end of the sidewalk," said Hamburg resident Kelly Santalucia, who came to vote with her husband, Mike, and their son Josh.
Erie County Republican Elections Commissioner Ralph Mohr said the long lines were "encouraging."
"Last year for the general election we had a little over 25,000 people that voted early. Today, we exceeded half that amount already," Mohr said.
As for mailed votes, Erie County, according to state figures, had mailed out almost 94,000 absentee ballots as of Tuesday, and more than 51,000 had already been returned.
Early voting, which will continue every day through Nov. 1, was introduced in New York only last fall.
Early voting in New York State began Saturday and runs through Sunday, Nov. 1.  
In other states, where voting already is going on, there have been reports of long lines and long waits in big cities and populous suburban counties.
Local election officials say they didn't want the same thing to happen here.
"The only thing out of our control is the turnout," said Jennifer A. Sandonato, Republican election commissioner in Niagara County. "There could be longer lines than usual because it's a presidential (election), and we don't have anything to base this on because it's our first early voting with a presidential election. But we did plan ahead."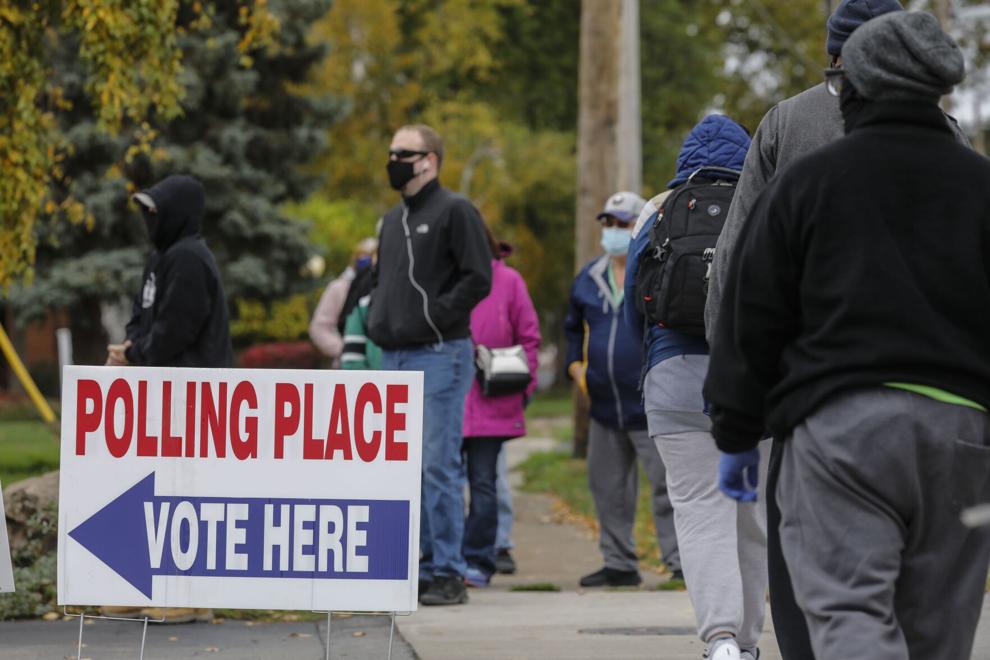 Zellner pointed out that Erie County boasts 37 early polling sites, the most of any county outside New York City, and county residents can vote early at any of them instead of being restricted to the neighborhood site, as on Election Day.
By comparison, Erie County will open 313 polling places on Election Day on Nov. 3, 93 of them in Buffalo.
Voters who have absentee ballots but are worried the U.S. Postal Service won't deliver them in time to be counted have the choice of bringing them to an early voting site in their county.
"If they have an absentee ballot, they can just bring it and put it in the box where the inspectors are," Zellner said.
When early voting came to New York last year, counties were required to have one site for every 50,000 registered voters, but no more than seven. Most counties kept the program limited.
This year, Chautauqua County has three early voting sites, while Niagara and Cattaraugus counties have two each, and other counties in Western New York have one. Erie County, however, took the opposite approach and went big.
Voters urged to wear masks
In 2019, the first year early voting was allowed in New York, Erie County led the state outside New York City with about 26,000 votes cast early, largely due to its decision to offer so many sites.
Although Niagara County has only two sites, in Niagara Falls and the Town of Lockport, Sandonato said there are 10 check-in desks at each one, to minimize waiting. Erie County has two check-in desks per site, Zellner said.
Voters concerned about their health shouldn't worry, he said.
"The answer to that question is, we held an election in a much worse time in June, where we had nine days of early voting and we had Election Day and nobody got sick," Zellner said. "As long as folks wear masks and are patient and practice social distancing, we feel that voting in person is completely safe."
Can a person who has an absentee ballot vote in person, whether at an early voting site or on Nov. 3? The answer, Zellner said, is yes, but if they do vote both ways, only the in-person vote counts.
Voter's guide to the 2020 election